The Women, Gender and Sexuality Center
---
Welcome! We're a place for activities, support and advocacy for a radically inclusive environment – where students, faculty members and classified professionals are free to self-determine their gender and sexual identities, without harassment, discrimination or violence.
On this webpage, you'll find information about upcoming events and activities, along with helpful resources and more!
---

Mark Your Calendar!
May 23: Queer and Now Conference – Let's Play!
Monday, May 23: 12:30 to 3:30 p.m.
Keynote speaker: Layshia Clarendon, activist and WNBA athlete
Zoom m

eeting ID:

953 2094 4769
Please join us for this LGBTQ+ student-led conference, focusing on the intersectional identities, inclusive communities – and the politics of play!
More About Queer and Now
This year's Queer and Now keynote speaker will be athlete and activist Layshia Clarendon, currently the point guard for the WNBA's Minnesota Lynx.
Layshia was leading scorer for the Cal Golden Bears in college and was named a WNBA All-Star in 2017.
Three years later, they became the first out trans and nonbinary player in WNBA history.
A regular commentator for the Pac-12 Network, as well as vice president of the WNBA players' association, Layshia is also a noted advocate, speaker and writer on social issues.
Queer and Now is an annual conference at De Anza that focuses on the larger and local LGBTQ+ community, along with student success, equity, intersectionality and social justice concerns.
This year's sponsors include the De Anza Student Government, Office of President Lloyd Holmes, Student Success and Retention Services, and the Women, Gender and Sexuality Center – in collaboration with the Office of Equity, Physical Education and Athletics Division and REACH.
---
June 14: Lavender Graduation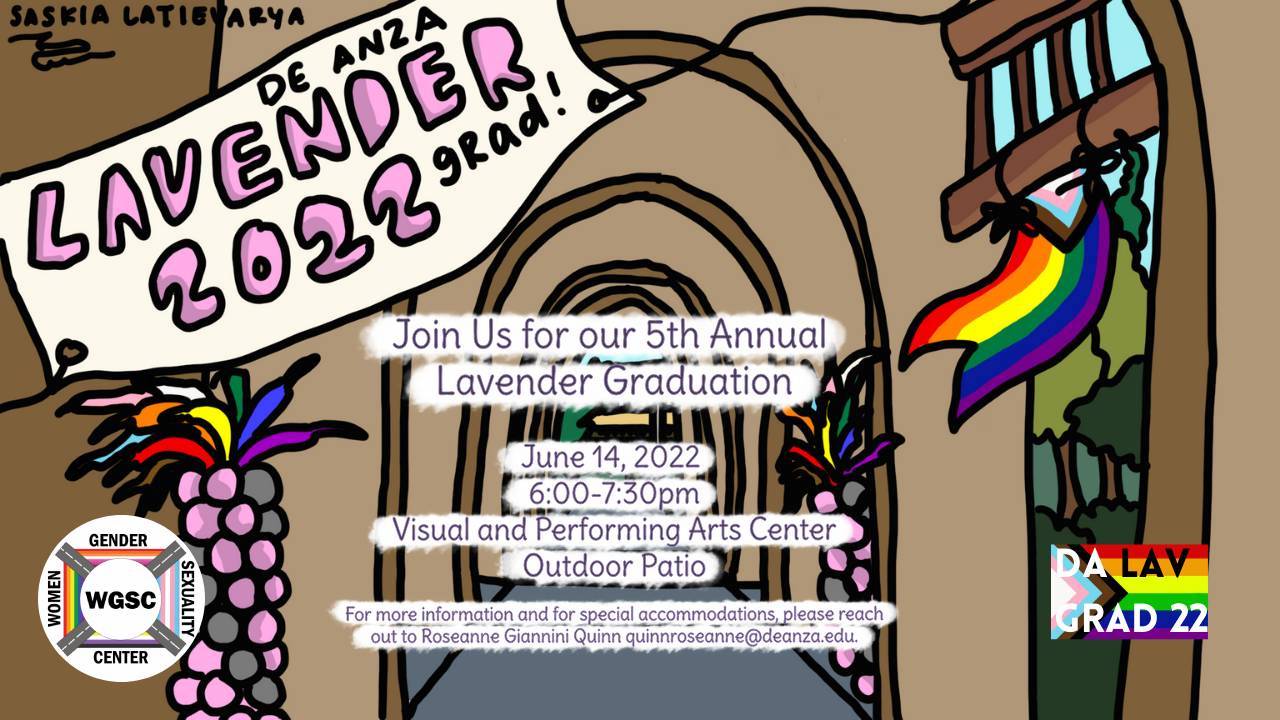 Tuesday, June 14: 6-7:30 p.m.
Location: VPAC outdoor patio (on campus!)
Keynote speaker: Alysa Cisneros, De Anza alum and Sunnyvale vice mayor
Grads: Sign up to participate!
Do you identify as part of the LGBTQ+ community? Will you be graduating from De Anza this spring? We want to honor the resilience and the accomplishments of our LGBTQ+ graduates.
We hope to build community with you as we celebrate your strengths and achievements during this still challenging time. Each graduate will receive a sash and certificate and have the opportunity to say a few words about their experience.
If you have any questions about this year's Lavender Grad celebration, please email Roseanne Giannini Quinn at quinnroseanne@deanza.edu
---
About Our New Name
The center has a new name to reflect our commitment to providing expanded services and resources, while we continue to honor Jean Miller with a new scholarship program!
---
"Women," "Womyn," "Womxn" or ?
We've been thinking more about the use of these terms, and we've decided to use the spelling "women" going forward. For an explanation and some background, please read our statement on this decision.
Statement on Women's History Month
---
Stay in Community With Us
---

Local LGBTQ+ Resources
You'll find more sources of help and information on this LGBTQI+ Resources and More webpage.
Harassment and Discrimination Policy
Please see the following policy documents for the Foothill-De Anza Community College District