Institutional Planning
---
College Planning Committee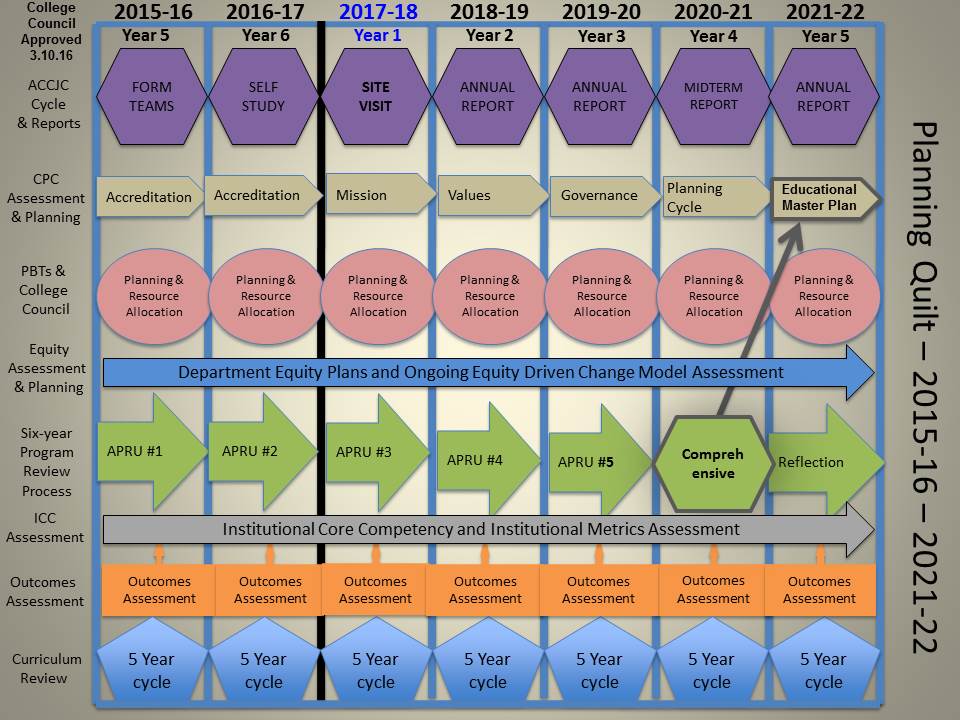 In 2011 the College Council approved the formation of a College Planning Committee (CPC). The purpose of the committee is to systematically review all aspects of the planning cycle under the direction of the College Council.
Charge of the Committee
Serve as Accreditation Steering Committee when appropriate in the planning cycle.
Assess institutional goals via an annual report
Review and propose revisions to the mission statement and Educational Master Plan
Evaluate the six-year planning cycle within the context of the Educational Master Plan review
Evaluate governance and decision making structures and processes
Committee Membership
College Researcher (Chair)
Member from the student learning outcomes team
Classified member of the Student Services Planning and Budget Team
Faculty member from the Instructional Planning and Budget Team
Administrative member of the Finance and Educational Resources Planning and Budget Team
Administrator
Classified Senate executive member
Academic Senate executive member
Student representative from the De Anza Student Body Senate
College President
Assessment of Shared Governance
Each shared governance group is asked to annually reflect on their processes through three targeted questions each spring. The results of the reflections are published in the annual Educational Master Plan Update and inform the college's planning processes.
Assessment of Institutional Metrics
Each fall the College Planning Committee reviews and assesses the Institutional Metrics. If any metrics are found to be falling behind, in that we believe the current rate of growth will not meet the Master Plan goal set for 2020, the Committee notifies College Council. At that time, College Council determines ways in which the college can address the Institutional Metric in order to meet the Master Plan goal by 2020. Six metrics have been identified and Academic Senate is working with the appropriate groups to help increase our rates in these areas.
Alignment of Institutional Metrics to CCCCO's Vision for Success
---
Meeting Minutes
2018-19
2017-18
2016-17
2015-16
2014-15
2013-14
2012-13
2011-12