Yaneth Gutierrez, a 2018 graduate of De Anza, wrote the following first-person article about her experience graduating with her daughter, Eunice Romero, who was also a De Anza student. The article was originally published in the Mercury News on July 6, 2018.
---
My name is Yaneth Gutierrez. I immigrated to the U.S from Mexico at age twenty-four. I have always been passionate about learning and dreamed of becoming a lawyer.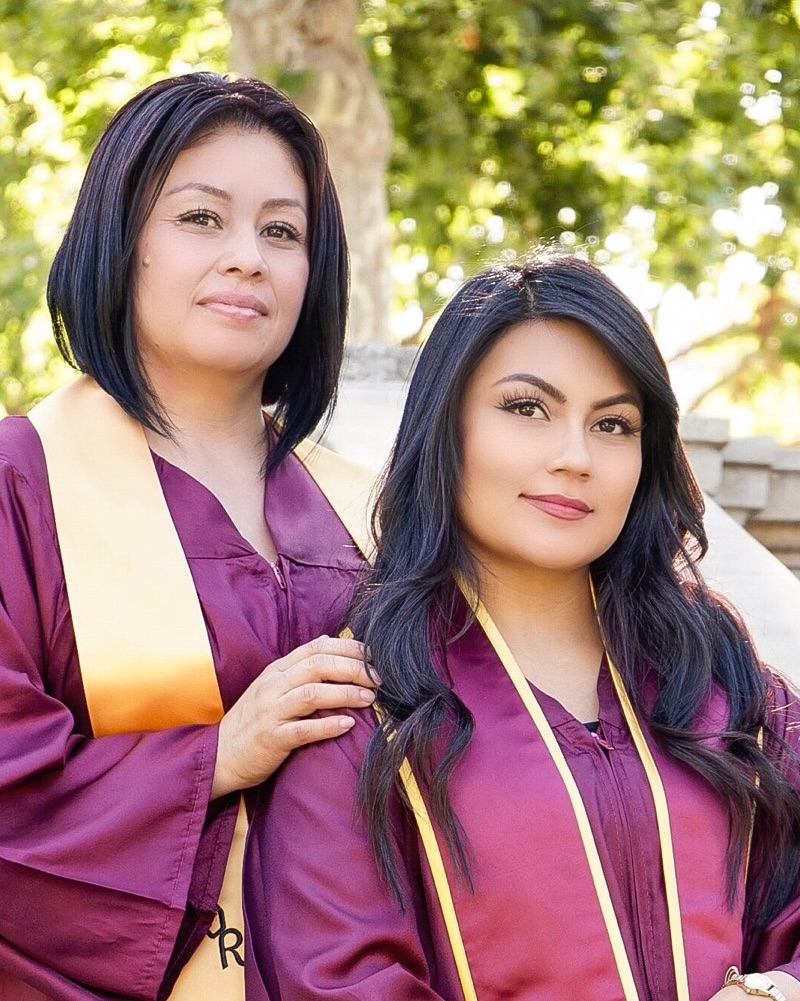 My journey began in 2010 when I wanted to attend college. I had no idea where to start, if I was going to be able to afford it or how to apply. Luckily, I met Alex Lopez, a counselor at San Jose City College, who told me that I could attend college as an AB 540 student, which would allow me to pay in-state tuition.
I was ecstatic and overjoyed when he told me that, until he mentioned I needed to re-complete my high school diploma to qualify. Just the thought of redoing high school made me feel anxious.
Nevertheless, I wanted to set an example for my daughter, but also prove to myself that I could and would accomplish my goals. So, I enrolled into Independence Adult Center and I successfully graduated on May 29, 2013. It was a difficult challenge having to relearn everything, especially since I was not proficient in English.
Shortly after, I attended De Anza College in the fall quarter. By then my daughter, Eunice Romero, had already completed her first year at De Anza. Money was tight during that time, both my and my daughter's education were on the line. However, my daughter's education came first.
I enrolled in classes depending on how many units I could afford, after paying for my daughter's books and tuition. Once I was able to qualify for the BOG waiver I was able to become a full-time student. I continuously doubted my ability to continue, but my daughter needed someone to look up to. I needed to be her example. I also needed to do it for myself. I refused to be another negative statistic. So I set a goal for myself: I wanted to graduate with my daughter.
I maxed out my units every quarter to catch up to her. Then finally, I did it. I did it! We did it! In June, we graduated together. I received my A.A. in Paralegal Studies with honors. My daughter received an A.A. in Liberal Arts, another in Business with an emphasis on Computer information, and another in Communications.
One of my most memorable moments, aside from her birth, occurred on June 22 when we attended the Latino Recognition Ceremony at De Anza. I had the honor of walking onto the stage right after her.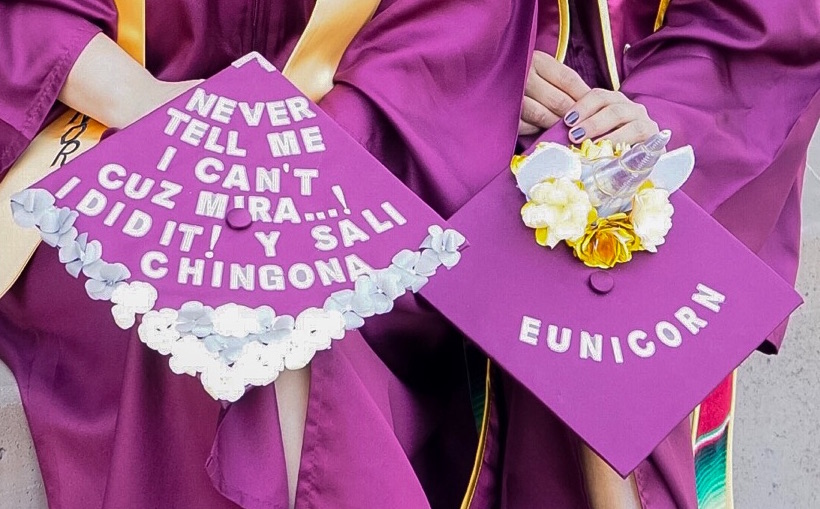 I can't begin to explain all the emotions that rushed through my head. We had 30 seconds to share a few words with the audience. I asked my daughter to wait for me by the microphone. No one expected such a moment to occur. I was so nervous.
I took the time to acknowledge her by saying, "Mija, as a student who is graduating with honors I wear this sash, but the true honor is to be able to share this day with you, this stage, this moment. So, I give you this sash as a token of that, so that you never forget that you can accomplish anything you want in life."
As I passed on my sash to her I told her how much I loved her and that I wanted to see her continuing to reach for greatness. On Friday, June 29, I had the honor to graduate from De Anza with my daughter, but I don't want to stop there. I want to pursue a bachelor's degree in Justice Studies with an emphasis in Criminology at San Jose State. I don't know if I will be able to afford it, but I did it once. I can do it again.
I have learned that no matter where your journey takes you, you can accomplish anything, you can overcome anything, and that you will only succeed in what you really work and put your time into. I'd like for all of you reading this to remember that no matter how difficult things may seem, you can do it. You are the only one that can set limits to your accomplishments. Believe in yourself.
---
Photos courtesy of Yaneth Gutierrez and @jayberrytech