De Anza Honored for Transfer Degrees
De Anza has been named a "Champion of Higher Education" for its success in expanding transfer opportunities for a growing number of students earning associate degrees for transfer (ADTs), which guarantee admission to the California State University system.
The honor comes from the Campaign for College Opportunity, a nonprofit advocacy group whose research shows De Anza was one of the top community colleges statewide in increasing the number of ADTs earned by students in 2020-21. De Anza has long enjoyed a reputation for being "Tops in Transfer" by ranking consistently at or near the top in student transfers to universities.
De Anza students earned 1,201 ADTs in the 2020-21 academic year, which represents a 38% increase over the previous year. That placed De Anza in the top three community colleges statewide, in a ranking of numeric increases in ADTs earned at each college from 2019-20 to 2020-21. De Anza also ranked among the top 10 colleges for overall number of ADTs earned in 2020-21.
College To Be Honored Nov. 1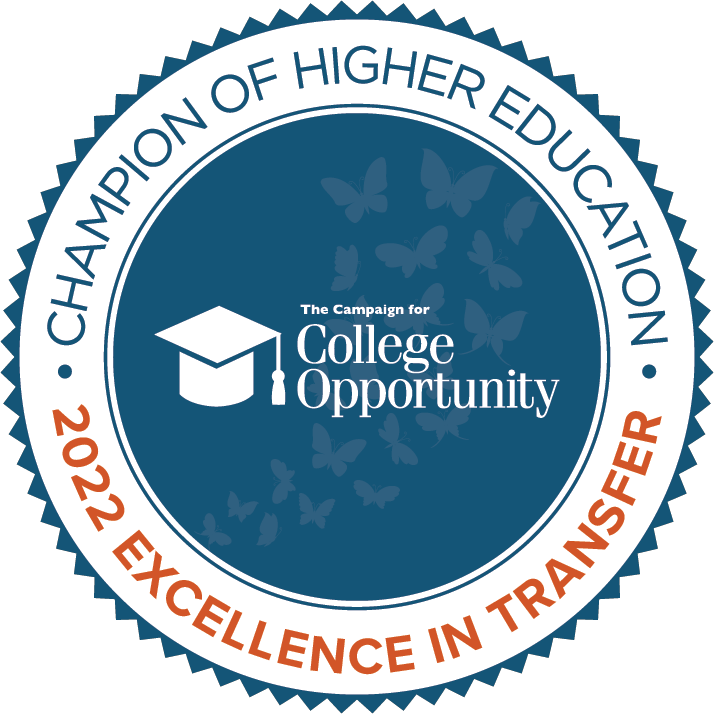 The Campaign for College Opportunity will honor De Anza and other colleges during a special online event on Nov. 1. President Lloyd A. Holmes will be among the guest speakers.
Associate degrees for transfer are "an instrumental pathway that has streamlined the transfer process," the Campaign for College Opportunity said in a statement recognizing De Anza and other colleges for "ensuring that thousands of students can achieve their goal to transfer and earn a four-year degree."
Statewide, fewer than 3% of all students transfer to universities after two years in community college, and only 23% are able to transfer after four years in community college, the group said. The associate degree for transfer was created by state legislation in 2010 as a way to clear the path for students to transfer without spending time and money accumulating excess units.
22 ADTs Now Available
De Anza offers an associate in arts for transfer or an associate in science for transfer degree in 22 different subjects, ranging from Administration of Justice and Art History to Computer Science, Political Science and Social Justice Studies. The list includes two new degrees launched this year, in Studio Arts and Business Administration.
The degrees are intended for students who plan to complete a bachelor's degree in a similar major at a CSU campus. Students who earn an ADT are guaranteed admission to the CSU system, but not to a particular campus or major. To earn an ADT, a student must complete a minimum of 90 quarter units of CSU-transferable coursework with a minimum GPA of 2.0.
(Posted on Oct. 6, 2022)