November 2017
---
Engaging the Future: The Next 50 Years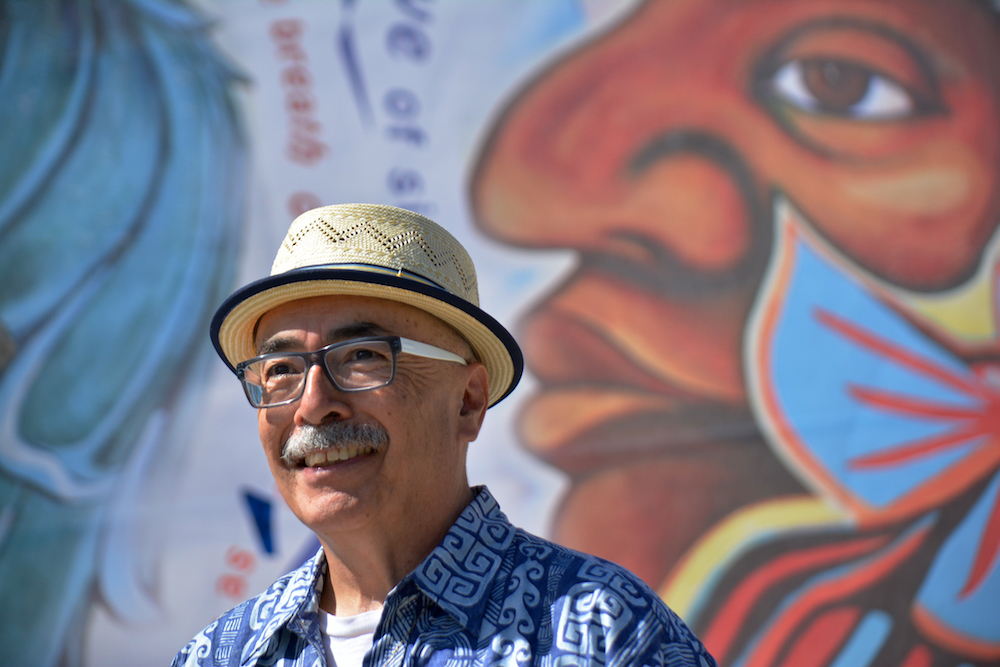 De Anza College is continuing its 50th anniversary celebration with the Taste of History fundraiser on Nov. 18 and a special art project this fall at the Euphrat Museum of Art.
This year's Taste of History event will feature Juan Felipe Herrera, the immediate past Poet Laureate of the United States and the first Latino to hold that position. A former adjunct faculty member at De Anza, Herrera is also a performance artist and an activist on behalf of migrant and indigenous communities and at-risk youth.
At the Taste of History event, Herrera will share stories and perform with a troupe of friends, musicians and poets. The event also features food and wine tasting. Tickets are available online.
---
"Kindness as Resistance" at the Euphrat
The "Kindness as Resistance" exhibit at the Euphrat Museum of Art features painting, photography and other artwork that explores the role of kindness and hope in acts of resistance and positive counter-narratives.
Works on display include photographs by De Anza student Elias Kamal, student member of the Foothill-De Anza Board of Trustees. Kamal spent part of last summer in volunteer service at Oinofyta, a refugee camp in Greece for Afghan families seeking asylum in Europe. He wrote about the experience in La Voz, the De Anza student newspaper.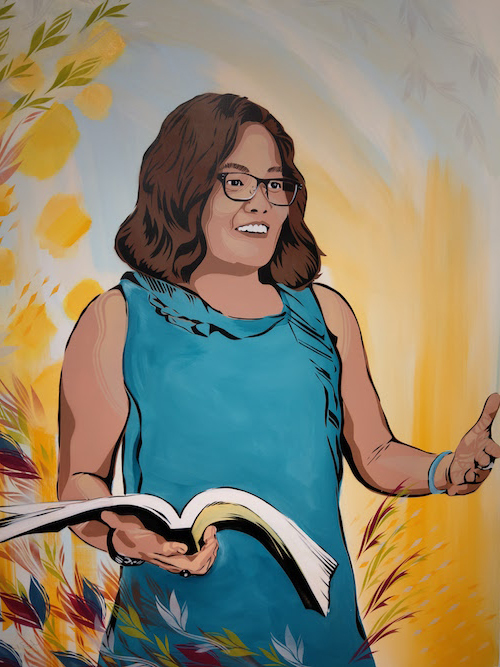 Along with this exhibit, the Euphrat has commissioned a special "Acts of Kindness" project for De Anza's 50th Anniversary. With participation by community artist Kate DeCiccio and the Teatro Visión theater company, the project includes a portable set piece that features portraits of five people from the De Anza community, including Academic Senate president Karen Chow (shown at left) and OTI Program Coordinator McTate Stroman II (below, right), who have worked to build community, encourage civic engagement and create opportunities for expression.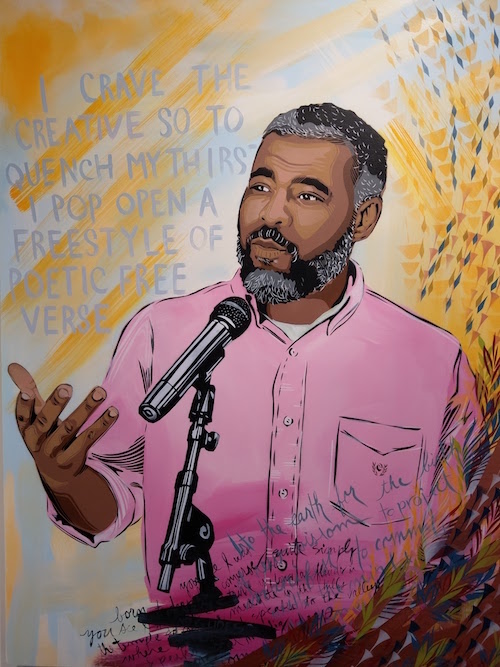 Also as part of the anniversary project, Teatro Visión artistic director Rodrigo Garcia is presenting a series of workshops with De Anza students from MEChA and the Chicanx Studies program, along with a Nov. 29 performance at the Euphrat. In addition, De Anza alumna Shaila Ramos will lead a series of "Resistance through Artivism" workshops for students in the HEFAS program, culminating in an "artful Day of Action" in December.
---
"Ohlone Elders and Youth Speak" at the California History Center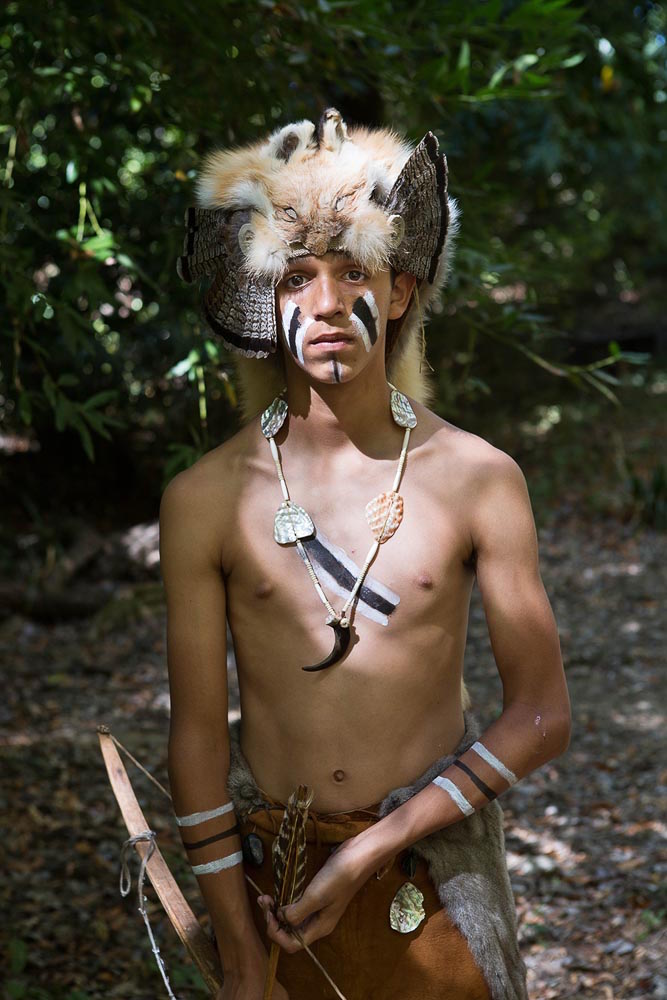 The California History Center is currently hosting "Ohlone Elders and Youth Speak: Restoring a California Legacy," an exhibition of photography by Ruth Morgan and oral history gathered by Janet Clinger that celebrates multi-generational efforts to sustain the culture of a native California people.
The exhibition has already drawn a favorable review in the Mercury News, which said the installation reflects challenges faced by the Ohlone people "in protecting their burial sites, telling their side of the story that is missing from history books, addressing common stereotypes and tokenism and preserving their languages and culture."
---
New Website On its Way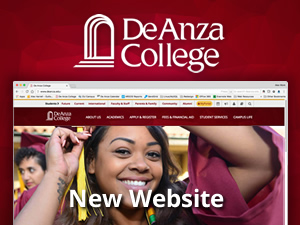 Work on the redesigned college website has moved into a new phase. The Office of Communications has begun scheduling training sessions to introduce department and program page editors to the new templates and other features of the new design.
This training will prepare page editors to begin adding content to the new site when it launches in early 2018. These first sessions are for people who are already familiar with the OmniUpdate system. Separate sessions will be scheduled in the future for users who are new to the system.
For information and updates, see the Website Redesign page or contact the Web Team at webteam@deanza.edu.
---
Foothill-De Anza Foundation Celebrates Giving Tuesday

The Foothill-De Anza Foundation is joining in this year's Giving Tuesday campaign on Nov. 28. The campaign is a global day dedicated to giving back, following a day of giving thanks (Thanksgiving) and two days of going shopping (Black Friday and Cyber Monday.)
You can help by sharing the foundation's Giving Tuesday webpage on your personal social media pages. Don't forget the hashtags #GivingTuesday or #Give2FHDA.
You can also support De Anza on Giving Tuesday by making a gift of $10 or more to the foundation. For more details, visit foundation.fhda.edu and click on the "Giving Tuesday" banner.
---
Does your department or division have news to share with the campus community? Send information for the next Campus Memo to communications associate Leah Mieso at miesoleah@deanza.edu