Welcome
This webpage includes all major documents that you will need to complete classroom and student evaluations of probationary faculty, including links to online forms. These documents can be downloaded for your convenience.
---
Using the Tenure Shells on Canvas
Completed evaluations for probationary faculty and other important documents are now collected in Canvas. Each committee has its own shell. Committee members should upload documents directly to the Canvas shell. Nicole Gray from FA made a video on how to upload files to a tenure shell on Canvas. When you watch the video below, substitute "De Anza" instead of "Foothill" and my name instead of "Patricia Gibbs."
Watch the Canvas Tenure Shell instructional video.
---
Documents and Procedures
As of Fall Quarter 2020, evaluation procedures have been adapted and forms have been converted to "Smart Sheet" fillable forms. Please see the most recent documents and procedures for the J1s and J2s below.
Probationary Evaluations (J1s)

Classroom Student Evaluations (J2Ws)
Counseling Student Evaluations (J2.1s)
---
Informational Booklets

Please visit the Foothill-De Anza district
Human Resources Services Faculty
website to download the FHDA Tenure Review Handbook 2019-2022 for Faculty and Administrators.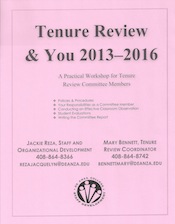 Download the
Tenure Review & You
2016-2019 workbook for tenure review committee members. (Note: This is the most recent version. A future update is in the works.)
---
Forms
Schedule Forms
Use these forms to schedule the required meetings and J1 and J2 evaluations for each phase of tenure review.
Previous Hard Copy Versions of Tenure Review Forms
Note: these forms have been superseded by online forms or processes. They may still be useful for reference.