Remember to Vote!
The 2021 California Special Election is Sept. 14
Missed the Deadline to Register? You Can Still Vote
If you didn't register to vote by the Aug. 30 deadline, you can still cast your ballot as a "conditional voter" by visiting your
county election office
or any
official Vote Center
in Santa Clara County. (If you were registered before, check your status at
registertovote.ca.gov
)
Californians can begin voting as early as Aug. 16 in the statewide gubernatorial recall election.
What's a recall election? Visit the California Secretary of State's website to read an FAQ about recalls, including details about the upcoming election.
You can also download the official Voter Information Guide.
It's easy to have your say: You can register online and vote by mail. Here's how
Check To See If You're Registered
Register Online – If You Aren't Already
Remember to Cast Your Ballot!
You Can Even Track Your Ballot
---
New Ways to Vote : Register Online and Vote By Mail!
---
Under new procedures adopted because of the coronavirus pandemic, all California voters will have the option to vote by mail – or drop off their ballot in person.
Your old polling place may not be open on Election Day. But you can find the nearest Vote Center or drop box by checking with the Registrar of Voters for your county. If you live in Santa Clara County, use these online tools.
---
Voter Updates
Drop Your Ballot at De Anza

Campus is closed with some exceptions, but you can still drop off your Santa Clara County ballot in the official Ballot Drop Box at De Anza, beginning the week of Aug. 16.
Look for the white Drop Box next to the light pole, in front of the Registration & Student Services (RSS) Building, facing Staff/Student Lot A. (See the campus map.)
You'll need to enter from Stevens Creek Boulevard through the Mary Avenue entrance (across from the Shane Co.) and immediately turn right to enter Staff/Student Lot A. Mary Avenue is the only entrance that is open.
---
If You Don't Receive Your Ballot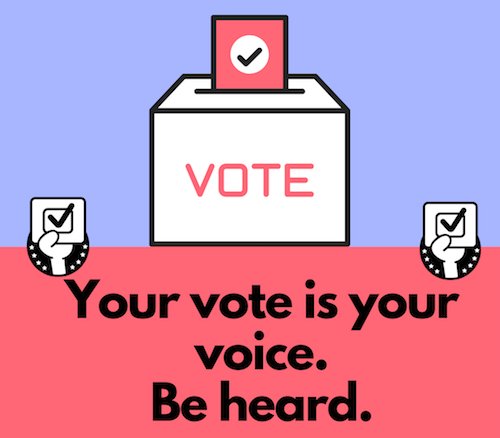 If you are registered to vote and don't receive your ballot in the mail, visit the nearest Vote Center or call your Registrar of Voters. The number for Santa Clara County is 1.866.430.VOTE (8683).
As always, you are eligible to vote if you are
At least 18 years old
A U.S. citizen
Registered to vote at your current residence
Got more questions? Check out these Voting FAQs.
---
If you are a Foothill-De Anza Community College District employee, please read this memo about political advocacy by employees.