Course Descriptions and Program Information
This certificate program is designed for individuals who want to become project managers in their respective industries. Project Management is an important responsibility as more organizations use teams and project-based methods to get work done. Using a practicum-based approach, students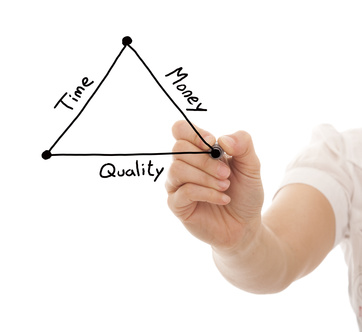 apply the Project Management Book of Knowledge (PMBOK)® Guide to develop skills to enhance teamwork and communication, and project management skills to balance scope, quality, budget and scheduling for each project. This certificate program introduces students to a career in project management and further prepares professionals who are already working in the field.
Student Learning Outcomes
Upon completion, students will be able to:
Manage projects by applying Project Management Theory as defined by the Project Management Institute's (PMI)®

Project Management Book of Knowledge (PMBOK)®.
Lead the creation of a project plan for an organization's large scale project with a large budget.
Apply risk management techniques to a project to balance scope, quality, budget, scheduling and team morale.
Write a vendor solicitation plan and use a collaborative approach for selecting vendors.
Successfully manage a vendor through a project's completion while providing all project participants with a clear picture of scope, quality, budget and schedule.
Certificate of Achievement Level Requirements
A minimum "C" grade in each major course.
Note: A maximum of six (6) quarter units may be transferred
from other academic institutions.
Major courses for certificates and degrees must be completed with a letter grade unless a particular course is only offered on a pass/no-pass basis.
---
Complete the following courses:
CIS 95A Project Management – A Practicum – 5 units
Foundation course - focusing on your role as a Project Manager; selecting a project; selecting a team; documentation and tracking of a project using Project Manager Book of Knowledge (PMBOK)® Theory.
CIS 95B Project Planning and Control – A Practicum – 4 units
Create a project scope statement that will act as a basis for creating a project plan. Build a project plan that integrates time, resources and communication with cost and quality of work. Plan controls to proactively mitigate risks
CIS 95C Risk Assessment and Mitigation – 4 units
Focus on responding to uncertain events or conditions for a positive or negative effect on project objectives. Implement techniques for planning for risks and learn to change project plans to reduce the probability and/or impact of the risk.
CIS 95D Managing Outsourcing – 3 units
Learn to acquire goods and services from an outer organization using procurement and solicitation processes. Perform contract administration till completion and settlement of contract.
---
Complete one (1) course from the following:
CIS 79/BUS 88 Managing Technology Projects – 4.5 units
Introduction to the theory and practice of the design and management of technology projects, including planning, performing, and monitoring of projects. Subjects explored are estimating costs and schedules, analyzing client expectations, guiding diverse groups of people toward a common goal, while earning a profit. Use of common software packages for project management.
CIS 95E CAPM/PMP Prep Exam – 4 units
Prepares the student for attempting the Project Management Professional (PMP)® or Certified Associate in Project Management (CAPM)® examination provided by Project Management Institute (PMI)®. Topics include management of integration, scope, time, cost, quality, human resources, communications, risk and procurement.
CIS 80A Process Management - 3 units
Learn the basics of process mapping in examining work flow and relationships to improve the efficiency of an organization, improve communication and understanding, and find ways to optimize a process.
CIS 95F Managing Cloud Projects - 4 units
Establish the Cloud strategy within a business context and focus on governance issues and business processes; the administration of Cloud services; support, monitoring, and billing; documenting a Cloud strategy, which optimizes expense structure, improves security, and supports conformance; standards and protocols for the Cloud; and management of devices that connect to the Cloud..
CIS 95G Agile Project Management - A Practicum - 4 units
Learn how to apply Agile principles and the Scrum framework to create software-intensive products and acquire the practical knowledge and skills to initiate, plan, manage and execute Agile software development projects.
---
PMBOK, PMI, PMP AND CAPM are registered trademarks of Project Management Institute.