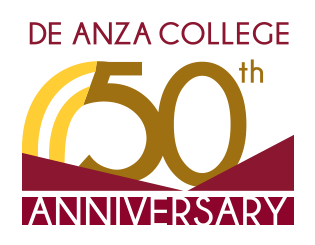 Engaging the Future: The Next 50 Years
Here is the winning 50th Anniversary logo chosen by faculty and staff.
Thank you for your participation!
As the college celebrates its 50th anniversary during the 2017-18 academic year, De Anza is hosting a series of campus activities focused on the theme, "Engaging the Future: The Next 50 Years."
President Brian Murphy introduced the theme at graduation in June 2017. Major anniversary activities include
---
San Jose Artist Creates New Mural to Celebrate De Anza's 50th Anniversary
Update: Mural Completed!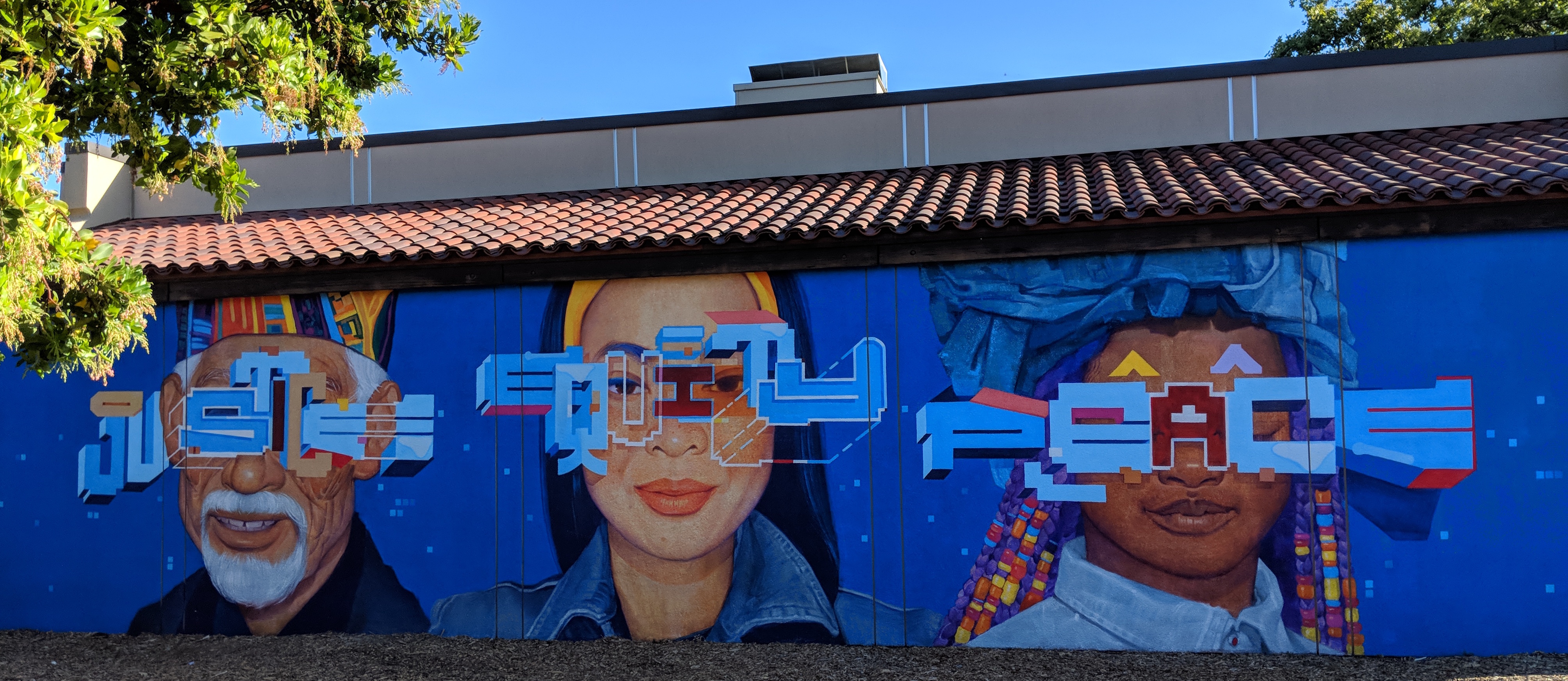 Update, End of Week Two: Rodriguez and his student assistants have begun filling in the background.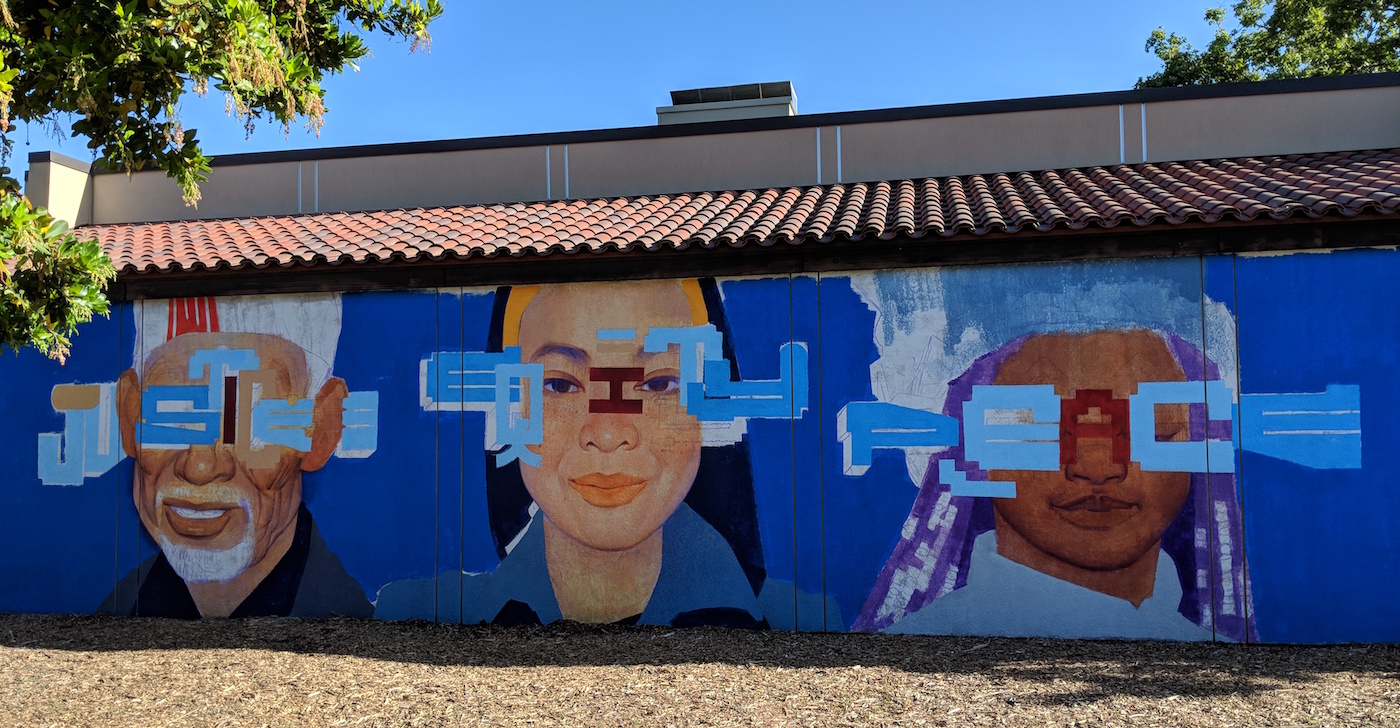 Update, Start of Week Two: Themes are taking shape.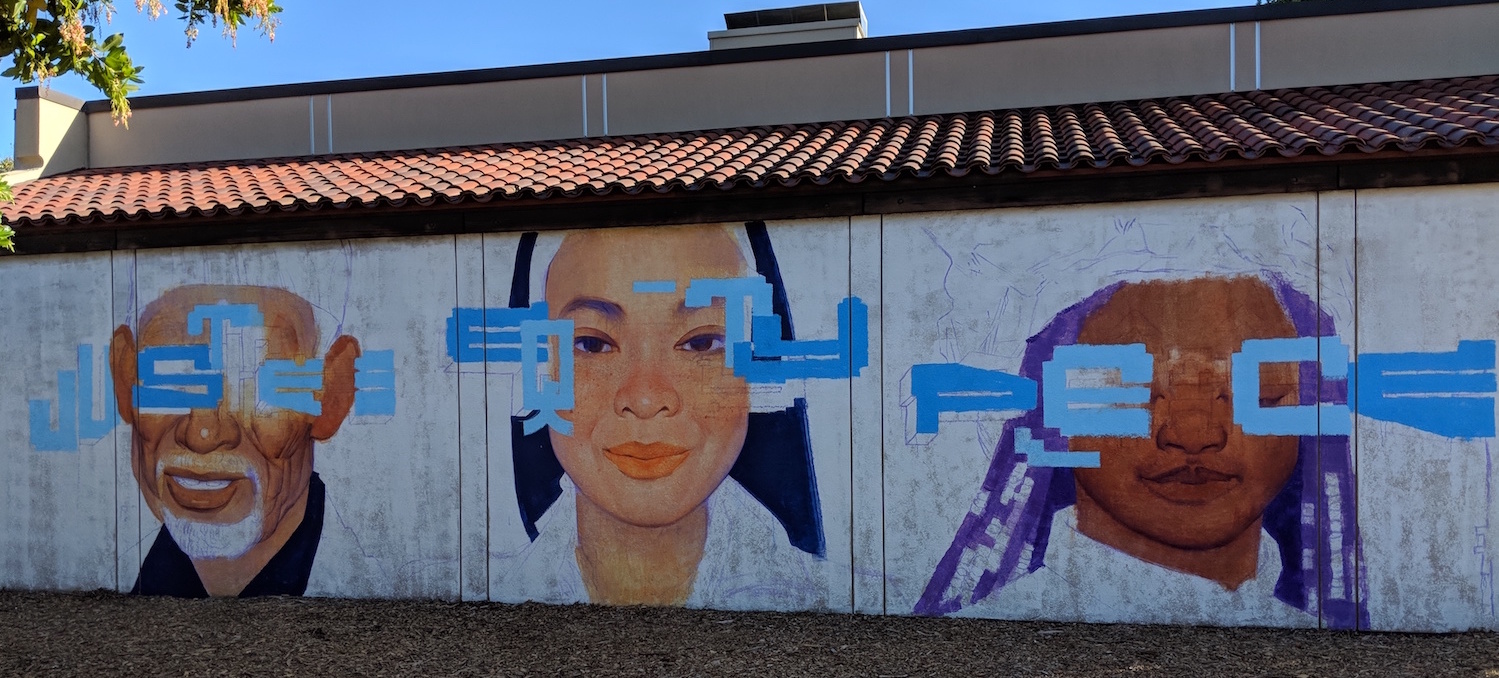 Update, Week One: After a few days, these portraits are emerging from the initial sketches by Rodriguez.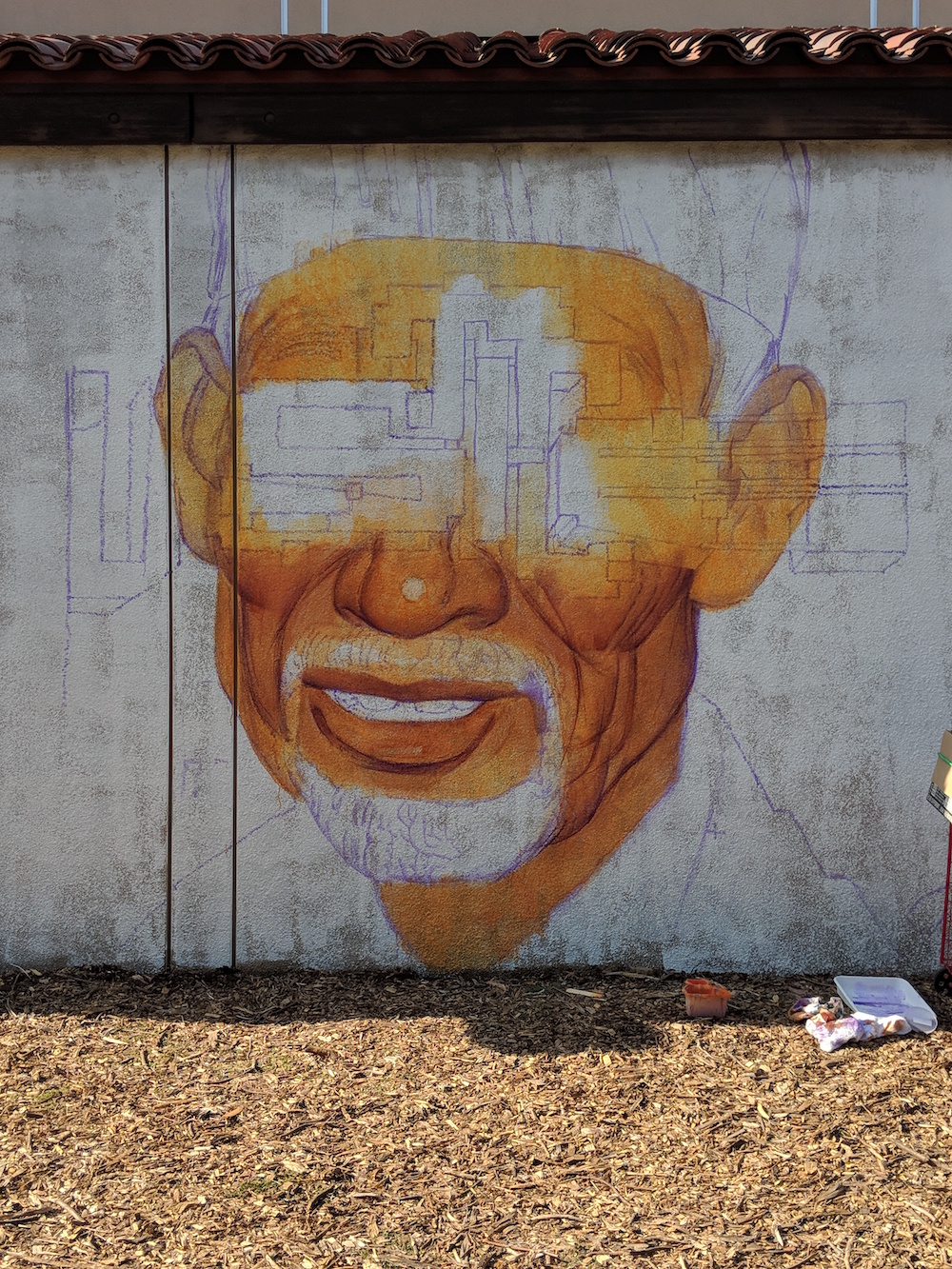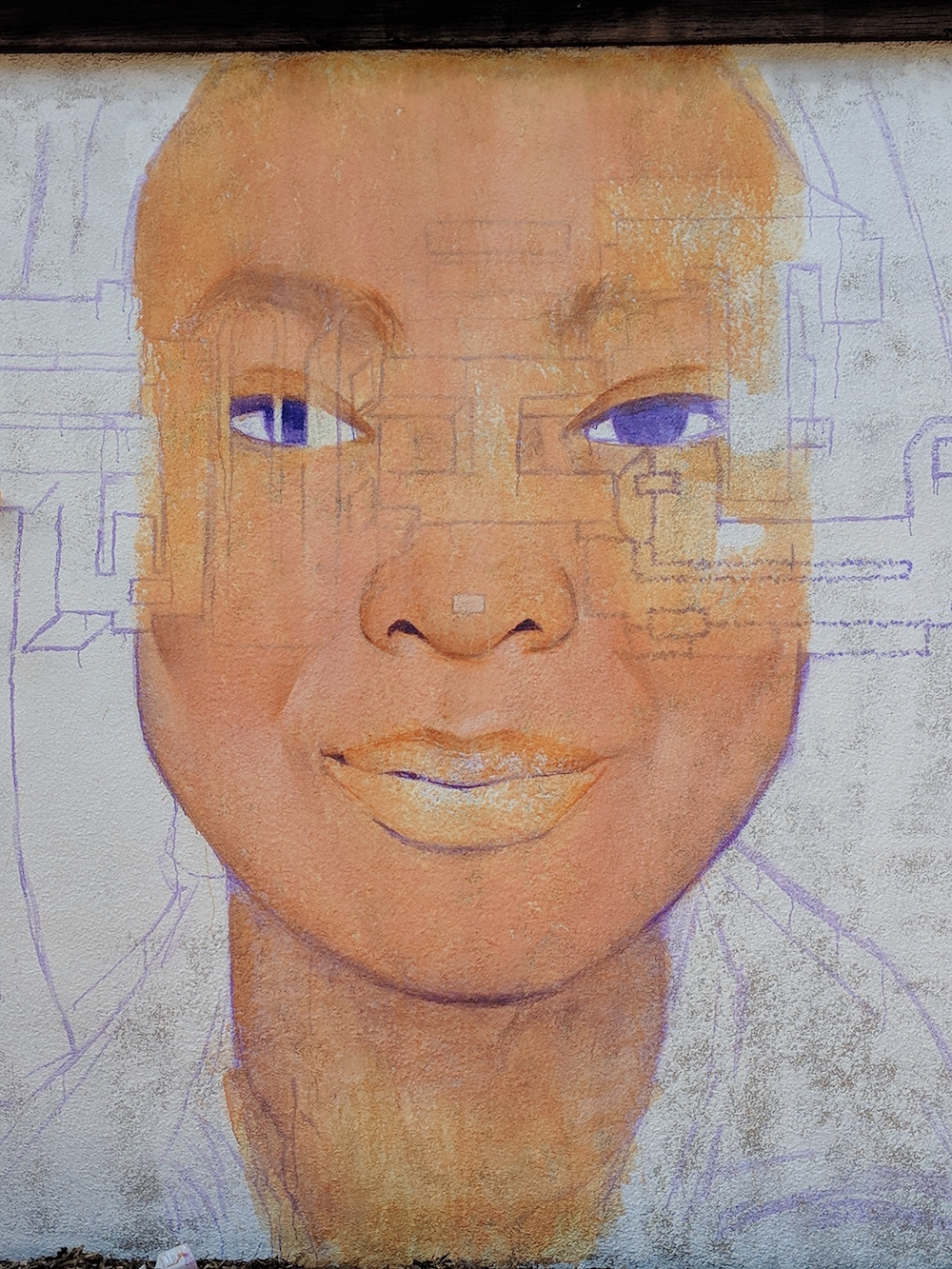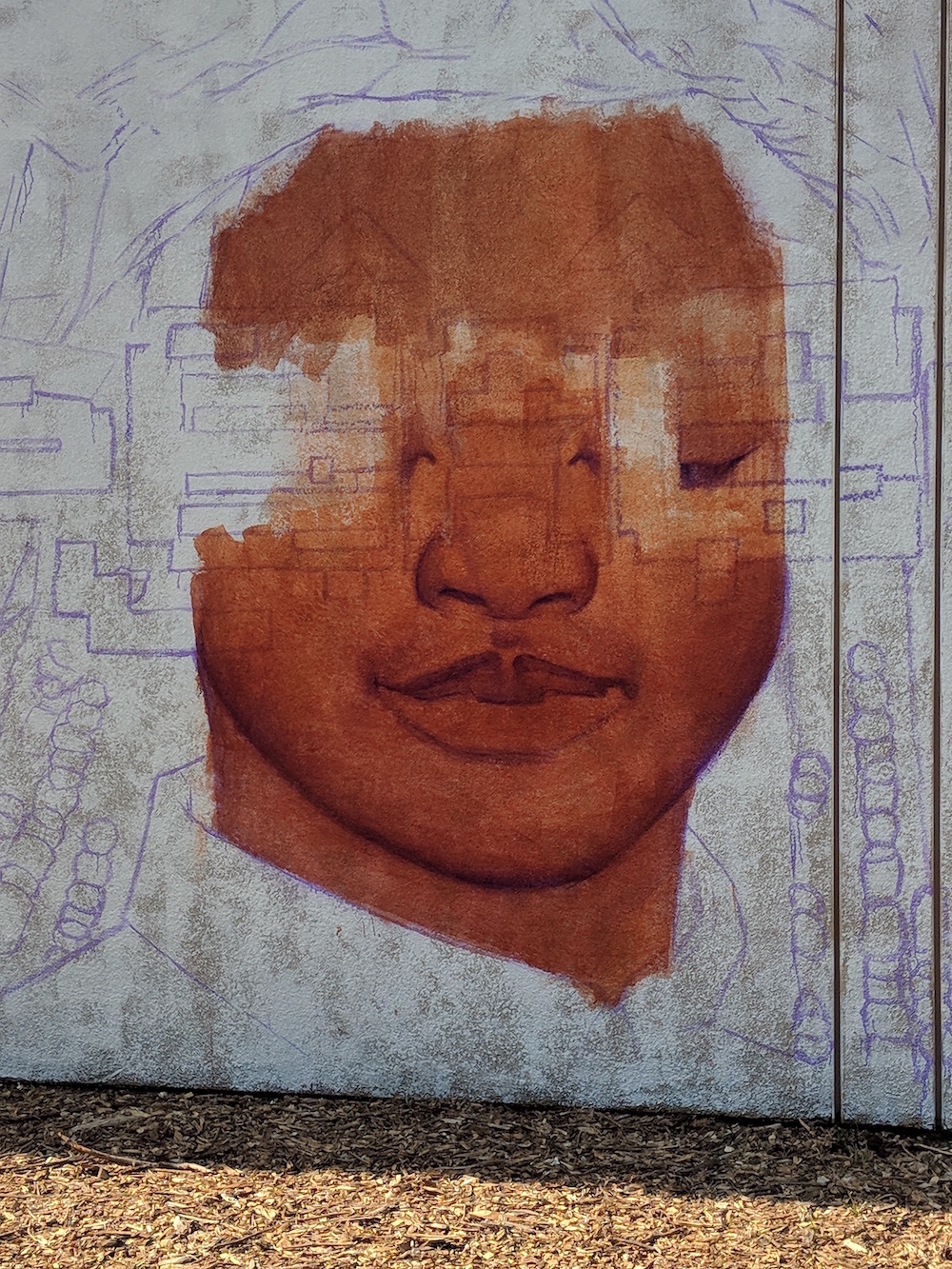 ---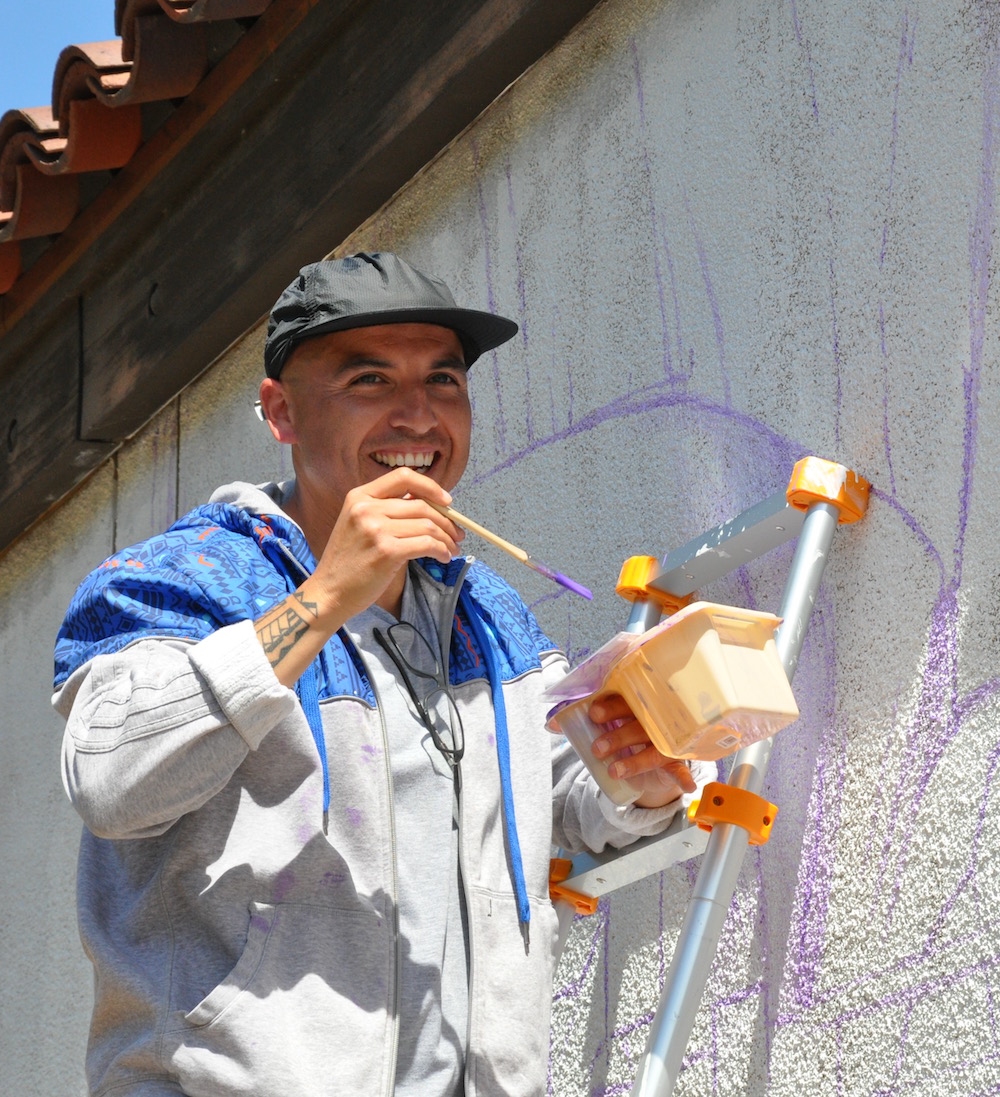 An acclaimed San Jose artist and several De Anza students have begun work on a special outdoor mural that will commemorate the college's 50th Anniversary, marking the end of a yearlong celebration.
San Jose muralist Sam Rodriguez – a De Anza alumnus whose work has decorated buildings and public spaces in the Bay Area, Los Angeles, New York and Japan – was commissioned by the college to create a piece that expresses De Anza's values and the anniversary theme of "Engaging the Future: The Next 50 Years."
The work, funded through donations, began the week of June 4 when Rodriguez and several students washed and primed the south-facing wall of Building S5, located just south of the Library and the grassy expanse of S Quad. While the college is home to numerous pieces of public art, the new mural will enhance an area where there has not been any outdoor art before now.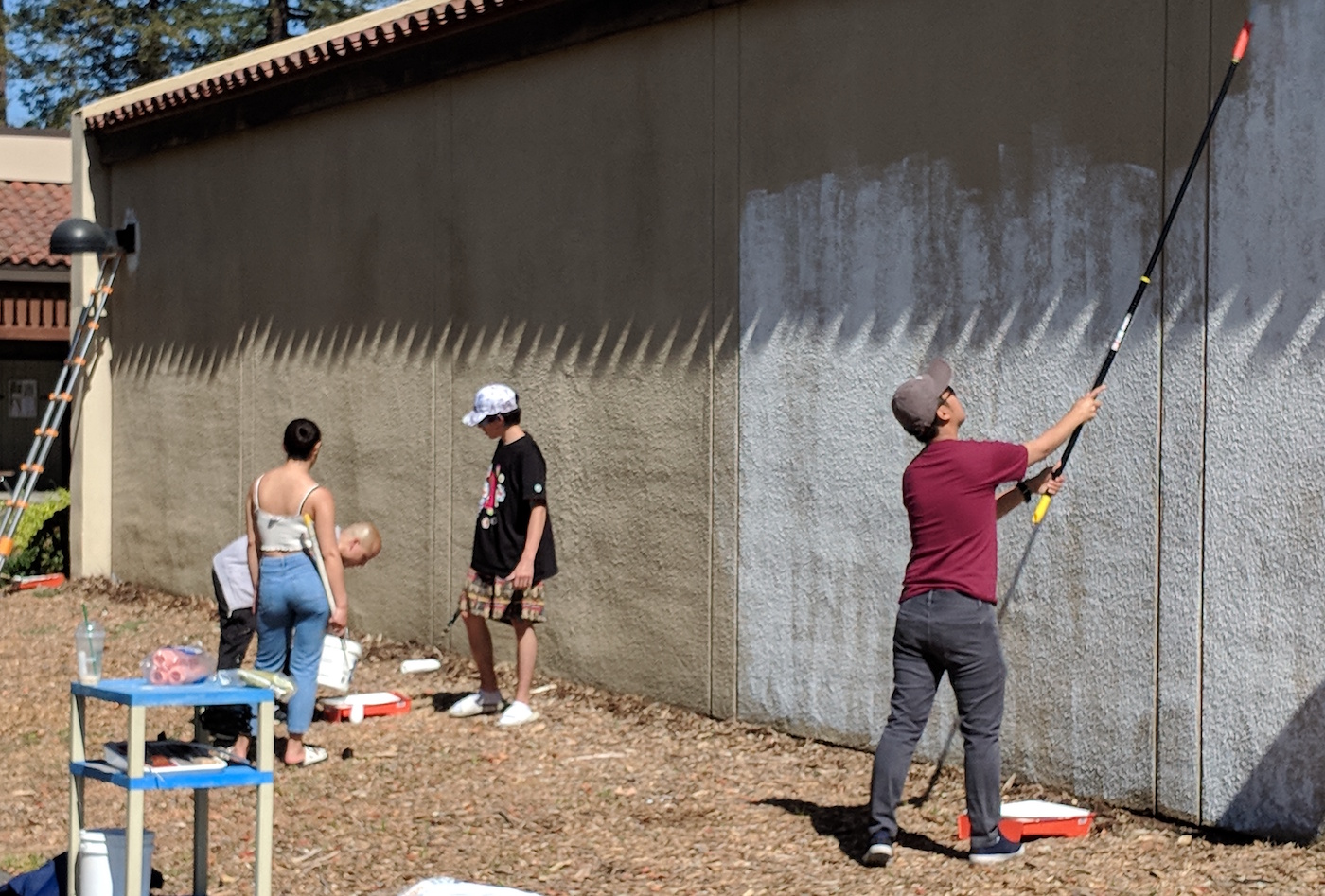 After tracing the outlines of his design, Rodriguez will spend the next three weeks filling in colors to create a piece that demonstrates his signature style – combining vibrant portraits with words and symbols to convey a deeper message. He'll be assisted by about 10 students, including interns from the Humanities Mellon Scholars program and several students majoring in art or graphic design.
Rodriguez is known for art that "builds a sense of community," said Diana Argabrite, program coordinator at De Anza's Euphrat Museum of Art. "He brings together visual cues around identity with an openness that invites viewers to find meaning from their own points of view," she added.
"I'm very excited about it," said Huy Tran, a recent De Anza graduate who volunteered to work on the project after hearing about it from an instructor and seeing Rodriguez's work online. "I just feel privileged to get to work with such a well-regarded artist."
Rodriguez, a De Anza alumnus, began his career as a self-taught graffiti artist before earning a bachelor of fine arts degree from the California College of the Arts. He now works as a free-lance illustrator, after developing graphic designs for public buildings, art festivals and corporate offices of Samsung, LinkedIn and other well-known companies.
---
50th Anniversary Speaker: DJ Patil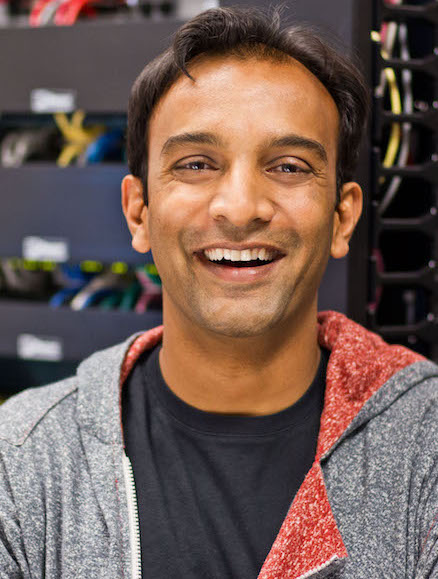 DJ Patil, a De Anza alumnus who went on to earn his Ph.D. in mathematics, is a veteran tech executive who served as the first Chief Data Scientist for the United States during the Obama Administration. In that post, he led government efforts to bring the power of data analysis to such fields as traffic safety, health care and national security.
Patil has said on Twitter that "De Anza College is where I found my love for math." He wrote more about his experience at De Anza in a post for Medium that calls community colleges "the national treasure we don't talk about." Patil followed his then-girlfriend to De Anza, taking the same classes that she did, after a lackluster academic performance in high school led the University of California to reject his application. He eventually went on to earn a bachelor's degree in math at UC San Diego, before getting his doctorate from the University of Maryland, College Park.
Currently, Patil is Chief Data Scientist at DevotedHealth, a health care startup focused on serving seniors. He is also a Senior Fellow at Harvard University's Kennedy School of Government. Before joining the Obama Administration, he was a vice president for product at RelateIQ, which was acquired by Salesforce, and was Chief Scientist and Chief Security Officer at LinkedIn
During his time in government, Patil played a key role in launching several programs, including the Precision Medicine Initiative, which applied large quantities of genomic data to improving treatment of chronic diseases, and the Police Data Initiative, which tracks law enforcement data to increase accountability and build trust between police and their communities.
He also worked on national security programs and was awarded the Department of Defense Medal for Distinguished Public Service, the highest honor that the department can bestow on a civilian.
Patil was a founding board member for Crisis Text Line, which uses technology to help connect troubled individuals with mental health and crisis support. He also worked for two years as Data Scientist in Residence at Greylock Partners, a leading venture capital firm. Earlier in his career, he worked at Skype, PayPal and eBay.
As a former research scientist and assistant professor at the University of Maryland, Patil investigated nonlinear dynamics, chaos theory and numerical weather prediction. In 2104, he was selected by the World Economic Forum as a Young Global Leader. Patil is also a member of the Council of Foreign Relations.
Patil returned to campus on May 7 to give a special 50th Anniversary talk on the subject of "Engaging the Future." He spoke to an audience of students, faculty and staff in the Visual & Performing Arts Center. The talk was also live-streamed and the replay is available below.
---

"A Taste of History"
Juan Felipe Herrera, the featured guest at this year's benefit for the California History Center and the Euphrat Museum of Art, is the immediate past Poet Laureate of the United States (2015-2017) and the first Latino to hold that position. A former adjunct faculty member at De Anza College, he has been called "the elder statesman of Mexican American poetry."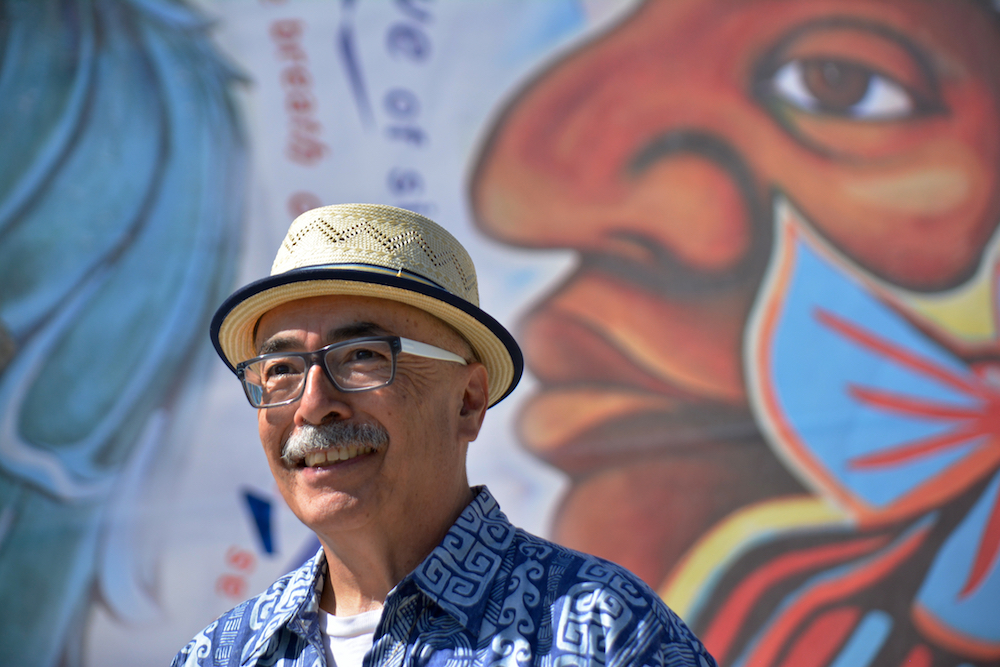 Herrera, who has written books for adults, young adults and children, is also a performance artist and activist on behalf of migrant and indigenous communities and at-risk youth.
When he was appointed Poet Laureate, the Washington Post reported: "As a child, Herrera learned to love poetry by singing about the Mexican Revolution with his mother, a migrant farmworker in California. Inspired by her spirit, he has spent his life crossing borders, erasing boundaries and expanding the American chorus."
At this year's Taste of History, Herrera shared stories and performed with a troupe of friends, musicians and poets.
The event also featured wine tasting, food and an opportunity to view the Euphrat Museum's fall 2017 exhibit, "Kindness as Resistance."
Waking up is the biggest thing. I'm a political poet – let us say a human poet, a poet that's concerned with the plight of people who suffer. If words can be of assistance, then that's what I'm going to use.

- Juan Felipe Herrera
---
"Acts of Kindness"
For the 50th Anniversary of De Anza College, the Euphrat Museum of Art commissioned a special project with the Teatro Visión theater company and community artist Kate DeCiccio.
The project, entitled "Acts of Kindness," includes a portable set piece that features portraits of five people from the De Anza community who have worked to build community, encourage civic engagement and create opportunities for expression.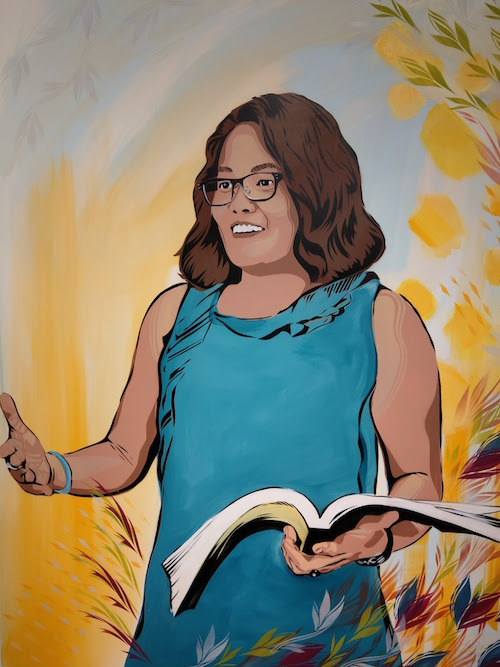 The five are Karen Chow (at right), English faculty member and president of the Academic Senate; Diego Cihuacoatl Gomez (above left), 2017 student graduation speaker and President's Award winner; McTate Stroman II, OTI Program Coordinator, mentor and spoken word artist; Savita Vaidhyanathan, a De Anza graduate who was elected mayor of Cupertino in 2017; and Elisa Marina Alvarado, founding artistic director of Teatro Visión.
Also as part of the anniversary project, Teatro Visión artistic director Rodrigo Garcia presented a series of workshops with De Anza students from MEChA and the ChicanX Studies program, including a performance and vegetarian tamale meal in the Euphrat museum and lobby.
In addition, De Anza alumna Shaila Ramos led a series of "Resistance through Artivism" workshops for students in the HEFAS program, culminating in an "artful day of action" in December.
---
Established in 1967, De Anza College was built on 112 acres of a former turn-of-the-century wine-producing estate. Today the campus sits in the heart of Silicon Valley, known worldwide as an incubator for technology and innovation. De Anza's faculty, staff and 20,000 students reflect the highly diverse ethnicities, cultures and backgrounds that comprise the region.
As its mission statement says, "De Anza College provides an academically rich, multicultural learning environment that challenges students of every background to develop their intellect, character and abilities; to realize their goals; and to be socially responsible leaders in their communities, the nation and the world."
The depth and breadth of De Anza's academic programs can be measured in the 66 degrees, 85 certificates and 1,655 courses offered at the college. Through its basic skills courses, support services and Learning Communities, the college provides new opportunities for students who have been underserved by their previous educational experiences. Also central to De Anza's mission is its work to engage students in civic learning and democratic practice.