Career Events
---

Adobe Career Academy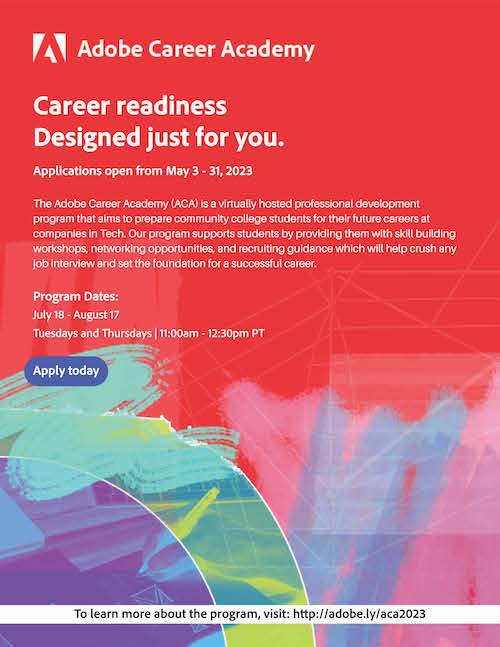 Adobe Career Academy is a five-week, online program that will be offered this summer (July 18-Aug. 17) to prepare community college students for future careers with companies in the tech industry and other sectors.
During the academy program, students will spend four to five hours per week in sessions that cover topics such as setting useful goals, finding internships, networking, leadership and problem-solving.
Applications are due by 5 p.m. on Wednesday, May 31.
---

Thank You, Career Fair Employers (and Students)!
More than 90 employers and more than 300 students participated in the Spring Career Fair held in the Sunken Garden on May 17, 2023. Here's a partial list of employers
AACI
Action Day Schools
Amazing Athletes South Bay (San Jose)
Amazon
Anderson Pacific Engineering Construction, Inc.
Atria Senior Living
Basket Materials, Inc.
Bill Wilson Center
Breathe California of the Bay Area
Bright Horizons
Britech Electropolishing, Inc.
CALDA
California Air National Guard – 129th Rescue Wing
California Department of Tax & Fee Administration
Caminar
Catalyst Kids
Cathy Cha CPA INC
Chen & Associates
ChildCare Careers
Chinatown Community Development Center
City of Los Altos
City of Mountain View
City of Redwood City
City of San Jose
City and County of San Francisco
The Creekside School
CSLOT
De Anza College - HEFAS
De Anza College - ISP
De Anza College - La Voz
De Anza College - OTI
Del Grande Dealer Group
DoubleTree Pruneyard Plaza
Elevo
Engineering For Kids, SF Bay Area
FirstLight Home Care of Silicon Valley
FLEX College Prep
Fresenius Medical Care North America
Friends of Children with Special Needs
Galileo Learning
Goal Oriented Academics & Learning Sciences (GOALS)
Gorilla Circuits
Growing IQ
The Harker School
Health Bear Food Company
Intervention Center for Autism Needs
Jardin de Mariposas School
Jovie: Childcare Reimagined
Kensington Place Redwood City
Kidango
Learn and Play Montessori School
LeeMAH Electronics, Inc.
Live Oak Adult Day Services
Mountain View Whisman School District
National Association of Remodeling Industry Silicon Valley - NARISV
Natividad
Nikon Precision Inc.
Panda Restaurant Group
Peet's Coffee
Penske Automotive Group
Presbyterian Early Learning Center
Primrose School of Evergreen
Prius Hybrid Battery of San Jose
Reading Partners
Redwood City School District
Rising Sun Center for Opportunity
San Francisco Public Utilities Commission
San Jose Sharks
San Jose State University
Santa Clara Unified School District
Satellite Healthcare
ScribeAmerica
Security Industry Specialists, Inc.
Shoreline Lake
Silicon Shorelake
Silicon Valley Applied Behavior Analysis
Stanford University Dept of Public Safety
SunRise ABA
Super Soccer Stars
The Sutcliffe Clinic
Think Together
Thrive Therapy and Social Center
Voices College-Bound Language Academies
Waterworks Aquatics
WGCEDEP
Yew Chung International School
ZeroCater