Office of College Life (Main/Front Desk)
Email
Phone
408-864-8756 (it is best to use email at this time)
Services
College Life, Club, DASB, Photo ID, SmartPass Clipper Card, DASB Bike Program, and More Help and Information
Professional Staff
Hyon Chu Yi-Baker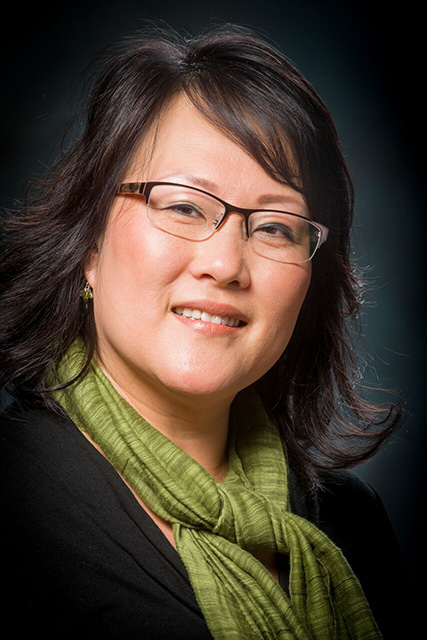 Faculty Director of College Life and Judicial Affairs Officer
408-864-8239
Dr. Hyon Chu Yi-Baker (pronounced Hyun-Joo Yee-Baker) was raised in Puyallup, Washington located about 30 miles outside of Seattle. She immigrated to the United States from Seoul, Korea at the age of 3 and became a U.S. citizen at age 12. As a proud first-generation college student and the only person to receive a doctoral degree throughout her extended family, Hyon Chu understands the value, power, and privilege that comes with getting an advanced degree.
Hyon Chu's formal educational journey began at Western Washington University where she majored in American Cultural Studies. As a college student, she was an active member of the Ethnic Student Center, Associated Students, and Student Clubs and Organizations. Some of her favorite leadership experience during her undergraduate years were when she was a Resident Advisor, Peer Mentor, and Summer Bridge Counselor which was a program that worked with underrepresented and lower socioeconomic youth. It was during her college years that she discovered her passion working with students in various capacities involving leadership, activism, and advocacy. This led her to earn a Master's degree in Student Affairs in Higher Education from Colorado State University. After working as a practitioner for two decades, Hyon Chu returned to graduate school and obtained her Ed.D at San Jose State University in Educational Leadership.
For over 25 years, she has worked at various 4-year public institutions including UC Davis, CSU Monterey Bay, Cal Poly Pomona, and San Jose State University serving in a variety of roles. She worked as a Resident Director, academic instructor, director of a cultural center, ombudsperson, and as a program director for student success focused on transitional and retention services for marginalized populations. In addition, she has worked as a consultant leading diversity training and organizational and program reviews. De Anza College is her first community college and currently serves as the Faculty Director of College Life & Judicial Affairs Officer.
Hyon Chu is dedicated to enhancing and advocating for the academic and cultural empowerment of historically under-represented students. She is also committed to creating a learning environment where all students can thrive and reach their full potential. Her doctoral dissertation examined the civic engagement levels of Asian American community college students which informed how students participate in local and national politics. Integrating her research with her work with students at De Anza in particular the DASB Senate and ICC Clubs, Hyon Chu is passionate about developing a sense of civic leadership among the many students she is privileged to work with every day.
In her spare time, Hyon Chu loves to travel (especially long road trips), cook, nap (if she can fit one in), explore new restaurants, Broadway musicals, and most of all spending time with her family and friends. She especially adores her children and feels incredibly blessed to be their mom. Hyon Chu resides in Morgan Hill with her husband, two kids, and their sweet dog named Summer.
Maritza Arreola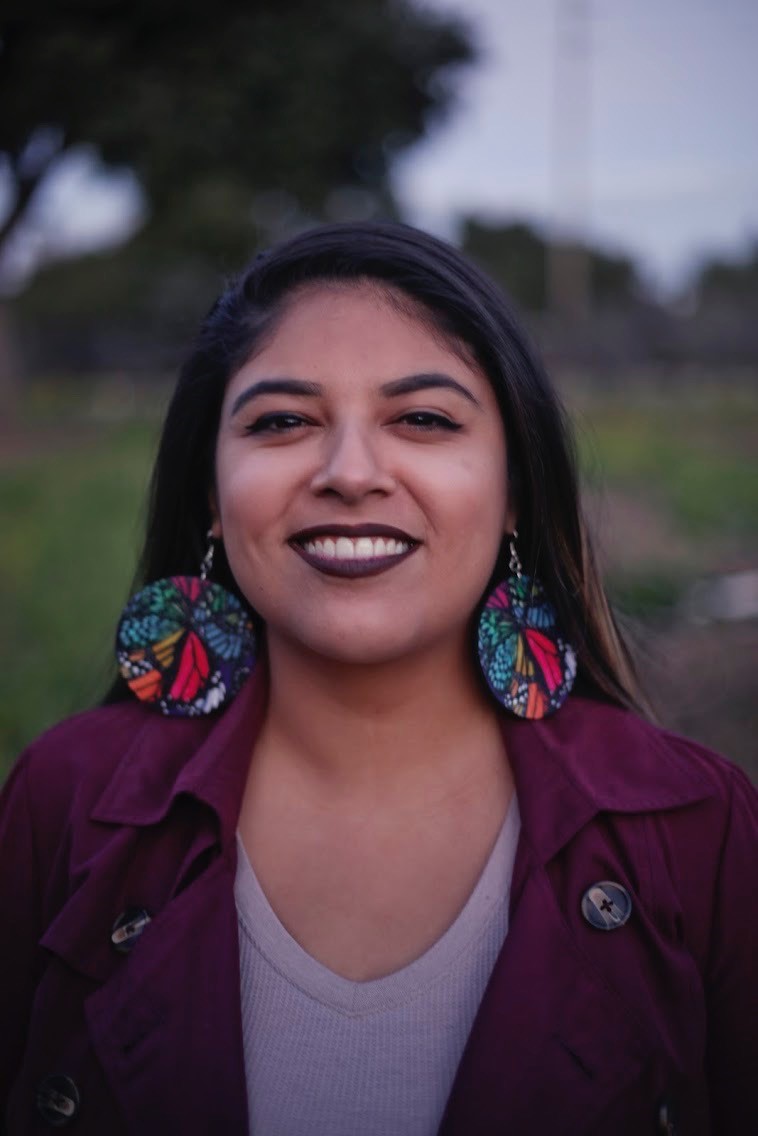 Student Activities Coordinator
408-864-8692
Maritza Arreola was born and raised in a mixed-status immigrant family in Mountain View, CA. Her parents came to the United States from Mexico to provide a better life and opportunities for their family, and emphasized education as their best pathway for success. Their encouragement, paired with guidance from her older brother and AVID community, helped her navigate being in the first generation of her family to graduate high school and go to college. Today, she and her siblings all hold college degrees.
After graduating from Mountain View High School, Maritza spent a year at San Francisco State University before deciding to return home and attend Foothill College. There, she grew as a student in the Honors Institute, and as a student leader she was involved with clubs that organized the college's Women's Heritage Month and LGBTQ Heritage Month. She eventually transferred to Mills College in Oakland, earning her BA in Women's, Gender, & Sexuality Studies and minor degree in Ethnic Studies in 2014. During her time at Mills, she grew as a visible student leader and student affairs paraprofessional.
After years of working with a number of LGBTQ+ focused non-profit organizations, Maritza returned to the field of higher education and earned her M.Ed. in Student Affairs from UCLA in 2018. During this time, she worked with their Office of Residential Life, supporting the buildings which included the Transfer Living & Learning Community. She then spent a couple of years at Scripps College serving as the Assistant Director of their multicultural center before moving back to the Bay Area.
Maritza's dedication to student affairs stems from her mixed experiences as a student herself – she knows how difficult college can be for anyone, especially with the marginalized identities she carries such as being disabled, low-income, and queer. But she also knows what a difference that certain people and spaces can make for students in navigating college. This is further rooted in her passion for social justice – the transformation of oppression into liberation, and our ongoing transformation into agents of change. Her work has centered on social justice and leadership development through programming and advising, and she's excited to bring that work to the dynamic, passionate leaders and leaders-to-be at De Anza College
When not working, she enjoys spending time with her partner, friends, and family; baking; playing Pokémon Go; and swooning over other people's dogs.
Dennis Shannakian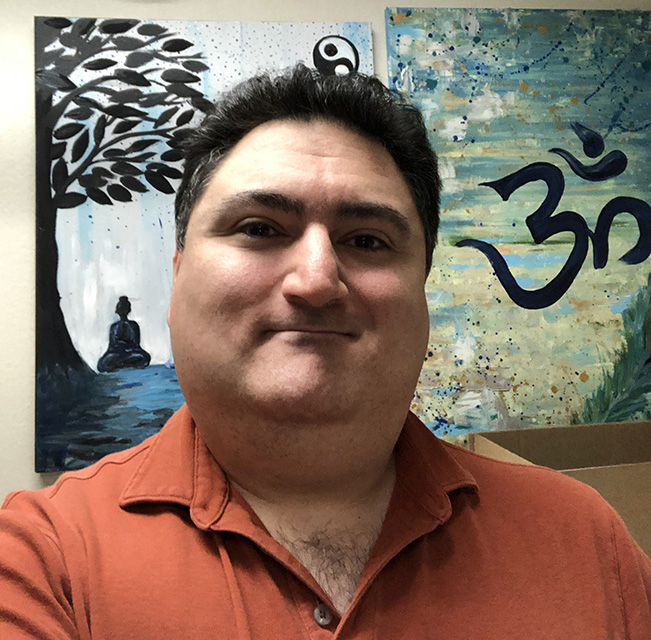 Student Activities Coordinator
408-864-8757
Dennis Shannakian was born in Riyadh, Saudi Arabia although is ancestry is Armenian and his parents were born in Lebanon. He moved from Saudi Arabia to Anjar, Lebanon for a few years then moved to the US in 1985 at the age of 9. He eventually became a US citizen and has lived here in the San Jose area for most of his life. He attended De Anza College and obtained an Associate's Degree in Liberal Arts with an emphasis in Business and Computer Information Systems.
As a college student, he became a student employee in the Office of College Life, which at the time was known as the Student Activities Office, and also worked with the DASB Senate on various projects. In September 1999 he became a full time staff member of the Office of College Life and has been coordinating the office functions and advising the DASB Senate ever since.
Dennis believes in student empowerment and enjoys working with students. He thinks it is always fresh and exciting with new students coming each year to learn and grow.
In his spare time, Dennis loves to read, listen to music, draw, play computer/video games, try new foods and restaurants, and spend time with family and friends. Dennis is married and resides in South San Jose.
Student Employees
Alicia Kong
Christine Pham
Amara Sledd
Alyssa Ung
Retirees
La Donna Yumori-Kaku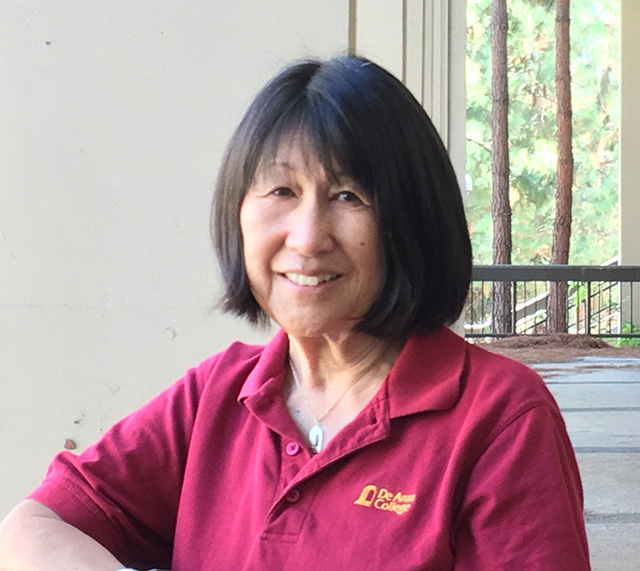 La Donna Yumori-Kaku worked at De Anza College for over 39 years in the Office of College Life; she retired in June 2019. She is a first generation college student with a Master's Degree in Counseling Education from the University of San Francisco and a Bachelor's Degree in Recreation and Leisure Studies and a Minor in Asian American Studies from San Jose State University. She understands the De Anza experience having earned her Associate of Arts Degree in Liberal Studies from West Los Angeles Community College.
Since High School she has been actively involved with clubs, student leadership organizations, the yearbook staff and at San Jose State University she was involved with the College Union Programming Board as the Film Coordinator, Oriocci -Asian American club, volunteering with the Asian American Studies program, and Student Coordinator of the Asian Pride Program. She has always enjoyed volunteering with student and community organizations planning events and doing fundraisers. She has her own personal experiences of being involved and having a "second family."
She enjoys working with the diverse student population with the clubs, Inter Club Council (ICC) and the De Anza Associated Student Body (DASB) student government in a non traditional job. She encourages students to participate with active campus involvement for an enriched educational experience. She helped start some events that have continued (Club Day, Club Karaoke, Fall Dance, and Spring Carnival) and other events that are no longer here in an ever changing environment. She shares her organizational skills, an open mind to ideas and a listening ear to the students she is involved with. She hopes that the students who get involved feel that De Anza is their second family too! She has many fond memories of the hundreds of the students that she has worked with and still keeps in touch with them through social media.
She has served as the Co chair of the Asian Pacific American Staff Association (APASA), a Senator for the Classified Senate, and on the California Community College Student Affairs Association (CCCSAA) as the President, Vice President, Secretary and Regional Representative 4.