Welcome to the DASB Flea Market
The De Anza Flea Market began as a small effort by the students of De Anza College to raise money for the student body over 30 years ago and has grown into an established community event attracting vendors and patrons from throughout the state. The De Anza Flea Market is still a student enterprise with the De Anza Associated Student Body paying for all of the expenses and gaining approximately $300,000 annually for a variety of programs, services and events at De Anza College. The De Anza Flea Market contains about 825 vendor stalls and usually sells out very quickly. If the weather is good the Flea Market will typically draw approximately 15,000 to 20,000 shoppers.
The Flea market Office will be closed Friday, October 11, 2019 through Friday, October 18, 2019.
Come sell with us; see the links at the left to discover how easy it is!
The Flea Market is held the First Saturday of Every Month including holidays, rain or shine.
The Flea Market Office will be CLOSED on the following days:
Thursday, August 8, 2019
Thursday, August 29, 2019
No dogs or other pets allowed except for service animals.
(FHDA Board Policy BP 3441 - Animals on Campus)
Upcoming DASB Flea Markets
November 2, 2019
December 7, 2019
January 4, 2020
February 1, 2020
March 7, 2020
April 4, 2020
Signing Up
We will begin accepting mail-in applications for the Saturday, October 5, 2019 Flea Market on Tuesday, September 3, 2019.
The deadline for mailing in applications for the October 5, 2019 Flea Market is Monday, September 23, 2019.
NOTE: You must wait until Sunday, September 1, 2019 to mail in your application for the Saturday, October 5, 2019 Flea Market.
For application, instructions, and more information on registration for any DASB Flea Market please see How to Sell Here (Signing Up).
Five dollar ($5) late registration fee per space will be surcharged within ten (10) days prior to the market. Money Order Only * No Refund * No Cancellation
Six-Month Contracts for January 2020 - June 2020 are now available.
There is normally no walk in registration.
There is no waiting list and there will be no stand-by/day-of-market sign-ups.
Anyone who wishes to participate at the De Anza Flea Market MUST follow all registration protocols and meet the monthly deadline. This also includes businesses and organizations that provide "non-sale" promotional marketing, advocacy groups like petitioning, and any persons interested in setting up a table or taking space inside the Flea Market. No exceptions.
Video from October 6, 2018 Flea Market
Special Thanks to De Anza College newspaper La Voz News for the video.
College Life Job Opportunities for Students
Flea Market Assistants and More
Aerial Views of the DASB Flea Market
Click on images for a larger view.
DASB Flea Market July 2, 2011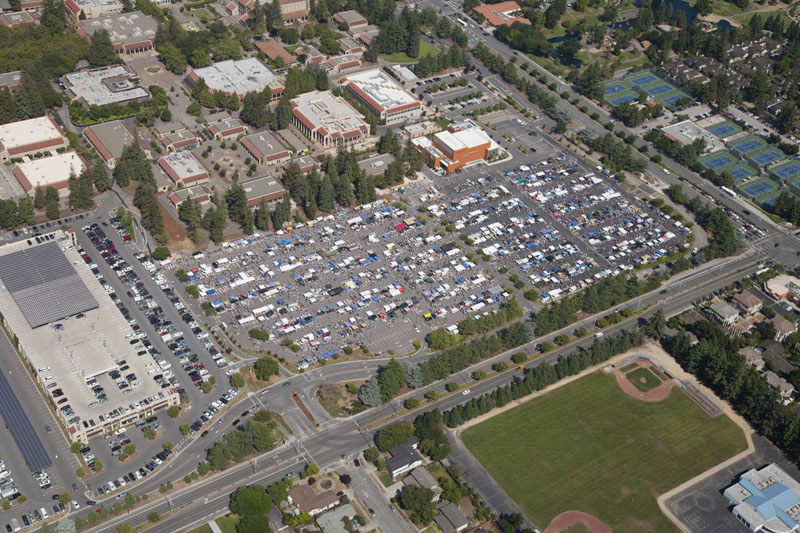 DASB Flea Market October 6, 2001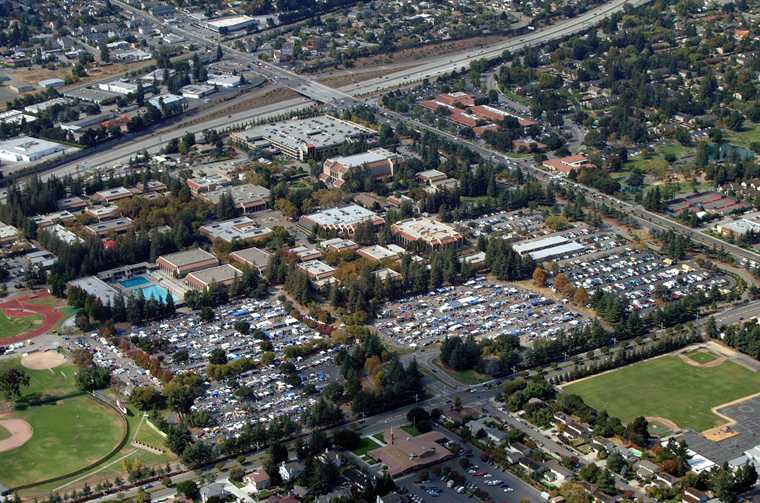 DASB Flea Market Circa Early 1980s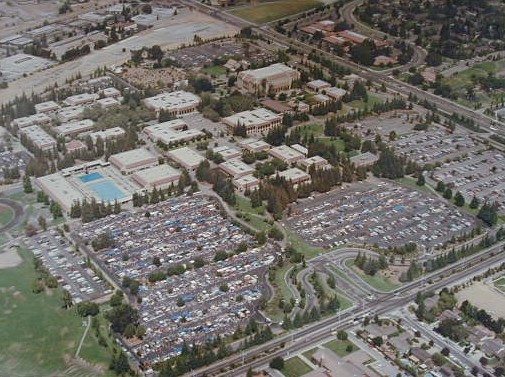 Thank You for visiting our website. We hope to see you at the next market.