Upcoming Events
---
November
---
On Indigeneity
Nov. 23, 12:30-1:20 p.m.
Contact Steve Nava for details
Join us for a student-led discussion with Dr. Yvonne Sherwood on Indigeneity.
---
On Latinx Education
Nov. 30, 12:30-1:20 p.m.
Contact Steve Nava for details
In the last LEAD event of November, sociologist Anthony Villarreal of Monterey Peninsula College discusses Latinx Education.
---
Recent Highlights
---
June 2020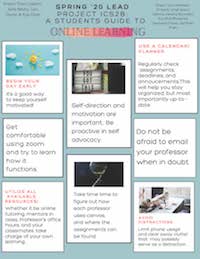 A group of LEAD peer mentors created these resources to support online learning to share with students and faculty members during this unprecedented time, when the college has shifted to online classes in response to coronavirus health directives. The resources were created by students enrolled in ICS 2B: Practicum in Peer Mentoring, Leadership and Community Building.
---
October 2019
LEAD students and instructors recently visited an agricultural field as part of a "Farmworker Reality Tour" organized by the Center for Farmworker Families in Felton. They also caught a stage production of Teatro Visión's "Macario" at the Mexican Heritage Plaza in San José.
(Click on any photo to view in full size. Click on the right or left arrows to advance the gallery.)
---
September 2019
LEAD students started off the school year with orientation in the Multicultural Center on Sept. 24.