Football, Other Fall Sports Excel
De Anza College sports teams turned in a series of outstanding performances this fall, including a championship bowl victory that capped a 10-game winning streak by the men's football team.
"This was a special team. They did a great job staying focused," said Tony Santos, head football coach, who was named Coach of the Year for the Pacific 7 Division of the California Community College Athletic Association.
The women's cross country, women's volleyball and men's soccer teams also had exceptional seasons, according to Kulwant Singh, athletic director.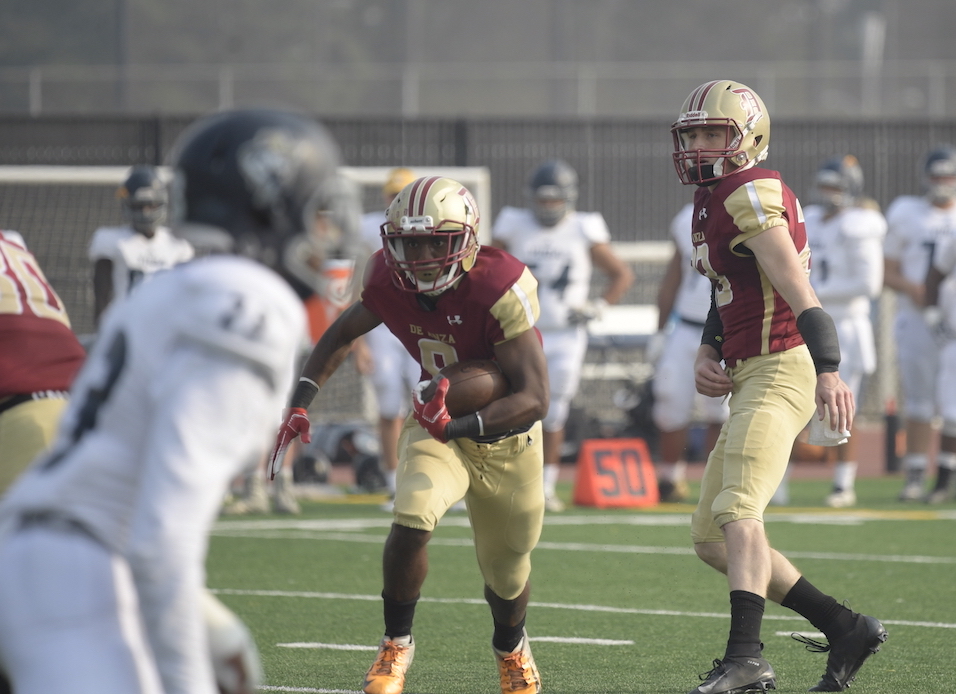 While De Anza's football team has won several championships in recent years, Santos said it was the first time in more than 30 years that the team had double-digit wins.
De Anza's overall record of 10-1 was marred only by a season-opening loss to Reedley College – later avenged when De Anza defeated Reedley, 42-41, in the American Conference Championship Bowl on Nov. 17.
De Anza had already won the American – Pacific 7 Division championship by defeating Yuba College, 58-52, in overtime on Nov. 10.
Santos credited the team's refusal to be distracted at a time when budget constraints forced the college to weigh the future of football and other programs. De Anza's College Council approved a budget recommendation on Nov. 29 that allows the football program to continue.
During the extended budget discussions, Santos said he urged his student athletes to concentrate on each Saturday's game and "focus on the things you can control."
De Anza had 13 football players named First Team, All League, including six players who were also named All Region.
Other De Anza sports teams that did exceptionally well this fall:
The women's volleyball team, coached by Dawnis Guevara, finished in a three-way tie for second place in its conference, with an 8-4 overall win-loss record.
The women's cross country team, coached by Nick Mattis, finished 17th in the state meet at the end of the season.
The men's soccer team under Coach Rusty Johnson made it to the second round of the Northern California playoffs before losing to Fresno, 0-1, in double overtime. The team finished third in its conference with an overall win-loss record of 15-6-1.
Congratulations to all De Anza athletes, coaches and supporters on an outstanding season!