Meet The Excellence Award Winners
English instructor Lydia Hearn, longtime EOPS supervisor George Robles and the staff of De Anza's Office of Communications were honored this week with Excellence Awards from the League for Innovation in the Community College.
The annual John and Suanne Roueche Excellence Awards awards are given to recognize outstanding contributions in teaching, leadership and service. They were announced at the League's annual "Innovations" conference in New York City, where De Anza also gained recognition for its efforts to boost underrepresented students.
De Anza representatives to the conference, including Yvette Campbell, director of De Anza's STEM Success Program, were selected to give a presentation at the conference about the expanded MPS STEM Jump-Start program and ways to break down barriers that deter underrepresented students from majoring in Science, Technology, Education and Math-related fields. The presentation featured two new videos about the MPS program.
---
Lydia Hearn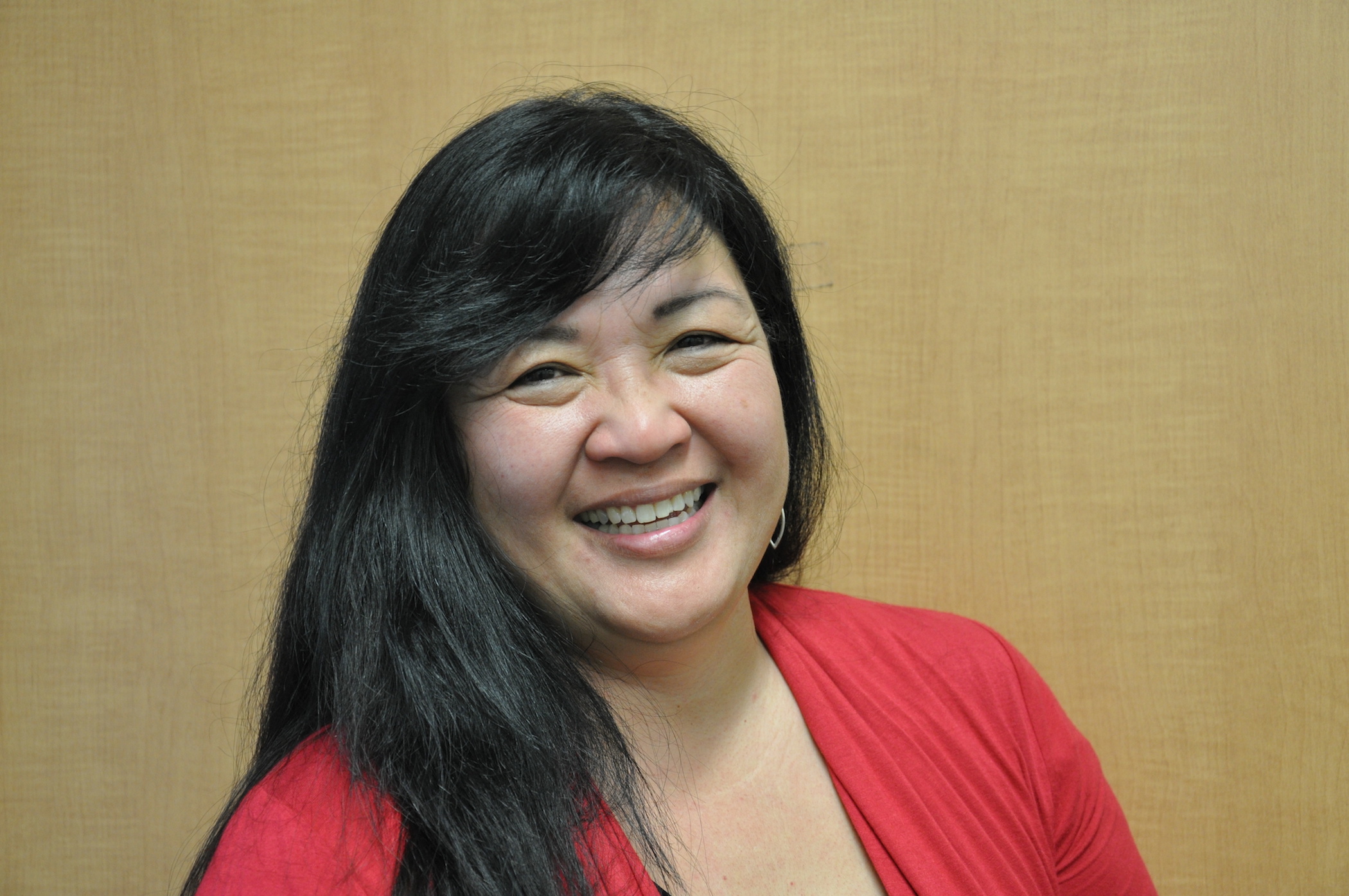 Hearn is a longtime De Anza instructor, but that's only one part of her resume at the college.
Over the past 18 years, she has served as interim dean of Language Arts, interim associate vice president for Instruction, president of the Academic Senate, coordinator of the Honors Program and co-coordinator of the Puente program – among other roles.
Recently, she's helped coordinate the adoption of free and low-cost textbooks and other course materials at De Anza. She also is helping to lead the move to a new curriculum management system.
When asked what she likes to do in her free time, Hearn joked, "What free time?" But she said she enjoys the company of her daughter and close friends. Along with writing and literature, Hearn is a fan of blues-rock music and the Los Angeles Lakers.
Hearn earned her bachelor's and master's degrees in English at the University of California, Santa Barbara. While at De Anza, she has taught English courses for several Learning Communities, including Honors, LinC (Learning in Communities), Puente, REACH and Umoja.
Participating in Learning Communities has been especially rewarding, she said, "because I have the opportunity to work with students who have often been marginalized throughout their lives, even by the educational system."
She added that, as those students learn and gain confidence, "it is beautiful to watch them shift from merely attending classes to envisioning themselves as academic scholars."
---
George Robles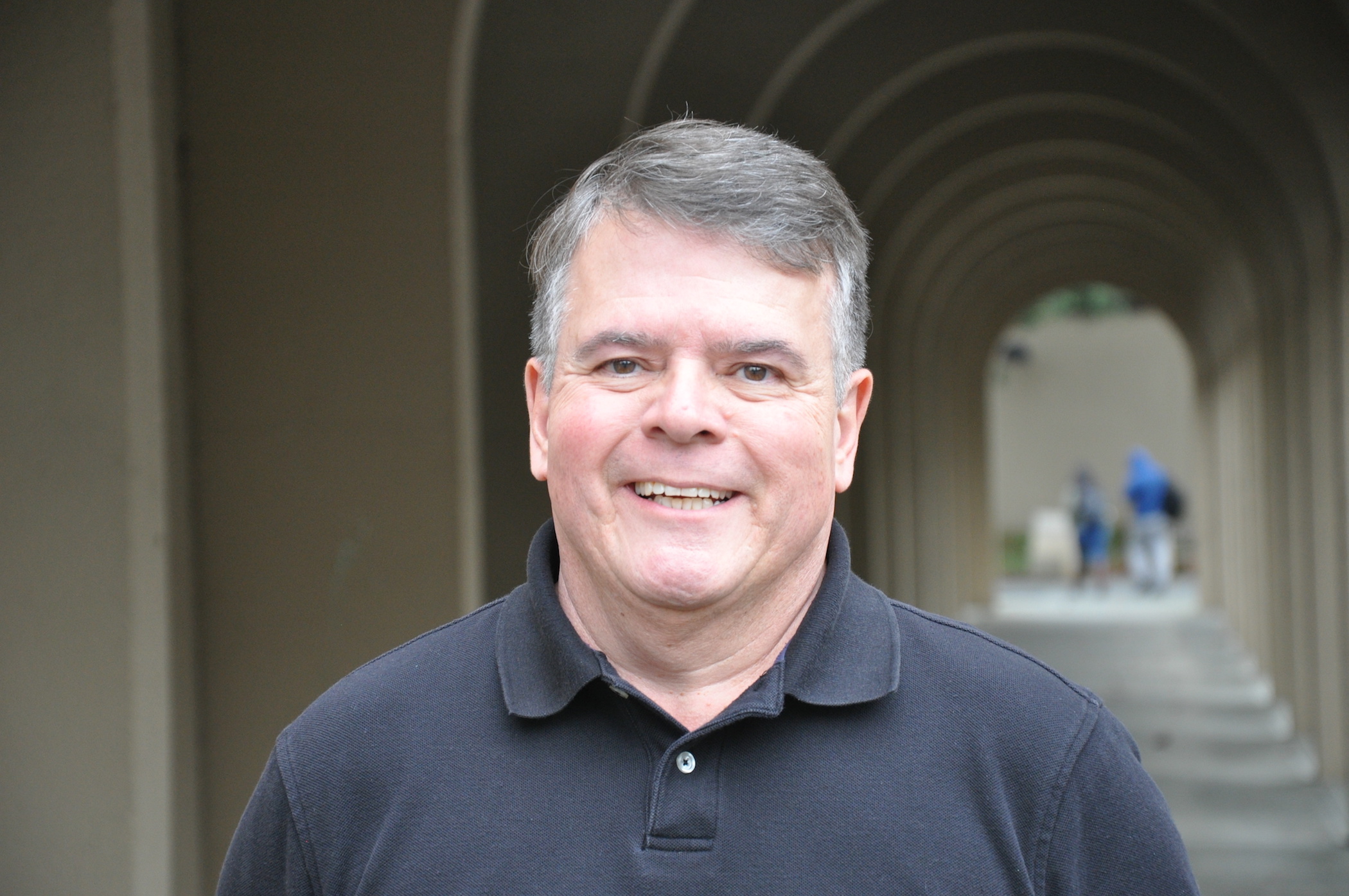 Robles is retiring this spring after more than 40 years at De Anza – including 35 years working with the EOPS program.
"De Anza College has been my second home," he said.
Robles's first job at De Anza involved helping students with career planning and job placement. He also worked for six years in the Financial Aid office before joining Extended Opportunities Programs and Services, which provides services for low-income and academically disadvantaged college students.
As EOPS supervisor, Robles is responsible for day-to-day operations as well as compliance with state and federal regulations. He proudly considers the De Anza EOPS operation to be a model for the state – an assessment that was affirmed by peers and colleagues who presented him with an Outstanding Service Award at the EOPS statewide conference in 2016.
Robles has served on a number of campus governance groups and committees. He's currently co-chair of the Student Services Planning and Budget Team and a member of the College Planning Committee.
"Being able to serve students efficiently and effectively requires not only job knowledge but also institutional knowledge," he said. "The more we know about where we work – not just what we do – the more effective we can with our students."
Outside work, he's an avid hiker and camper who enjoys visiting national parks.
Robles said he often finds himself encouraging students not to give up on pursuing their goals. He added, "there is nothing that can beat my passion for working with students in the EOPS Program."
---
Office of Communications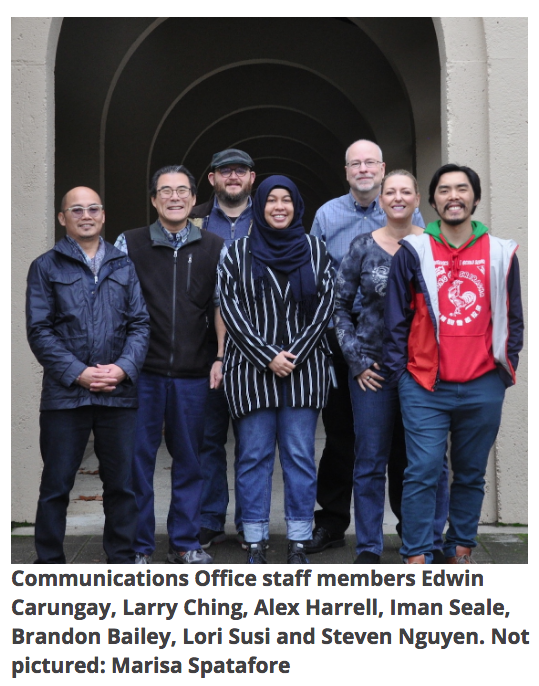 De Anza's third Excellence Award recognizes the Office of Communications staff for a series of group efforts last year.
Led by Marisa Spatafore, associate vice president of Communications and External Relations, the office handles internal and external college communications, public information and media relations, community relations, the college website, publications, advertising, social media, major event planning and video production.
Last year, the Communications Office completely overhauled the website, which is a crucial tool for sharing information on campus and for promoting the college to prospective students who are interested in De Anza.
The long-overdue redesign brought a clean, modern look and new features to the site. It required months of planning and work by members of the office Web Team – including web administrator Alex Harrell, web support technician Larry Ching and writer/editor Brandon Bailey – who transferred thousands of pages of information from the old website.
The new site recently earned the No. 1 ranking for accessibility in a national comparison of college and university websites. The redesign included new visual elements and tools to ensure that people with diverse abilities can make full use of the site.
In a second major project, the Communications Office produced an extensive video tour that highlights some of the most striking buildings and locations around campus. Developed for student recruitment and public information, the tour package includes a series of companion videos in which students talk about their favorite campus locations.
Multimedia producer Steven Nguyen and multimedia coordinator Edwin Carungay created the videos. Graphic designer Lori Susi, communications associate Iman Seale and Bailey developed an extensive campaign to promote the tour through web postings, social media and online contests.
Susi and her coworkers also produced a variety of brochures and other printed materials throughout the year – including the De Anza College catalog and promotional items for the Assessment Center, Auto Tech, the California History Center, Community Education, Outreach and others.
Seale, meanwhile, has reinvigorated the college social media accounts since joining the office last fall, by making frequent use of tools such as Instagram Stories to document live events and adding popular "Throwback Thursday" posts that feature historic campus photos.