De Anza Wins National Quiz Bowl
A team of De Anza students showed their smarts by winning a national Quiz Bowl championship tournament over the weekend – becoming the first California team ever to win the community college title.
Zachary Yan, Aditya Bhardwaj, and Ethan Skinner were undefeated in a series of Quiz Bowl contests, which test students on their knowledge of science, math, history and literature, as well as current events and popular culture.
In each contest, a moderator reads a series of questions. A team member must be the first to hit a buzzer and answer correctly – out loud – before the opposing team can answer.
"I like quiz bowl because it combines my love of learning with a fast-paced competition," said Yan, the De Anza team captain, who's majoring in economics and history.
Yan said he started competing in high school and added that he's a fan of the TV game show, "Jeopardy."
The De Anza team won by outperforming seven other sectional champions, including tournament host Valencia College in Orlando, Florida. Valencia has won the National Academic Quiz Tournaments' community college championship six times before.
While a Valencia team member earned the highest individual score in the tournament, De Anza's Skinner came in second.
History instructor Mylinh Pham is the De Anza team's faculty adviser.
By winning the community college tournament, the team earned the right to compete against the country's top universities and four-year colleges for the overall college championship in Chicago next month.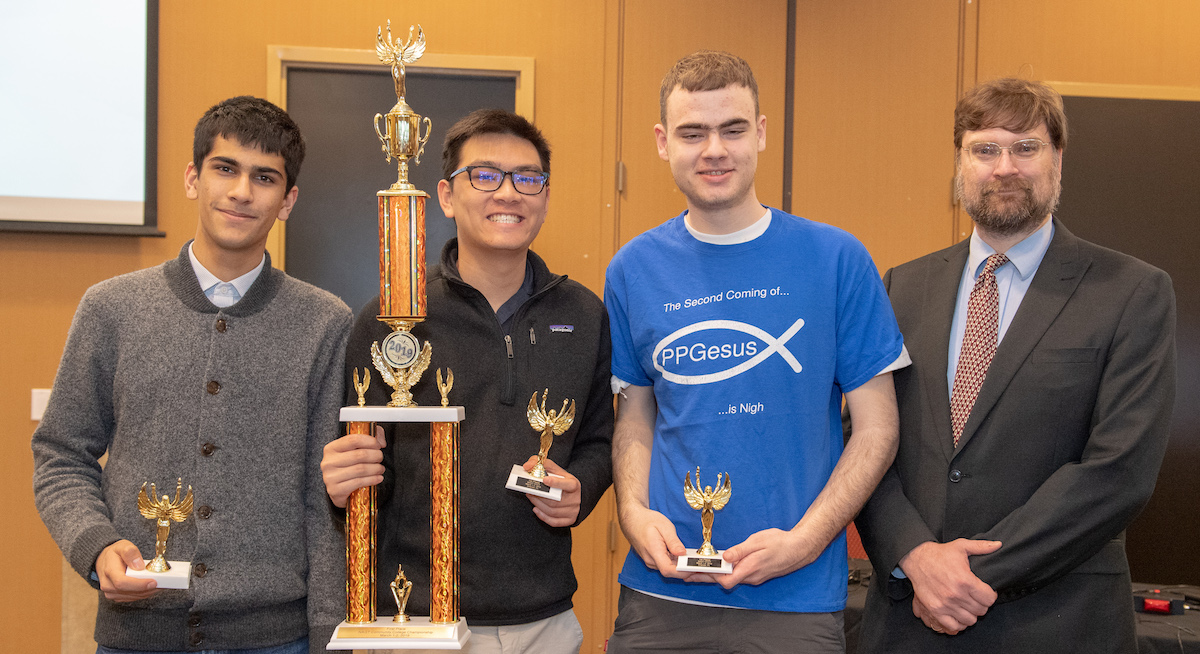 De Anza students Aditya Bhardwaj, Zachary Yan and Ethan Skinner, with NAQT President R. Robert Hentzel