Student-Centered Enrollment Practices
Keeping Enrollment Stable, With Gains for Underrepresented Populations
De Anza College was invited by the California Community Colleges Chancellor's Office to make a presentation for a statewide audience about student-centered practices that De Anza has used to maintain stable enrollment this fall – even as enrollment has declined for many community colleges around the state and nation.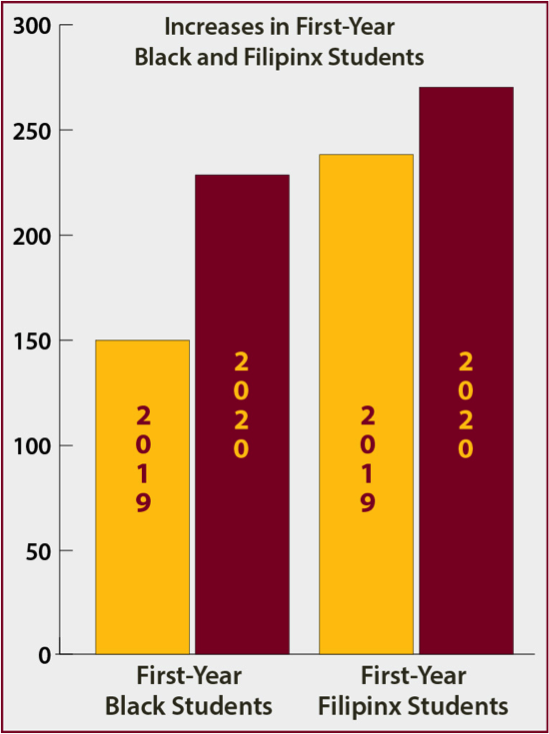 De Anza saw a 1% increase in FTES for fall 2020, compared with fall 2019. The college also saw significant increases in enrollment by Black and Filipinx students – two historically underrepresented populations.
The presentation was given by Christina Espinosa-Pieb, vice president of Instruction, Lorrie Ranck, associate vice president of Instruction, and Rob Mieso, vice president of Student Services, following an introduction by President Lloyd Holmes.
De Anza was one of two colleges invited to present during the state chancellor's office webinar on Nov. 18, along with Southern California's Rio Hondo College.
The presentation covered ways in which De Anza has made the most of these key elements, while transitioning to online instruction because of coronavirus health restrictions:
Equity-centered leadership – ensured smooth transition to support faculty and staff in best serving students and minimizing disruption
Strong college reputation – including for offering wraparound student support
Student outreach and communication – continued extensive outreach and recruiting, including to historically underrepresented populations, while adapting for online environment
Click the image below to view or download De Anza's slide presentation. A recording of the complete webinar will be posted soon at the state chancellor's Vision Resource Center: Log in or create an account and look in the "Communities" menu; select "All Communities" and then search for "CCC | Webinars, Conferences and Events."