Videos Offer Helpful Tips, '80s-Style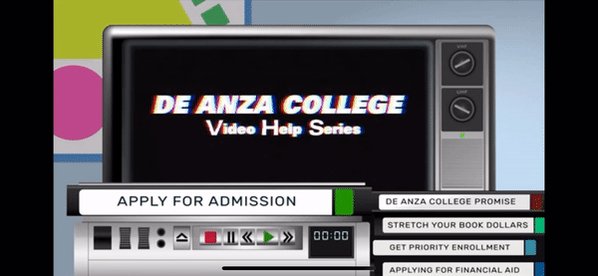 Do you remember VHS cassettes? De Anza has a new kind of VHS – a Video Help Series that offers quick tips and easy steps that students can follow to complete important tasks.
Each digital video is just one to two minutes long and uses a creative retro-'80s theme – with images of pagers, Pac-Man and other icons of the era – to make them both informative and engaging.
Topics include
The Video Help Series was produced by the Office of Communications, which is sharing them with students on social media, YouTube and relevant pages of the college website – including Apply and Register, Priority Enrollment, Outreach, De Anza College Promise, About Us, Financial Aid, Student Services and Resources. You can also find all the videos in one place at deanza.edu/vhs-guide
Two more videos – with tips for saving money on textbooks and getting a VTA SmartPass – are ready for release when students return to campus. More are in the works, so stay tuned for the next episode!