Welcome
De Anza's physical education staff is committed to excellence and the development of each individual by creating an atmosphere of fun, focus and friendship.
The mission of the Physical Education and Athletics Division is the development of the total individual by offering a comprehensive program emphasizing health, wellness and lifelong learning through exercise, sports skill development and critical thinking. The division is also committed to providing vocational training opportunities to prepare students for employment.
What We Offer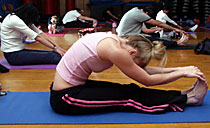 We offer several vocational programs leading to certificates or degrees. Massage Therapy is our largest vocational program. Students may earn a certificate or continue their studies for an A.A. degree. Our winter quarter massage clinic is extremely popular with students, staff, faculty and the community.
The De Anza Athletics program is one of the most diversified and comprehensive in Northern California. It is comprised of 18 sports for men and women.
Course Information
There are over 70 activity courses ranging from one-half to two units. Classes are offered Monday through Friday between 5:30 a.m. and 10 p.m.
Physical Education courses are usually offered for 1/2-unit laboratory sections two hours per week. Courses that are offered for three hours are given one unit of value and usually have an "X" listed in the course number.
Grading Policy: Most Physical Education courses are now accepted for completion of Area E General Education and are graded on a four-point scale. However, students can take the courses on a Pass/No Pass basis upon request. Note: All students who wish to earn a certificate of achievement or proficiency must take "required" courses for a grade.
Information on specific activity courses and programs is provided on this site. Students can find advisory and prerequisite notes in the course listings.
Contact Us
See the physical education staff directory for phone numbers and e-mail addresses of instructors. If you have further questions, please contact the Physical Education/Athletic Division office at: (408) 864-8751, Building PE4, Room 41C.
(Photos by Marjan Sadoughi, courtesy of La Voz)