Why Take an Accounting Class?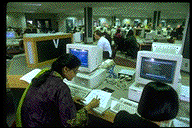 Everyone benefits from accounting courses...from the future entrepreneur to the accounting clerk, from the transfer student to a student seeking immediate employment, from someone already possessing a degree to a high school student.
In an effort to meet your needs, we offer more than 15 courses, some designed for transfer purposes, others for immediate job training, and some for both purposes.
We have numerous faculty in our department who come to us from Industry that teach a variety of courses related to their expertise. You can find out more about some of our faculty by visiting us on Facebook! Most instructors also have websites with biographical information; you can get to their websites by viewing our Faculty & Staff listing.