Award-Winning Program
De Anza's Journalism program has been recognized by the state Chancellor's "Workforce Stars" initiative for strong performance in a key area:
Journalism students increased their earnings by 282%
Careers in Journalism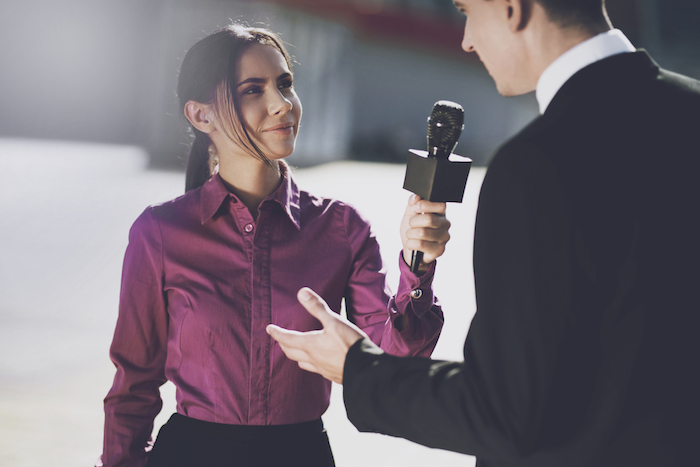 Journalists tell true stories that are important, useful – and even entertaining – about people, communities and institutions.
Formats for reporting the news are evolving, from traditional print newspapers to online publications and mobile apps. But the basic skills required for gathering information and communicating clearly remain essential.
Jobs in journalism include a wide range of activities: Reporters conduct interviews and gather information for stories, while editors oversee news coverage, review stories and find the best ways to present a news organization's work. Photojournalists and videographers shoot and edit digital images. Designers create informational graphics and layouts. Related positions include researchers, technical writers, advertising copy writers and public relations specialists.
Employment Outlook: 2016-2026
The number of jobs for reporters is expected to grow by 2.6%
Jobs for editors are expected to increase 6.4%
Jobs for public relations specialists are expected to increase 11.3%
These ten-year projections are calculated by California's Employment Development Department, which collects data about the state's workforce and economic trends.
Journalism at De Anza
The Journalism Department at De Anza provides classroom and practical training in reporting, writing, photography and graphic design. Students also learn about newspaper production, web design and video production.
Students can apply those skills by working for La Voz, the award-winning web and print student newspaper, and its online video and social media channels.
De Anza is the first community college in the San Francisco Bay Area to offer certificates in public relations. These programs are designed for students as well as working professionals who want to broaden their skills.
Journalism
The Journalism A.A. degree prepares students to transfer to a four-year university in journalism, mass communications, public relations/advertising or related disciplines, and offers students sufficient training to obtain an internship at a media outlet in print or electronic journalism or within the field of new media.

The Journalism major consists of courses appropriate for an Associate in Arts in Journalism for Transfer degree, which provides a foundational understanding of the discipline, a breadth of coursework in the discipline, and preparation for transfer to any CSU that accepts the Transfer Model Curriculum (TMC). Jobs in the field include: journalist, multimedia producer, editor, writer, publication designer, copy editor, social media specialist, content producer, newsletter editor, public relations representative, publicist, sportswriter and photojournalist. The Associate in Arts in Journalism for Transfer is intended for students who plan to complete a bachelor's degree in Journalism at a CSU campus. Students completing this degree are guaranteed admission to the CSU system, but not to a particular campus or major. Students transferring to a CSU campus that does accept this degree will be required to complete no more than 60 (semester) units after transfer to earn a bachelor's degree. This degree may not be the best option for students intending to transfer to a particular CSU campus or to a university or college that is not part of the CSU system. In all cases, students should consult with a counselor for more information on university admission and transfer requirements.

Public Relations
The Certificate of Achievement in Public Relations meets the needs of community college students and working professionals in areas such as sales, fund raising or marketing who wish to expand their skill repertoire in the area of public relations. Potential careers upon completion include public relations specialist, public relations and fundraising manager, or advertising and promotion manager.

The Certificate of Achievement-Advanced in Public Relations meets the needs of community college students seeking training in a skill set in preparation for a career in public relations, promotions, marketing communication or fundraising.
---
In addition to the programs listed above, you may be able to apply courses in this department toward General Education requirements.
Want to Know More?