Full-Time Faculty
All faculty offices are being refreshed with ergonomic furniture using Measure C bond funds designated for Furniture, Fixtures and Equipment. New furniture has been installed in more than 60 percent of faculty offices. The remaining offices are on a schedule to be completed by 2022.
When an office is scheduled to get new furniture, a College Operations staff member will contact the faculty member to assess furniture needs based on established college standards.
Once a final furniture plan is approved, College Operations will process the furniture order and manage the furniture installation.
Notifications begin in spring quarter and new furniture is installed during the summer break.
Office occupants are responsible for packing the office. Boxes and recycle bins are provided by College Operations.
Read the college Full-Time Faculty Offices policy document.
Part-Time Faculty
Office space for part-time instructors is available on the lower level of the Baldwin Winery, between the A Quad and Campus Center. The entrance is on the A Quad side of the building.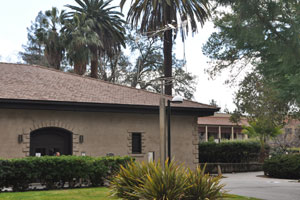 The office area includes
Thirty workstations and lockers, which be shared depending on demand. Fifteen of the workstations have computers; the other 15 have network outlets for laptop access.
Copier and scantron machines
Two small meeting rooms, which are not to be used for office space
Break area
Lobby area with seating outside office pods for students who are waiting to meet with a faculty member during office hours.
Workstations will be assigned on a first-come-first-served basis. Based on demand, more than one part-time faculty member may have to share a workstation.
Access to the Baldwin Winery office pod is restricted to part-time faculty members. Student access to the office pod is controlled through an intercom system, which students can use to contact the instructor on the telephone at the assigned workstation.
Lockers are available on a first-come, first-served basis. Part-time instructors who choose to have a locker are responsible for bringing their own lock and removing the lock at the end of their assignment.
Instructors will be responsible for scheduling the use of the meeting rooms and for the maintenance of the break area.