Reducing and controlling waste is a priority in De Anza's Sustainability Management Plan.
Single Stream Recycling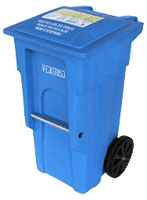 Any trash you put into a recycling or waste bin at De Anza will be transferred to a large compactor container, which will be picked up by Recology South Bay.
Recology offers a single-stream recycling service to its commercial garbage collection customers, at no extra charge. The company takes all waste and sorts it for recycling, composting or delivery to a landfill location.
The benefits of single stream recycling include:
Fewer collection trips: Because the waste doesn't have to be sorted at De Anza, the college was able to reduce the number of pickups – from 10 to one a week for the Campus Center. This reduces our carbon footprint.
Less work for the grounds staff: College employees don't have to spend time sorting through recyclables that did not make it into the correct bins.
Easier on you! You don't have to think about whether you are placing an item in the correct bin, except for a few key materials.
There are still a few items that you shouldn't put in the single stream bins
Batteries: Information coming soon!
Printer cartridges: Send these back to the vendor.
Light bulbs and other hazardous materials, such as spray cans, oil or paint: Information coming soon!
Remember the 5 Rs
Even though Recology will do the work of sorting and separating items that can be reused or recycled, the college still wants to limit waste on campus as much as possible. Before you place any items in a trash bin, always consider
Reject – Whenever possible, don't use items that create trash
Reduce
Reuse – Look for reusable products, like your water bottle, instead of buying products that can only be used one time.
Recycle
Rethink
Contact Operations Manger, Jorge Rodriguez at 408.864.5536 if you have any questions about recycling at De Anza.