Strategic Planning Process: 2021-2022

De Anza's collegewide strategic planning process will provide a road map for the next five years.
---
Educational Master Plan: Final Document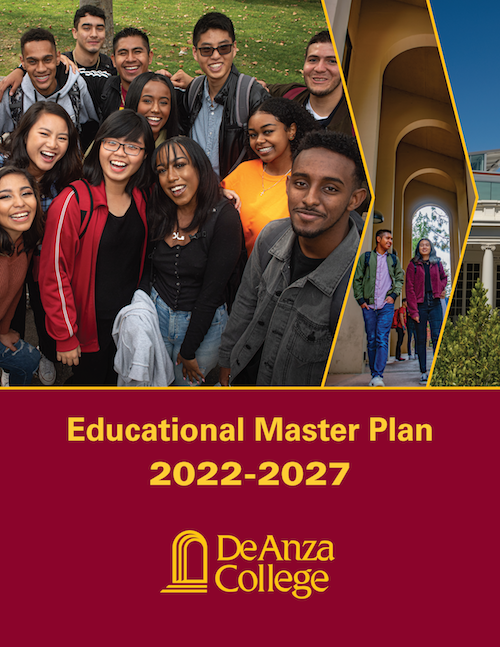 After a year-long process, De Anza's new Educational Master Plan (EMP) received final approval from College Council on June 9, 2022.
Scroll down this page for planning resources, a timeline of activities and slides and videos from workshops held during the preceding year.
The strategic planning process, initiated by President Lloyd Holmes in September 2021, culminated with adoption of an EMP that sets goals in line with the college's Vision, Mission and Values, along with its Institutional Core Competencies.
Building on a review of enrollment, programs and outcomes, along with regional, state and national trends – all viewed through an equity lens – the EMP provides a road map for what the college would like to achieve by academic year 2026-27.
The strategic planning process was coordinated by the College Planning Committee and three co-leads:
---
Planning Resources
Here are links to online collections of key college planning documents and comprehensive data that will help support the collegewide strategic planning process.
---

Workshops and Events
Review of Draft Strategic Plan
Monday, May 9, 2022
Special Q&A with senior staff
A review by governance groups and other members of the college community.
Strategic Planning Workshops Recap – Your Feedback
Monday, April 18, 2022
Special Q&A with senior staff
A review of your contributions to strategic planning through the four workshops listed below.
---
Workshop No. 1:
Overview, Data and Initiatives
(Introductory Workshop)
Thursday, Dec. 2, 2021
Watch the video recording above
The first in a series of four strategic planning workshops provided an overview of the planning process, while engaging participants in a review of key data, initiatives and student population groups.
---
Workshop No. 2:
Supporting Cultural and Structural Equity Through Guided Pathways
Monday, Jan. 24, 2022
Watch the video recording above
This workshop reviewed De Anza's Guided Pathways and Equity initiatives, with discussion about how they can lead to the cultural and structural changes necessary to create and enhance equitable outcomes for our students and the entire campus community.
---
Workshop No. 3:
Regional Trends, Enrollment and Retention
Monday, Feb. 28, 2022
Watch the video recording above
This workshop included an overview of regional demographic trends, as identified by Joint Venture Silicon Valley, that may influence planning, enrollment, retention and success.
---
Workshop No. 4:
Ensuring Learning Through Student Success Factors
Monday, March 14, 2022
Watch the video recording above
The last of four workshops explored how the college can build on Guided Pathways Pillar Four ("Ensure Learning") to enhance the student experience, within and outside the classroom.
---

Timeline
October-November: Development of Planning Process

College Planning Committee: Discussion of Strategic Planning Process

Thursday, Nov. 4: 3-4:30 p.m.

December-March: Strategic Planning Workshops
April: Assembling Draft Plan

College Planning Committee will incorporate input from workshops into draft plan
Draft plan to be reviewed by constituency groups
Feedback to be incorporated into draft Educational Master Plan document

May: Collegewide Review
June: Final Approval

College Planning Committee will incorporate input from governance groups
Plan will be submitted to College Council for final review and approval June 9