Online Ed Honored for Innovation
De Anza's Online Education Center has won national recognition for developing two comprehensive resource hubs for students and faculty members, providing extensive tools to assist with the transition to an online learning environment this year.
The resource hubs were selected for an Innovation of the Year Award, sponsored by the League for Innovation in the Community College. The awards will be formally presented at the League's national Innovations Conference in March 2021, honoring
Brandon Gainer, Instructor and Faculty Coordinator
David Garrido, Instructional Designer
Heidi King, Instructional Designer
Jenny Vela, Instructional Associate
Lorrie Ranck, Associate Vice President of Instruction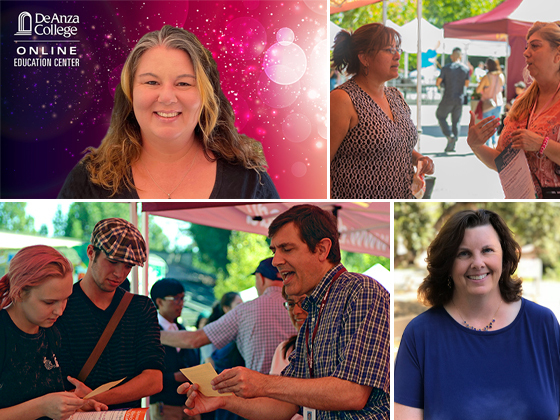 (Clockwise from top left: King, Vela, Ranck, Garrido. Gainer not pictured.)
The Online Ed Center moved quickly to create the "one-stop" resource hubs last spring, knowing that students and instructors would need support after the college announced plans to move classes online because of the coronavirus pandemic.
The Student Resource Hub includes guides to using the Canvas online course system and other tools, including a "quick start" guide and a comprehensive guide to using Zoom. The hub also features online orientation information and links to obtain live technical support from Library experts, along with a video providing tips for online learning success, which was produced by the Office of Communications.
The Faculty Resource Hub provides similar features, including links to Canvas certification training and Zoom training, as well as open labs and other training workshops. Along with upcoming training opportunities, the hub includes links to recordings of past sessions, for easy reference or a refresher on various topics.
"We knew that we needed to get our material out for all these people," said King. "We didn't want to have to tell them to go navigate through a bunch of webpages to find out about workshops."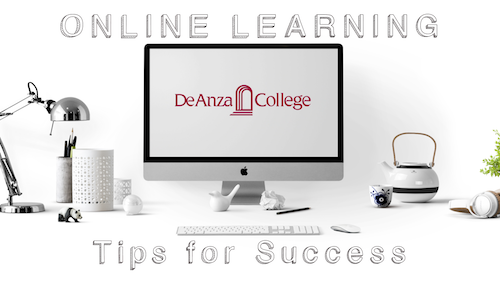 The hubs played a central role in allowing a smooth transition as the college moved more than 16,000 students to online classes. While De Anza previously offered about 20% of classes online, the college moved to 100% in time for the 2020 spring quarter. That included transitioning 1,200 courses in winter quarter and 1,000 in spring.
The Online Ed Center also assisted in providing online training for more than 600 faculty and staff members during the month before spring classes began.
That kind of sudden transition "has never happened before," said Ranck, who oversees the center. "It takes ingenuity along with initiative to realize the implications and design support opportunities for both faculty and students.
"This was no easy feat," Ranck added. "Some content in the resource hub had to be created, all of the information had to be categorized and organized in an intuitive way, and these spaces have to be maintained regularly. Plus, it had to happen quickly. The Online Education Center team heard the call, set to work and responded in brilliant form."
Ranck earned a separate honor last month when she was selected by her statewide peers to serve as a Diversity, Equity and Inclusion Strategy Lead for the California Community Colleges Chief Instructional Officers organization. The selection was based on an application process that considered merit and expertise in this important area.
Gainer was honored by the Cupertino Chamber of Commerce last month as De Anza College Educator of the Year for his work as a Communication Studies instructor and as faculty coordinator for the Online Education Center.