Banners Offer Messages of Hope
In a new form of campus-community outreach, the Euphrat Museum of Art has installed a series of colorful banners along segments of Stevens Creek Boulevard and Stelling Road – sharing a sampling of art, poetry and three-word phrases about hope with anyone who passes by.
"Hope is the rose that rises above the thorns of human ignorance and hatred," reads one, quoting San Francisco poet Genny Lim.
Each banner is 8 feet tall and features a colorful image topped by a three-word phrase on one side, with longer messages from a variety of contributors on the reverse. The Euphrat worked with Cupertino Poet Laureate Jing Jing Yang to gather contributions from accomplished poets as well as students from De Anza and local K-12 schools.
Euphrat coordinator Diana Argabrite said the "Hope and Solace" project is an effort to share art and poetry with the surrounding community, while the college campus is still mostly closed because of COVID-19 restrictions. It follows other recent Euphrat programs including the online art exhibition "Sources of Solace" and the "Hope Takes Shape" arts and humanities event held online this spring.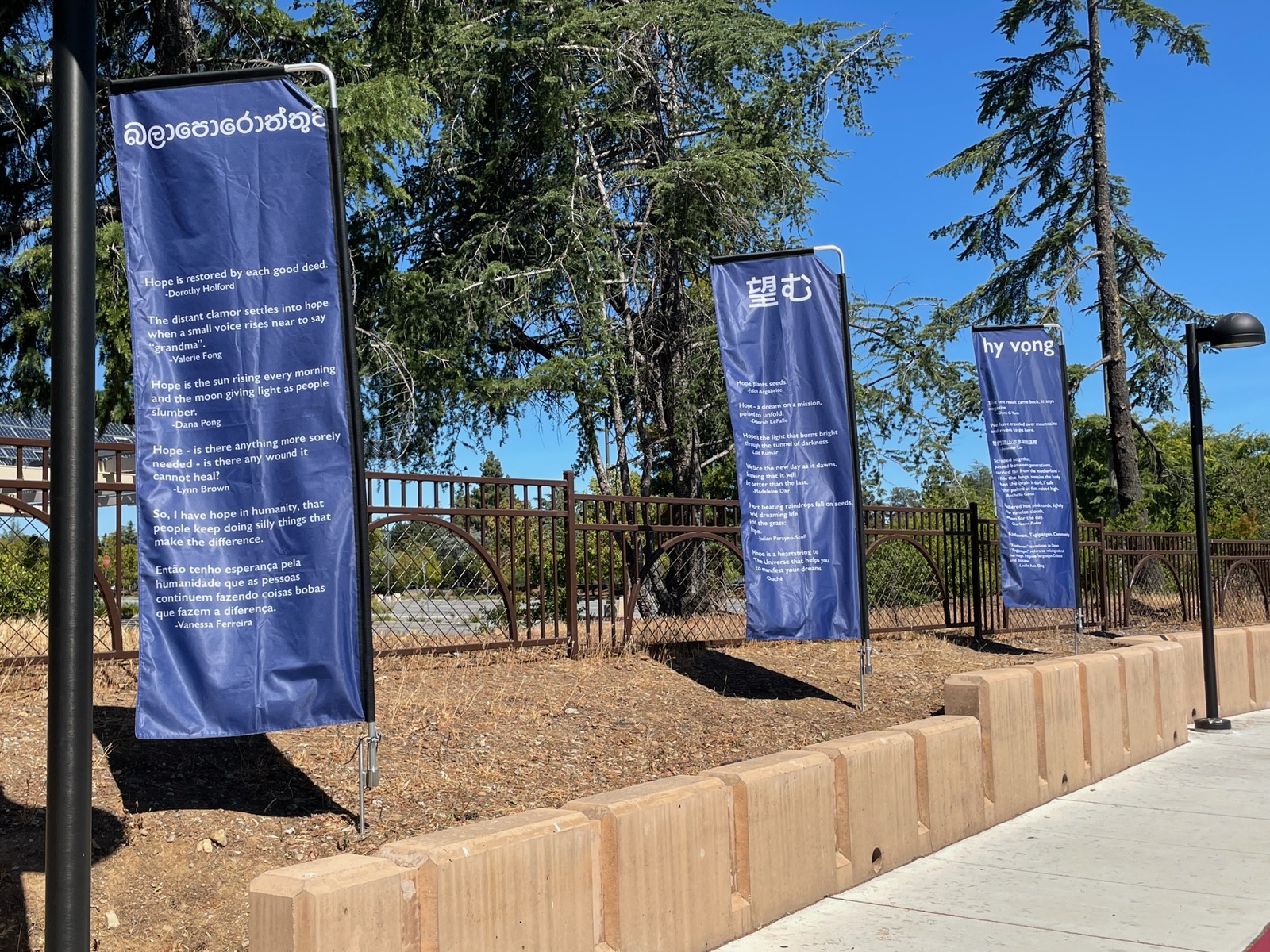 The banners also contain the word "Hope" in characters from different Asian languages, as a message of support and solidarity with the Asian and Asian American communities of Cupertino and beyond.
The project offers an additional feature for those walking past on the sidewalk: Decorative stones, painted with colorful designs or engraved with the word "Hope," will be placed around the banners for anyone who wants to take one.
Artist Juliana Kang-Robinson designed the banners, using motifs from her own artwork and Korean "pojagi" wrapping cloths. They will be on display through the summer, near the corner of Stevens Creek and Stelling Road.
"I believe art and poetry should be in every shared public space," Kang-Robinson said. "It's what reminds us of our shared humanity, something we need today more than ever."
(Posted on July 6, 2021)