Special Events
Each academic quarter marks a new beginning for Cross Cultural Partners. New students join the program to share their cultural history and traditions, while improving English conversational skills with their partners. To provide an even broader cultural exchange, two special events take place that allow participants to interact with other partners in the program. This quarter the registration is from April 18 to April 28.
15th Anniversary Fling!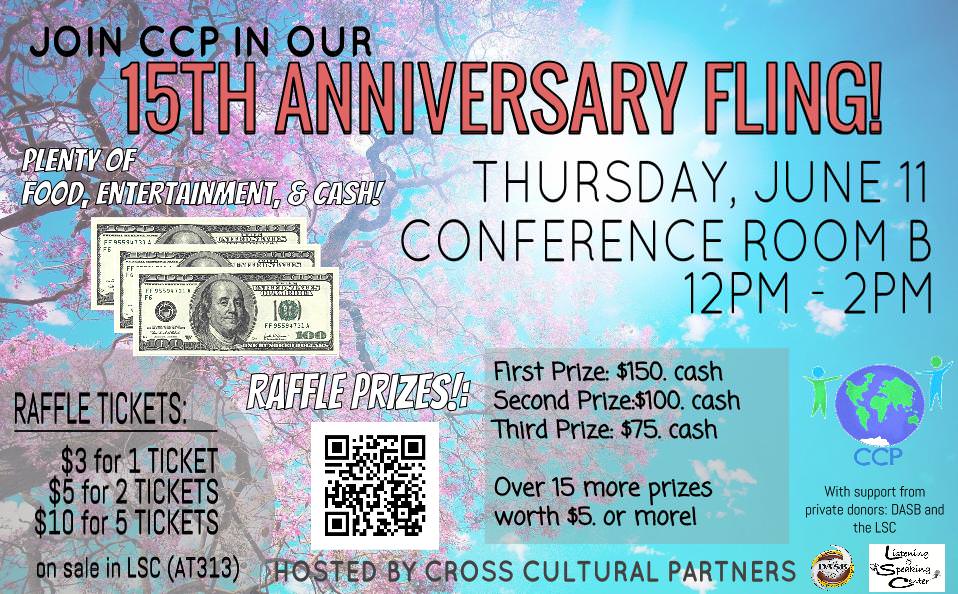 For 15 years, we have been matching ESL and non-ESL De Anza students to practice dialogue and enhance cultural diversity. Now, we would like to invite you to our fun celebration of Cross Cultural Partnerships Program's 15th Anniversary Fling!
There will be entertainment, a raffle, and a delicious lunch with cuisines across the world! The event will be held on Thursday, June 11th from 12PM- 2PM in Conference Room B (upper level of Hinson Campus Center).

OUR RAFFLE:
1st Place: $150 Cash!
2nd Place: $100 Cash!
3rd Place: $75 Cash!
There will be 15 or more prizes worth $5+!

RAFFLE TICKETS:
$3 for 1 Ticket
$5 for 2 Tickets
$10 for 5 Tickets
Buy your tickets from the Listening and Speaking Center in AT313 or look for a roving CCP Representative!

RAFFLE RULES
Drawing of Top Three Cash Prizes will take place around 1:15pm.
1. To win one of the top 3 cash prizes, the winner must be present.
2. Presence is not required to win minor prizes. Winners will be notified via email or phone.
3. Winners can only win one of the top 3 cash prizes.
4. CCP and LSC staff will manage the prizes until they are picked up.

We hope to see you there!
Facebook Event - Click Going!
Strategies for Success (First Get-together)
By the fourth or fifth week of the quarter, the program has its first event. At this friendly get together, partners get oriented to the program and meet other participants. There is live entertainment as well as some games to break the ice - it is not just an orientation! For the date and to RSVP, click here!
Celebrating Diversity
At the final get together, which takes place in the 10th week of the program, Cross Cultural Partners gathers to celebrate their shared experiences. Partners talk about the differences and similarities in each other's cultures and of the new friendships they have made. Participants also enjoy an international food experience. For the date and to RSVP, click here!
ESL students report increased self-confidence in using English. Many are delighted that their communication skills have improved. The informal atmosphere and light refreshments add to the happy memories the program offers.
Please see Success Stories for personal statements.