Welcome to the Environmental Studies Dept !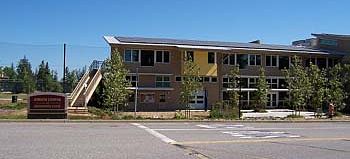 The Kirsch Center for Environmental Studies
News/Announcements:

Become part of a "first of its kind" Sustainable Building and Facility Management PAID student internship in the FALL 2016 Quarter leading to well paid Facility Management careers at local companies! -

To f

in

d out more

-Click

HERE
Overview
The Environmental Studies Dept at DeAnza College offers:
Transfer opportunities to colleges and universities offering Bachelor's degree programs in Environmental Studies and Environmental Science, including:

CSUs (San Jose State, San Francisco State, Sonoma State, CSU-East Bay, etc.)
UCs (UC-Berkeley, UC-Davis, UC-Santa Cruz, etc.)
Private Schools (Santa Clara University, University of San Francisco, etc.)
Come join us at the Kirsch Center to learn how together we can forge an environmentally sustainable future for both current & future generations!
Cheeseman
Environmental Studies Area (ESA)

Winter 2016 Hours:

Monday: 8:00 am - 2:30 pm

Tuesday: 8:00 am - 8:00 pm

Wednesday 8:00 am - 3:30 pm

Thursday 8:00 am - 3:30 pm

Friday: 9:00 am - 2:00 pm







Stewardship Resource Center
(SRC)

Winter 2016 Hours:

Monday: 8:00 am - 2:30 pm

Tuesday: 8:00 am - 8:00 pm

Wednesday 8:00 am - 3:30 pm

Thursday 8:00 am - 8:00 pm

Friday: 9:00 am - 2:00 pm