Facility and Sustainable Building Management
An Innovative Educational and Career Path Opportunity Leading the Way for an Entire Industry and Over 20 Community Colleges in California !
***********************************************************************

| | |
| --- | --- |
| | We Have An Important And Exciting Announcement Regarding Our Facility And Sustainable Building Management Program Coming Shortly! |
**********************************************************************************
De Anza College is the first and ONLY State Accredited Facility Management Degree Program in the California Community College System

If you're not in our geographic service area, earn your Facility and Sustainable Building Associate Degree ONLINE! - ALL REQUIRED COURSES are offered online at least once each academic year! Take advantage of our exclusive energy efficiency and sustainable building courses. They will differentiate you in the workplace!
**************************************************************************************
Our BRAND NEW Facility and Sustainable Building Management (FSBM) AS Degree features an interdisciplinary curriculum focused on the BUSINESS aspects of making buildings more efficient. Our FM program covers IFMA's "11 Core Competencies" and is comprised of curriculum addressing energy efficient and sustainable buildings, building systems, environmental health and safety, business operations, finance, workplace communication and ethics, and real estate principles.
Work-based learning and interpersonal skill development will also be key components of our program. Courses from De Anza's Business, Accounting, Computer Science, Real Estate, and Energy Management and Building Science programs will provide students with a well-rounded educational experience that will prepare them for well paid careers in Facility / Sustainable Building Management.
The De Anza College FSBM Curriculum is closely aligned with the topic areas addressed in IFMA's Facility Management Professional (FMP), Certified Facility Manager (CFM) and Sustainable Facility Professional (SFP) Industry Certification and Accreditation.
What Does A Facility Manager Do?
A lot of different things! It may have one of the most broadly defined job descriptions of any career path. FMs NEVER have a dull moment! It is a very cross functional job that gets involved in managing ALL aspects of facility and building / business operations.
Facility Management Job Description:
"A Facility Manager is a building maintenance specialist and property administrator who conducts building operations and maintenance activities, coordinates facility programs and projects, and supervises building personnel; by inspecting the facility, analyzing building data, forecasting future needs, solving problems, and communicating with others; to ensure the efficient and sustainable operations of the facility and the satisfaction of the facility occupants".
FM is a career that encompasses an understanding of the built environment, sustainable buildings and business operations functions. These careers pay very well. Starting salaries with a two year AS degree range from $60K- $75K depending on the job function!

Curriculum That Will Set You Apart From The Rest!
Our FSBM degree offering has many differentiating qualities ONLY found at De Anza College! No other Community College in California offers the same breadth of educational courses. Our program provides the the most holistic, complete, and in depth educational curriculum addressing EVERY ONE of IFMA's 11 Core Competencies- requirements and skill sets that are critical in the role of a successful facility or building management professional:
Sustainable, Energy Efficient and Green Buildings

LEED and Building Code Compliance

Building Automation / Building Systems


Environmental Health and Safety

Business

Accounting

Real Estate

Computer Science and Networking (IoT)

Facility Management

Business and Workplace Ethics

Business Communications

Program and Project Management

Supervisory Management


Leadership
An Industry In Need Of Well-Trained New Talent

In the next 15 Years, 50% of all existing Facility and Building Management professionals will retire. The average age of an FM is roughly 49 years old. In California, there is a demand for roughly 6,000 qualified FM Professionals and a supply of less than 50.

As a result,the Facility Management Industry approached the Foundation for California Community Colleges to address their labor market shortage. De Anza College is leading the way for other colleges in the California Community College System as the first to offer a two year degree in Facility Management

In the video below, see how the very innovative and first of its kind, De Anza College Facility Management Internship pilot program resulted in an entire industry and the California Community Colleges investing in and developing a Facility Management Talent Pipeline of educated and trained CCC students making FM their career of choice.

DE ANZA COLLEGE FACILITY MANAGEMENT STUDENT INTERNSHIP- APRIL-JUNE 2016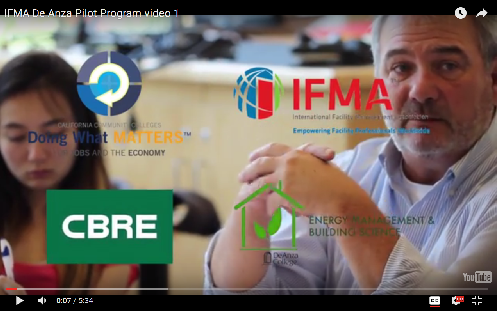 Resources: Facility Management - A Career of Choice:
Facility and Sustainable Building Management Newsletter- WINTER 2018