Coming Soon: Latinx Perspectives
May 13, 2021
We're looking forward to the next ethnic studies panel discussion this Friday, May 14, at 2:30 p.m., focusing on Chicanx/Latinx perspectives and hosted by the Intercultural and International Studies Division.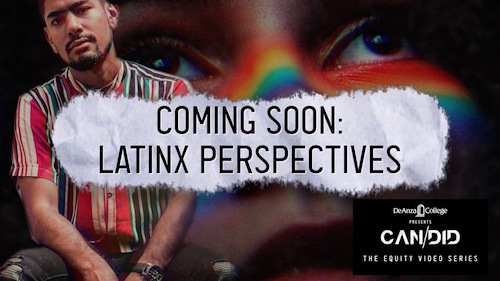 We've also been talking with members of De Anza's Latinx community about topics to feature in the CAN/DID Inclusion Series during the next academic year. You can check out our latest video trailer on social media and at deanza.edu/candid.
Over the past year, we've been examining important topics related to equity and social justice, with videos and social media posts about the Black Lives Matter movement and anti-Asian racism.
We will continue to address important issues during the 2021-2022 academic year, with installments focused on topics that are important to De Anza's Latinx and LGBTQ+ communities, among others.
Ethnic Studies Multiracial Panel Event
Join the college community for an online series of panel discussions titled "Our Histories, Our Experiences, Our Lives: From Learning to Collective Action," which will bring together faculty representatives from core areas of ethnic studies, along with students, classified professionals and administrators who will share their perspectives.
Upcoming panels will convene on consecutive Fridays, from 2:30-4:30 p.m. Look for related CAN/DID Inclusion Series videos preceding each event.
This Friday, May 14: Chicanx/Latinx Studies
Friday, May 21: Native American and Indigenous Studies
Friday, May 28: Comparative Ethnic Studies – Building Multiracial Alliances
Previous panel events have explored perspectives from African American and Asian American studies. Recordings of each discussion will be posted at deanza.edu/iis/2021-panels.
Participation in the entire series is encouraged, for full inclusion and understanding. Please register in advance to attend.
About CAN/DID
CAN/DID is a multimedia series that examines equity and social justice issues by drawing on the knowledge and experiences of our own community members.
Future installments of CAN/DID will address additional aspects of the Black Lives Matter movement and more issues that affect all of us at the college.
You can find all the videos and social media posts, along with resources for support and further exploration at deanza.edu/candid. For resources and information on addressing racism, visit the Standing Against Racism webpage. We'll also highlight future installments through this email newsletter.
CAN/DID is produced by the multimedia team and others in the Office of Communications, in consultation with the Office of Equity, Social Justice and Multicultural Education.
Your feedback on the series is welcome at communications@deanza.edu.