Updates
Beginning on April 13, 2020, course and support services will be offered online. Your individual instructors will contact you with details. Check back for updates.
The Commission of Teaching Credentialing has provided guidance for Child Development programs including information on the child development permits.
College Resources
Food Housing & Transportation Resources
Online Learning Support for Students
Our Vision
Our vision is of a world where every child is nurtured, respected and supported in their development by professional, well-trained teachers who help them to become responsible, engaged and caring citizens of the global community.
Mission Statement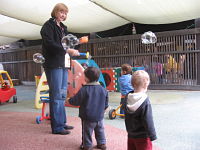 The mission of the Child Development and Education Department is to prepare a diverse student population, including Child Development majors and students from other majors and departments, for transfer within the Behavioral and Social Sciences. The department also provides comprehensive educational opportunities to help students meet professional growth and workforce requirements.
Our Values
The importance of relationships in all human learning
Pedagogy grounded in current research and knowledge
Embracing diversity through genuine acceptance of each individual's uniqueness
Communication as a mutual responsibility
Professionalism demonstrated through reflective practice, ethical behavior, advocacy and life long learning
---
What's New!
Child Development Jobs
Students
Employers