Department Advising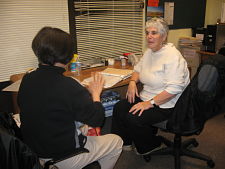 Program pathways
Child Development certificate programs and degree requirements
Child Development permit
Course sequences
Early Childhood Education Transfer Degree

Foreign transcript review information

Resources to be successful as a student
Faculty Mentors for Advising
Declare a major, complete assessment, complete student orientation (online or on campus) and visit the Counseling and Advising Center to complete your Education Plan.
Academic Year 2020

Email instructors for an appointment.
Full-Time Faculty
Email
Office
Li Wei Sun
sunli@deanza.edu
CD2-21d
Nellie Vargas
vargasnellie@deanza.edu
CD2-21e
Mayra Cruz
cruzmayra@deanza.edu
CD2-21c
Jayanti Roy
royjayanti@deanza.edu
CD3-38
Part-Time Faculty
Contact your instructor
Child Development Training Consortium
The Child Development Training Consortium promotes high quality early education to California's children and families by providing financial and technical assistance to child development students and professionals. At De Anza, the consortium funds are used to provide book vouchers. For information contact Li Wei Sun at sunliwei@deanza.edu
California Child Development Permits
The California Commission on Teacher Credentialing (CCTC) offers six levels of the Child Development Permit, each with its own set of issuance requirements and each authorizing the holder to perform different levels of service in child development programs.
Students interested in applying for a child Development Permit can download the permit application at the Child Development Training Consortium website to access the permit application.
Foreign Transcript Review
Need an evaluation of a degree achieved outside of the United States? Take a look at these CCTC approved agencies.