The Child Development and Education Department trains early childhood teachers interested in working with infants to school-age children.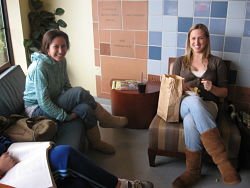 Our certificates and degrees are designed to match the child development permit and professional licensing requirements and to encourage continuation to the next level of achievement. Beginning at De Anza and continuing on to four-year and research institutions, you can pursue the study of child development to the doctoral level.
Our faculty members have field experience as well as scholarly expertise. They have diverse specializations ranging from infant and toddler development to elementary education, from science curriculum to program administration, from language acquisition to musical expression. They welcome the opportunity to support you in achieving your goals.
We are located in the Child Development building. The De Anza Child Development Center is a laboratory school serving over 100 children and their families, from the campus and the community, at ages ranging from 3 to 5 years. The program serves as a training laboratory for students in the Child Development and Education Department and other disciplines.