Welcome
Welcome new students and returning students to De Anza Winter quarter 2019!
Excitedly greeting from the Inter-Club Council (ICC) officers. For those of who don't know, ICC is an umbrella organization representing cultural, educational, honorary, philanthropic, religious and social interests. ICC helps sponsor club events, organize campus-wide club activities and promote communication and cooperation among clubs on campus.
Our first event is January 17, 2019- Club Karaoke hosted on campus. Come and join us for a chance to win an IN-N-OUT gift card! Besides, January 24, 2019, is De Anza's Club Day. De Anza College has 79 student clubs that bring together students with shared interests ranging from academics, sports, art, and cultural backgrounds. We encourage you to join a club because it's a great way to enrich your academic experience along with making friends.
However, if you do not find a club that meets your interests, you can always start a new club. So if you are interested in starting a new club, we have How to Start a New Club Packets available online or at the Office of College Life (you will also need the Club Constitution Template available online).
If you have any concerns or questions, feel free to stop by at our ICC office next to the DASB Senate Office in the lower level of the Hinson Campus Center.
Lastly, thank you for being a part of De Anza College this quarter. We can't wait for you to be a part of our clubs as well!
Best,
Rex Zhang, ICC Chairperson
Nway Htet Htet Aung, ICC Chair of Finance
Angela Lei, ICC Chair of Programs
Anh S. Doan, ICC Chair of Marketing
La Donna Yumori-Kaku, ICC Advisor
College Life Job Opportunities for Students
Winter Events
Please save these dates for these FREE Fall events!
Welcome Week Entertainment
Tuesday, January 8, 11:30 am - 1:00 pm, Campus Center Patio
Club Karaoke
Thursday, January 17, 11:30 am - 1:30 pm, Campus Center Patio
Club Day
Thursday, January 24 (January 31 if rain), 11:00 am - 1:00 pm, Main Quad
If you have any concerns, feel free to contact us! We will be glad to help you.
Hope you all the best in De Anza!
ICC Facebook Page
https://www.facebook.com/deanzaicc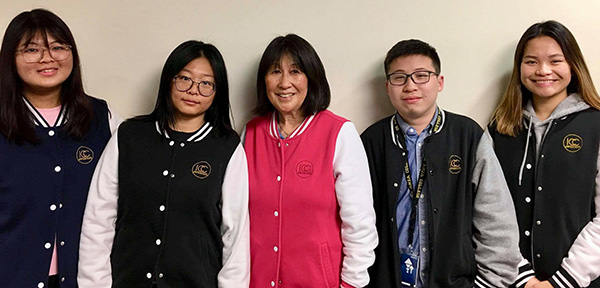 From Left to Right: Nway Htet Htet Aung, Angela Lei, La Donna Yumori-Kaku, Rex Zhang, and Anh S. Doan
The ICC Officers' Agenda/Budget Meetings are on Mondays from 1:30 pm to 2:30 pm in the Student Council Chambers.