Overview
fa·cil·i·ta·tor [fuh-sil-i-tey-ter] noun
A person who makes a group's work easier by structuring and guiding the participation of group members. The Facilitator Excellence Handbook, Fran Rees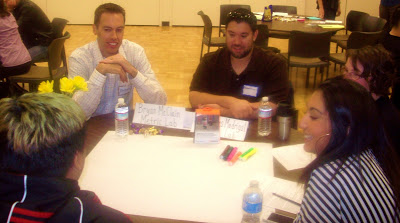 Whether you're a student in university or a professional in the business world, the ability to work effectively in group settings is crucial to success.
The award-winning Facilitator Training Program at De Anza College trains students in the art and science of facilitation. Students learn planning, managing and leadership skills to maximize the effectiveness of meetings, conferences and other group events.
The program immerses students in a unique, hands-on learning environment. You won't sit in a desk reading about facilitation - you'll practice it every week in class!

At the end of the program, students facilitate the annual Partners in Learning Conference. This event is held at De Anza and attended by over 100 faculty, staff and administration. Students manage and guide group discussions on education-related topics. This real-world experience looks great on a resume and is great preparation for students heading into the work world.
Explore this site for more info about the program and its trainers as well as its partner organizations. And if you have any questions or just want to chat about facilitation, don't hesitate to contact us.