All these events are student led events! For more information and special accommodations: Anthony Santa Ana santaanaanthony@fhda.edu
Asian Representation in the Media
*Student Led Event
Tuesday, May 31, 2022 @ 1-2:30pm
Virtual via zoom | Registration
JPG Flyer Below | PDF Flyer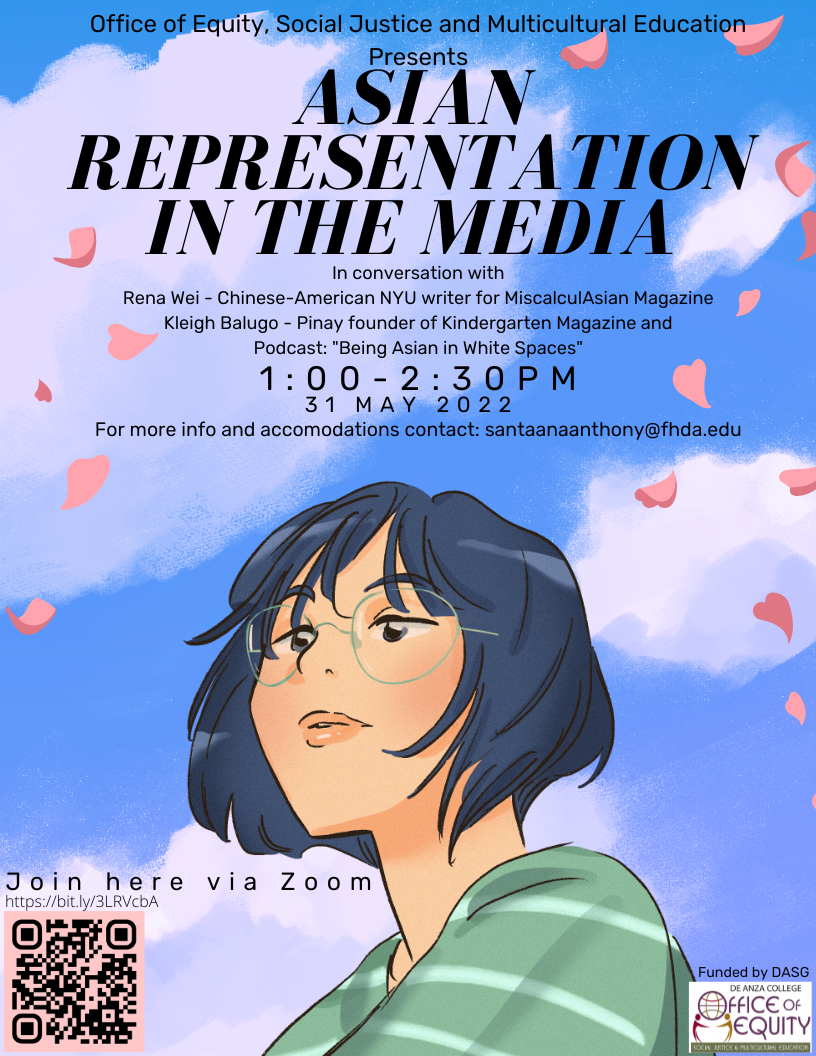 Sponsor: Office of Equity, Social Justice and Multicultural Education
Funded by: De Anza Student Government (DASG)
Hosted by Claire Albis, Office of Equity Scholar Activist Intern, and in conversation with Rena Wei-Chinese-American NYU writer for MiscalculAsian Magazine & Kleigh Balugo -Pinay founder of Kindergarten Magazine and Podcast: "Being Asian in White Spaces".
Solidarity an Art Exhibition: Demonstrating Art with the Theme of Solidarity
*Student Led Event
June 9, 2022 @ 1:00-4:00pm
In Person: De Anza College @ The Office of Equity, Social Justice and Multicultural Education Office (MLC 250)
JPG Flyer Below | PDF Flyer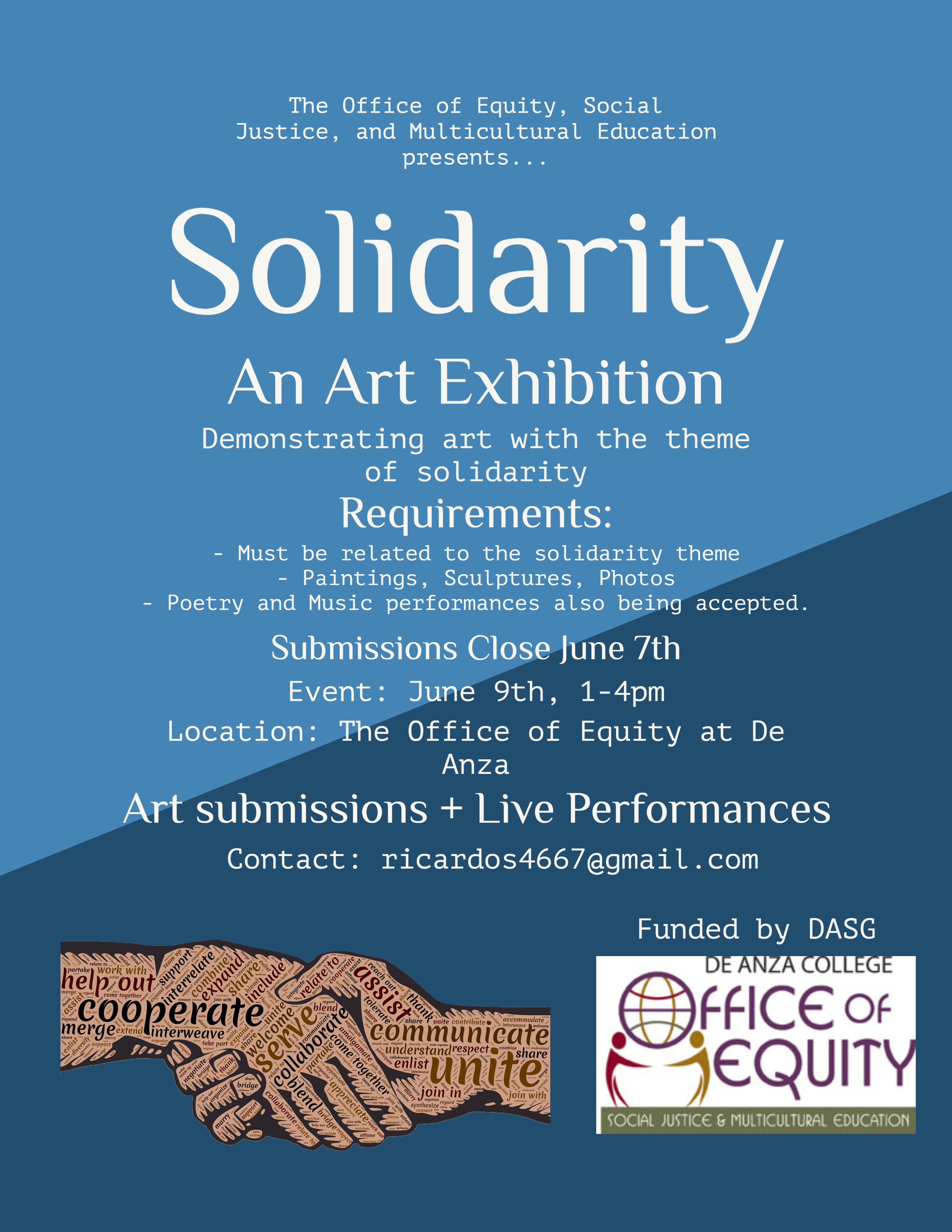 Sponsor: Office of Equity, Social Justice and Multicultural Education
Funded by: De Anza Student Government (DASG)
Hosted by Ricardo Sanchez, Office of Equity Scholar Activist Intern. An afternoon of amazing performances and solidarity themed art pieces. Come chill and connect. Light snacks will be served.
If you would like to submit art pieces and/or perform, the requirements are:
Must be related to the solidarity theme
Painting, sculptures, and photos highly recommended
Poetry and music performances encouraged
Please submit by June 7, 2022 and contact Ricky at EquityOffice@deanza.edu
---
XITO
Ethnic

Studies

Workshop/ Professional Development

Check out this event at our sister college, Foothill College

May 13, 2022

10-11:30 a.m.

Virtual

Join the

Xicanx Institute for Teaching and Organizing (XITO)

Ethnic

Studies

Workshop

.

This workshop is open to all faculty from all divisions and designed to provide practical multicultural and

ethnic

studies

perspectives for pedagogical methods that can be applied to various disciplines.

For more information, Ulysses Acevedo at acevedoulysses@fhda.edu or 650.949.7507.
San Jose: Roots of the Movement
Facilitated by De Anza Student-Charis Morales, Derrick Sanderlin
Moderated by BSU Chair, Mason Hughes and CASA Co Chair, Ashley Villegas
Tuesday, May 3rd, 2022
2-3:30pm
via zoom
Meeting ID - 9164-0070-326
When most folks think of San Jose, they imagine the Silicon Valley and a place of innovation. San Jose's history is much deeper than the corporations that have come to occupy it. San Jose has a culture of resistance throughout the Black and Latine community that continues to live here. This workshop talks about some of the culture and history that has been left out of the mainstream narrative. It covers ways to practice abolition and keep the movement in San Jose alive.
For More Info and Special Accommodations:
Adriana Garcia GarciaAdriana@deanza.edu
Co Sponsors: VIDA, BSU, LEAD, DALA, ICS, PUSO and ASAM