Welcome to UndocuSTEM!
UndocuSTEM will be open during the following times:
Monday

9:00 AM - 6:00 PM

Tuesday

9:00 AM - 6:00 PM

Wednesday

9:00 AM - 6:00 PM

Thursday

9:00 AM - 6:00 PM

Friday

Closed
---
UndocuSTEM Second Annual Conference
Friday, March 10, 2023 @ 10:00am - 12:30pm
A conference highlighting the different pathways for students in STEM especially those who are undocumented, immigrant, and low-income students of color.
Located at Conference Room A&B @De Anza College
---
About Us
HEFAS' UndocuSTEM is a new Science, Technology, Engineering, and Math (STEM) program in partnership with the STEM Success Program, to support and provide resources to make STEM more accessible for undocumented students. Last year we had our first UndocuSTEM Conference which will happen every spring quarter!
-Brought undocumented speakers from different STEM Backgrounds
-How to find work and how to work in STEM fields as an undocumented individual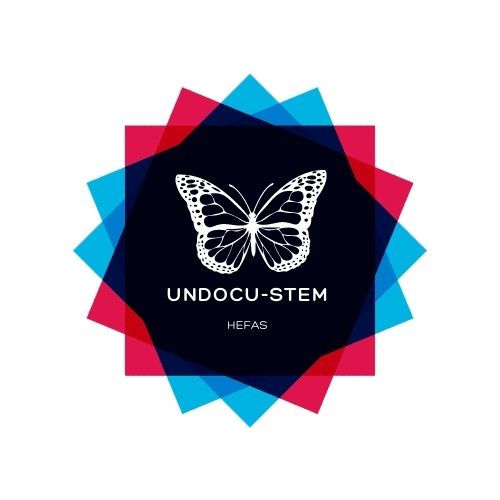 We're dedicated to empowering students, building leaders, promoting social justice, and advocating for higher education. Our vision is to give students, parents, educators, and community members the tools to support students in reaching higher education regardless of the barriers that may exist.
Undocu-STEM provides free services such as
Printing;
Book loan program and calculator rentals;
Testing materials;
Educational workshops.
And easy access to
Scholarship and financial aid information;
Computers;
Counselors;
Peer mentors and tutors;
Information on legislation and policy issues.
---
Winter Office Hours
Our office is hosting office hours in-person and online!
Monday
Brenda (in-person): 11:00 am - 12:00 pm
Fatima (in-person): 11:20 am - 12:20 pm
Tuesday
Brenda (in-person): 12:00pm - 1:00pm
Arlyne (online): 10:00 am - 11:00 am
Wednesday
Arlyne (in-person): 3:30 pm- 4:30 pm
Lordin (online): 12:00 pm - 2:00 pm
Thursday
Arlyne (online): 10:00 am - 11:00 am
Fatima (in-person): 11:30 am - 12:30 pm
Friday
Brenda (online): 11:00 am - 11:30 am / 12:30 pm - 1:00 pm
Lordin (online): 2:00 pm - 4:00 pm
Make an appointment if you need help with:
AB540
Career Counseling
Changing major
Choose classes
Comp Ed Plan Follow Up
Crisis Counseling
DACA
Ed Plan - Comprehensive
Ed Plan - First Quarter
Ed Plan Update
TAG information
Employment
Financial Aid
Food Pantry
Forms
Immigration
Legal Aid
Personal Counseling
Probation
Promise Program
Resources
Transfer Counseling
You can also make an appointment contacting us at
---
Donate to UndocuSTEM
Information for donations
Click "Quick Donate" button
Select the amount for donation
Then, select option of "Other"
And type "HEFAS-UndocuSTEM" and fill out the form with your information