Christina Espinosa-Pieb will serve as interim president at De Anza College, starting July 1 when President Brian Murphy is stepping down to retire. The selection was announced Tuesday by Judy Miner, chancellor of the Foothill-De Anza Community College District.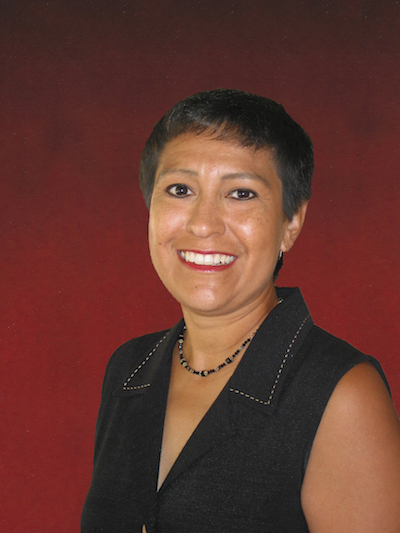 Espinosa-Pieb has worked at De Anza for almost four decades, beginning as a student employee in 1980. She has been vice president of Instruction for 10 years, providing leadership to nine instructional divisions serving more than 20,000 students and overseeing an $80 million budget. In the role of vice president, she is a key leader in the shared governance process and represents the college at negotiations with the Faculty Association.
Selected accomplishments during her vice presidency include providing leadership for more than $3 million in required instructional budget reductions in 2009; initiating technology-assisted learning through an iPad partnership with Apple in 2015; and collaborating with Academic Senate and Faculty Association leadership to establish the Enrollment Advisory Team in 2017. For four years, Espinosa-Pieb co-taught and taught the course "Women of Color in the USA" as an unpaid, part-time instructor. She has volunteered for every Foothill-De Anza Community College District public financing measure since 1981.
Espinosa-Pieb is deeply committed to student equity, demonstrating this throughout her career. As vice president, she has worked to ensure diversity in faculty hiring to better reflect De Anza's highly diverse student body. She previously oversaw the then-Office of Diversity for four years, and in 1993 through 1995 served as the lead college representative for what was then known as affirmative action. She first came to the college as a community volunteer assisting disabled students.
Over the next 18 years, she worked for what was then the Special Education Division in a series of increasingly responsible positions, ranging from student employee to administrative assistant. She became the Disabled Student Programs and Services coordinator in 1989, serving in that classified professional role for 10 years before being named dean of Academic Services.
As dean, Espinosa-Pieb oversaw the Office of Diversity and the Office of Staff and Organizational Development; managed Learning in Communities (LinC) and Honors programs; led the tenure review process; acted as the administrative liaison for the Academic Senate and Classified Senate; and served as the accreditation liaison officer, among numerous other duties. During a leadership transition in 2003 to 2004, she served as interim vice president of Instruction, resuming her role as dean in 2004 until being named to the permanent vice president position in 2008.
As vice president, she serves on numerous college committees, represents the district to the League for Innovation in the Community College, and is a member of the Cupertino Rotary Club.
Espinosa-Pieb began her higher education by taking night classes at De Anza College. She transferred from De Anza to the University of Phoenix, where she earned a bachelor's degree in Business Administration and Management in 1996. She later earned a master's degree in International and Multicultural Education from the University of San Francisco, and completed all but her dissertation in Walden University's doctorate program in Community College Leadership.
She resides with her husband in Cupertino and is the mother of two adult children, both of whom also transferred to universities from De Anza College.
Espinosa-Pieb will serve in the interim president role through Dec. 31, 2019. In winter 2019, the district will begin a nationwide search to fill the permanent position. Miner said the selection of an interim president who is familiar with the district, and who will serve for 18 months, will provide stability and continuity at a time of transition and budget challenges.