¡Bienvenidos
/as/es

!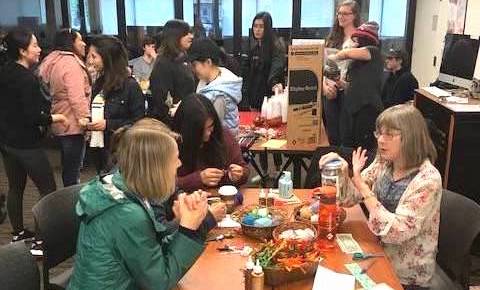 Studying Spanish at De Anza College is a great way to
Engage with the many Latinx communities in the Bay Area
Deepen your connection to your own cultural and linguistic heritage
Develop valuable career skills
Expand your access to other areas of study
The Spanish Department is keenly sensitive to the wide range of language experiences and needs – personal, academic and occupational – of the students who enroll in our courses. We foster a culture of inclusion and collaboration among learners who are completely new to Spanish, those with previous coursework, and those with occupational or personal ties to Spanish-speaking communities.
Already Know Some Spanish?
You may be eligible to skip certain lower-level courses. This is called "clearing" a prerequisite.
Plan Your Progress!
We offer first-year, quarter-long language courses that build practical communication skills (reading, writing, listening, and speaking), which are taught primarily in Spanish from the very beginning.
Offered in Fall Quarter
Offered in Winter Quarter
Offered in Spring Quarter
SPAN 1

: Elementary Spanish

SPAN 1

: Elementary Spanish

SPAN 1

: Elementary Spanish

SPAN 2

: Elementary Spanish

SPAN 2

: Elementary Spanish

SPAN 2

: Elementary Spanish

SPAN 3:

Elementary Spanish

SPAN 3:

Elementary Spanish
These courses fulfill General Education requirements, are transferable, and meet a requirement of the A.A. Degree in Global Studies.
We currently do not offer

SPAN 4, SPAN 5

or

SPAN 6
For detailed course descriptions, visit our Course Information webpage
Check classes, times and instructors for each quarter by consulting the class schedule

Understanding Prerequisites
You may be eligible to skip certain lower-level language courses if
You have studied a language at another college or high school, or
You are a native speaker, or
You have other knowledge of the language
Please note:
The Spanish department does not provide certification services of any kind.
Our Language Assessment Exam is designed to help students find the right course to take at De Anza.
The assessment is not extensive enough to determine whether the student has satisfied IGETC language requirements, and it cannot be used for that purpose.
The process for skipping a lower-level requirement is called "clearing a prerequisite." Here is how to proceed:
Submit the form
Download the Languages Prerequisite Clearance Form – then fill it out and submit it to one of the instructors listed here.
Submit the form as early as possible – and at least four weeks before your registration date for the quarter you want to take your class.
If you previously studied Spanish at another school, please attach a transcript.
Be sure to list the Course Record Number of the course you want to take if your application is approved. You'll find the CRN in the schedule of classes.
Carmen Lizardi-Folley:
408.864.8679
PE-6 Bldg. Office 667
Receive the response
When you submit the form, an instructor will review the information and determine if you need to take an assessment exam.
One year of high school Spanish or one term of college Spanish is generally equivalent to one quarter of Spanish at De Anza. However you may be asked to complete an assessment. For those in other circumstances, an assessment will generally be required.
Remember that the instructor needs time to evaluate your request. Your application may take as long as four weeks to process.
Take the assessment, if needed
The Spanish Department uses an assessment exam called "WebCAPE Spanish Reading/Grammar." This exam is used nationwide by many colleges, universities and non-academic agencies.
You'll be required to take the assessment if it has been longer than one year since you completed your most recent course, in high school or in college, or if you've learned Spanish through non-academic experiences.
The exam is fully online and can be accessed remotely through an invitation link that we will provide. The link is valid for seven days.
Questions are in multiple choice format and focus on vocabulary, grammar and reading passages. There are no listening, speaking or essay writing sections.
The test is adaptive: It's based on an algorithm that constantly adjusts the level of difficulty of the questions based on your performance, in order to determine the highest level you can adequately sustain.
Don't get discouraged if some questions are very difficult. This test is used in four-year colleges and universities to place students up to the third year of language study.
Completing the test may take 5-40 minutes, depending on how consistent you are in your answers.
Academic integrity is essential. You must answer the test questions on your own, without any help from individuals or other sources. For example, you may not consult websites, dictionaries, books or notes.
You'll receive your results immediately, and we'll be able to access them remotely.
For more details, visit the World Languages Prerequisite Clearance webpage.
---
Helpful Resources
Available at the De Anza Library
Dictionaries
Level-appropriate audio books
Textbooks available on Reserve
Visit the Library website for more information
Additional Resources