Congrats to Our Grads!
Thank You for Participating in the 2022
Latinx Graduation and Recognition Ceremony
---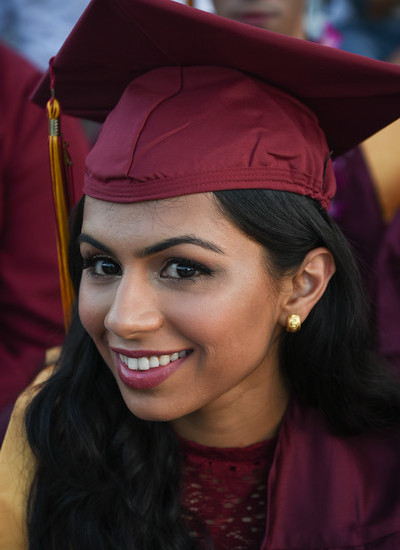 Date: Thursday, June 23, 2022
Time: 6 p.m. to 8 p.m.

Location: Football Stadium – On Campus!
Parking: Parking Lot C

Note to Participants
Registration begins at 5pm.
Walk-in procession will start at 5:40.
Please be on time!
---

Adela Scholarship Opportunity
If you are planning to graduate or transfer to a four-year institution this year, we encourage you to apply for the ADELA scholarship, worth up to $1,000.
Deadline to apply is May 20, 2022
You must register to participate in the Latinx Grad Ceremony AND submit the scholarship application

Student Speaker Opportunity

The Latinx Grad Planning Committee is in search of inspirational student speakers for the 28th annual Latinx Recognition Ceremony. This is an opportunity to celebrate the achievements of the graduating class, inspire your fellow graduates – and leave a legacy at De Anza College.
As part of the application, you must write one page describing your journey so far as a Latinx college student with the following focus:
Discuss what your education has meant for you and your family and the importance of education for the Latinx community.
Also include a discussion of specific obstacles that you faced and overcame so far in your educational journey, and who or what helped you to overcome these obstacles.
To apply, please submit the Student Speaker application form by Friday, May 6

Click for Student Speaker Application
For any questions, please reach out to deanzalatinograd@gmail.com .
---
The Latinx Graduation and Recognition Ceremony was established in 1993 to recognize the accomplishments of Latinx students at De Anza College.
Believing that student success should be celebrated, a small group of Latinx staff members organized institutional and community support to launch this event, which has grown into an annual tradition for students, families and friends.
See Highlights from the 2021 Ceremony
Donate to the ADELA Fund
We welcome all contributions to the ADELA Scholarship Fund. If you'd like to show your support by making a donation, please click the DONATE NOW button to visit the Foothill-De Anza Foundation's online donation website.
Look under the Designate Your Gift heading and select Other, then and type in the code: ADELA
The foundation's Tax Identification Number is 94-3258220
Please also consider supporting the ADELA Scholarship Fund through a payroll deduction.
You can also help spread the word by telling students about both the future ADELA scholarship and the recognition ceremony for the 2021-22 academic year!