SunWork Renewable Energy Projects

SunWork Renewable Energy Projects-Solar Design and Installation

Learn how to design and install solar energy systems, reduce greenhouse gas emissions, buy vs lease options, and how to monitor the effectiveness of your residential solar energy system by taking our BRAND NEW ES 84 Residential Solar Design and Installation course. This is a one unit, four week only class that teaches you about residential solar design and installation and provides you the option to earn more academic units by taking what you learned outside the classroom to install actual rooftop solar systems with certified experts.
Over 46 ES / ESCI students became solar safety trained and worked on over 26 different residential solar installations during the past academic year. Students learn how solar energy reduces traditional energy and greenhouse gas emissions and why renewable energy is so important to the environment and biodiversity. Our students have also participated in installations at non profit organizations such as the Wildlife Associates Animal Sanctuary in Half Moon Bay and the Sunnyvale Heritage Park Museum. See photos and information about those projects below:

What Students Learn on a Solar Installation Internship
How to safely install a solar array on a roof
How to size a solar system (How many modules are needed)
How to design and install a solar system for maximum energy potential
How to offset energy use and greenhouse gas emissions with clean energy from the sun
Buy vs lease options and their payback differences
Different types of modules,inverters and racking systems
How to monitor modules for maximum efficiency
Earn additional transferable units for your hours worked (ES 95B Environmental Internship)
UPCOMING SUNWORK TRAINING SESSIONS:
IF YOU ARE LOOKING TO GET CREDIT FOR THE ES 95B INTERNSHIP CLASS, YOU MUST CONTACT BILL ROEDER PRIOR TO SIGNING UP FOR INSTALLATIONS. (roederwilliam@fhda.ed
10 am to 5 pm in Cupertino
Saturday, September 23 Volunteer training from 9 am to noon


Peninsula Conservation Center in Palo Alto
- Register

HERE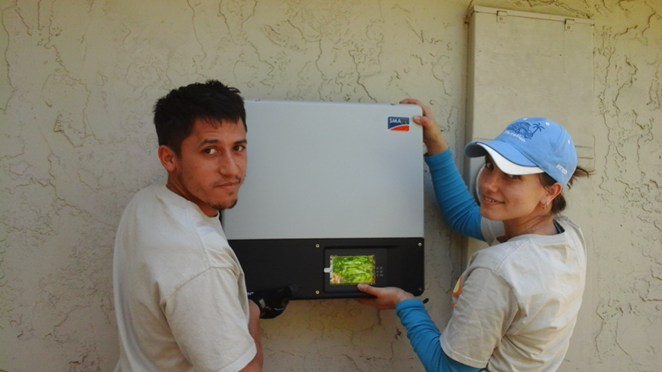 * You MUST be registered in a De Anza College Energy Management and Building Science or ES/ESCI class to earn internship credits . MANDATORY! You MUST CONTACT BILL ROEDER to let him know you have registered for the class.

You MUST attend a SunWork 3 hour training session to be eligible to participate in solar installations with SunWork Renewable Energy Projects as part of this internship
Contact Bill Roeder to reserve your seat for either session- roederwilliam@fhda.edu



.