'From Strangers to Neighbors'
De Anza to Host Community Meeting for 1500 Stories Project
De Anza College will host an Oct. 25 community meeting as part of an ambitious digital storytelling project that is exploring the effects of economic inequality in Silicon Valley and elsewhere.
The 1500 Stories project, led by Sociology Department Chair Jennifer Myhre, is designed to examine the divide between haves and have-nots – and what it's like to be economically vulnerable – through video, photo and audio story-telling.
Organizers are planning two meetings in October to gather personal stories about life at different income levels in the Bay Area. The first will be held Oct. 11 at the San Jose office of Sacred Heart Community Service, a nonprofit that serves low-income residents in the valley. The Oct. 25 meeting will be held at De Anza's Visual & Performing Arts Center.
The theme of the meetings is "From Strangers to Neighbors." In addition to sharing personal stories, organizers are hoping that people who attend the meetings will forge new ties and discover ways to make an impact in their communities and beyond.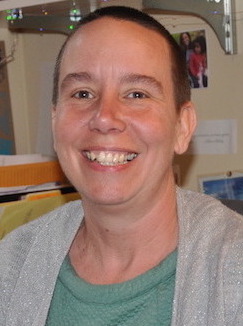 "We hope that participants will get a deeper understanding of economic inequality in Silicon Valley, see their communities with fresh eyes, and build connections with people whose struggles may be both similar and different," said Myhre.
"We believe that sharing our stories with one another is one of the best ways to do these things," she added. "And because of our partnership with Sacred Heart Community Service, participants will leave with concrete ways to make a difference."
The 1500 Stories project gets its name from a poster created by economist Stephen J. Rose, which illustrates the distribution of income and wealth in the United States. An early version of the poster in 1998 showed the gap between the nation's richest and poorest inhabitants was equivalent to the height of a three-story building. Twenty years later, Myhre says, the gap has grown to the equivalent of a building 1,500 stories tall.
Myhre, an award-winning documentary filmmaker, is directing the project in collaboration with the California History Center, Euphrat Museum of Art and the Vasconcellos Institute for Democracy in Action (VIDA).
The project is supported in part by a grant from California Humanities, a nonprofit partner of the National Endowment for the Humanities.
Here is more information about the two meetings.
Community Forum #1: Economic Vulnerability in Silicon Valley
Date: Thursday, Oct. 11
Time: 7-9 p.m.
Location: Sacred Heart Community Service, 1381 S. First St., San Jose
Community Forum #2: Silicon Valley Dreams and Doubts
Date: Thursday, Oct. 25
Time: 6:30-8:30 p.m.
Location: Visual & Performing Arts Center (VPAC), De Anza College
Admission for both meetings is free but organizers are asking those interested in attending to RSVP at https://fromstrangerstoneighbors.splashthat.com/