Meet Author Reyna Grande!
Silicon Valley Reads 2022: Events, Exhibitions and More
Bestselling author Reyna Grande will discuss her work and her experiences as an immigrant and first-generation college student during a special Feb. 17 appearance, hosted online by De Anza College as part of this year's Silicon Valley Reads campaign.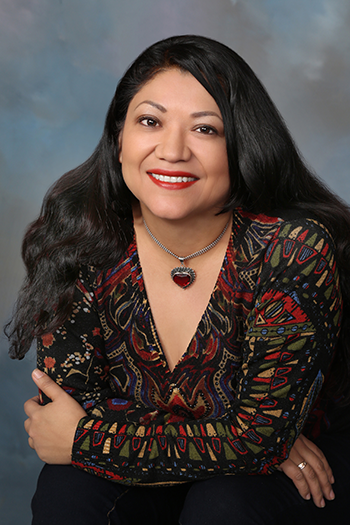 In keeping with the Silicon Valley Reads theme – "The Power of Kindness, Resilience and Hope" – De Anza is also hosting the "common ground" exhibition at the Euphrat Museum of Art, as well as a mobile, digital mural that will appear in public spaces around Cupertino and nearby communities this spring. Read on for more details.
Grande's memoir, "A Dream Called Home" is one of three featured books for Silicon Valley Reads in 2022. It's the story of an undocumented immigrant and the challenges she faced in attending the University of California, Santa Cruz, along with her struggles in pursuing her dream of becoming a writer. She'll talk about the book and answer audience members' questions during this student-moderated event.
Silicon Valley Reads is an annual campaign that encourages everyone to read, reflect and join a community conversation about an important topic. Each year's campaign includes a variety of activities – including author talks, group discussions, exhibitions and other creative activities – tied to the featured books and theme.
De Anza has had a longtime partnership with Silicon Valley Reads, including a seat on its community Advisory Board. The college has hosted previous kickoff events on campus as well as exhibitions tied to each year's literary theme.
---
Author Event: Reyna Grande
Online event open to the public
10:30-11:30 a.m. on Thursday, Feb. 17
Grande is an award-winning writer whose earlier book, "The Distance Between Us," explored her life before and after coming to the United States as a child. Born in Mexico, she was raised by grandparents while her parents worked in the U.S., until she joined them at age 9. Grande's previous books include "Across a Hundred Mountains" and "Dancing With Butterflies."
---

Exhibition: "common ground"
Open to students and employees for limited hours through Feb. 17
Open to the public by reservation on Saturdays through Feb. 12 and by appointment
See deanza.edu/euphrat/current for detailed visiting instructions
The winter exhibition at the Euphrat Museum of Art explores borders and boundaries as they relate to our shared needs for respect, kindness and resilience. Featured artists include
---
Mural: "Migration, Kindness and Resilience"
Digital "pop-up" mural, appearing in local communities
Schedule to be announced
The 8-by-10-foot mobile mural will also serve as a "selfie station," combining images of Monarch butterflies, native plants and other symbols of kindness and resilience. The Monarch butterfly has become a symbol for celebrating and supporting immigrants in the United States.
Megan Jerbic, a De Anza alum and native Cupertino artist, is designing the mural and will incorporate artwork from De Anza students and members of the Fine Art League of Cupertino. Fifth-graders from West Valley Elementary are also contributing line drawings about the "big dream" of freedom through education – a dream that author Reyna Grande's father had for her and her sisters.
---
More About Silicon Valley Reads
This year's Silicon Valley Reads campaign includes more than 130 events and activities – all free and open to the public. In addition to "A Dream Called Home," this year's featured books are:

"See No Stranger" by Valarie Kaur
"See No Stranger – A Memoir and Manifesto of Revolutionary Love" is by a daughter of Sikh farmers who became a lawyer and activist on issues ranging from prison reform to hate crimes and digital freedom. Raised in California, Kaur attended Stanford, Harvard and Yale.

"Enough About Me" by Richard Lui
"Enough About Me – The Unexpected Power of Selflessness" is the story of a former TV anchor who set aside his career to care for his father after a diagnosis of Alzheimer's disease. In this book, Lui shares practical tips and hidden opportunities for selflessness.
Visit siliconvalleyreads.org for more information about this year's books and activities.
(Posted on Feb. 1, 2022)