Upcoming Events
---
Zentangle Wellness Workshops
Wednesdays through Dec. 8
11 a.m.-noon
Looking to reduce stress, calm your body, be creative and have fun? All Foothill and De Anza students, faculty, and staff are invited to Zentangle gatherings this Fall.
The Zentangle Method is an easy-to-learn, relaxing and fun way to create beautiful images by drawing structured patterns. The recommended supplies are a micron, gel, or felt tip pen (ball point not recommended); some plain paper, bullet journal or 3.5 inch square tile; a graphite pencil; and a blending stump or q-tip — but anything you have at home is great.
These wellness workshops are co-hosted by Foothill Psych Services, Foothill Wellness Ambassadors and Foothill Project Hope Club.
---
Creative Expression Group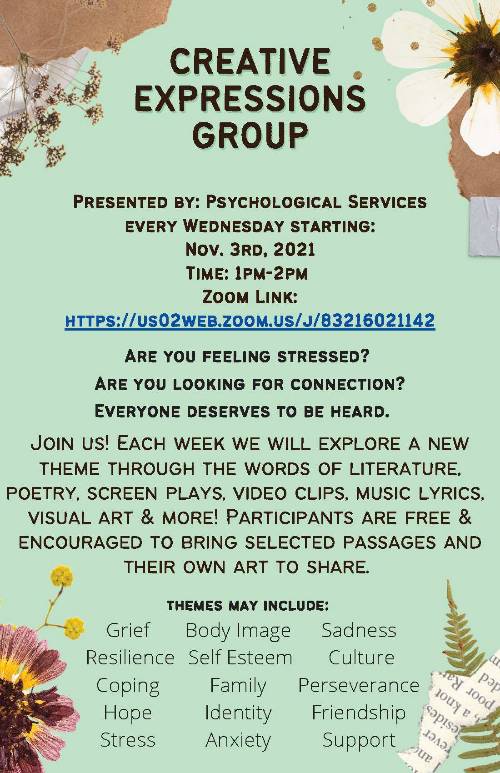 Presented by: Psychological Services
Every Wednesday starting: Nov. 3rd, 2021
Time: 1 p.m. - 2 p.m.
Are you feeling stressed? Are you looking for connection? Everyone deserves to be heard.
Join us! Each week we will explore a new theme through the words of literature, poetry, screen plays, video clips, music lyrics, visual art & more! Participants are free &encouraged to bring selected passages and their own art to share.
Grief
Resilience
Coping
Hope
Stress
Body Image
Self Esteem
Family
Identity
Anxiety
Sadness
Culture
Perseverance
Friendship
Support
---
Keep In Touch!
Follow @da_psychserv on Instagram
---
Previous Events
Knit or Crochet for a Cause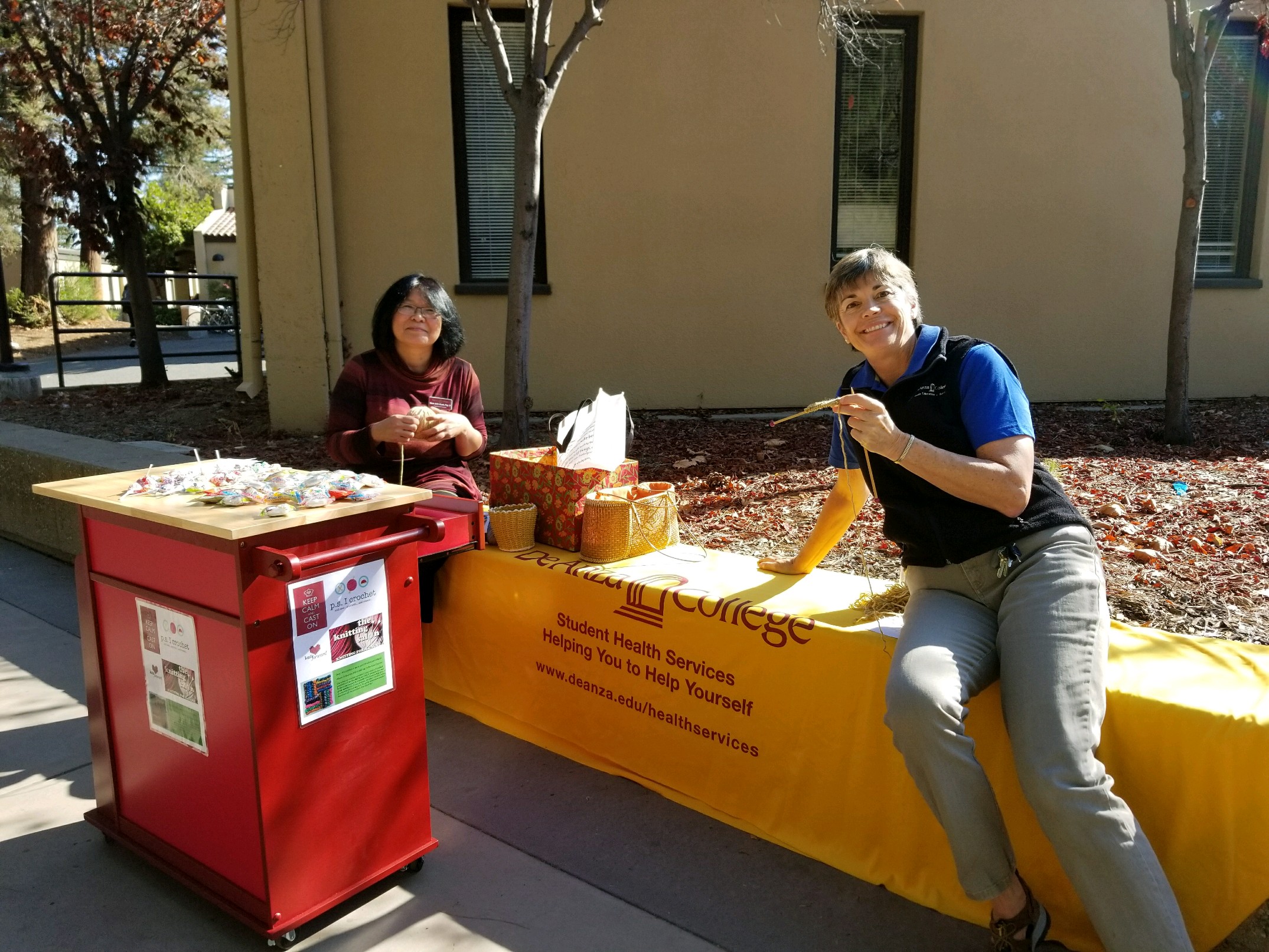 By accepting this skein of yarn, you will be challenged to create an artwork in consideration of the plight and well-being of an OTHER (such as a friend in need, a DREAMER student or a parent who is ill, etc.) with the goal of giving your artwork to this OTHER.
It is hoped that as you work on the artwork, you yourself will:
Slow down
Take time away from electronic stimulation
Spend time with others in conversation and interaction while you work
Develop the capacity to be alone should you choose to work on your own
Discover your ability to use your hands to create something beautiful
Be curious about the OTHER in the community
---
Are You Looking for Crisis Counseling or Help Services?
For information about Crisis Counseling or to make an appointment with a Psychological Services therapist, please contact the Psychological Services Department at 408.864.8868.
You can also find information about Crisis Counseling and Support resources outside of De Anza by visiting our Counseling resources list.