Keep In Touch!
Follow Us on Instagram @da_psychserv @da_psychserv
Psychological Services is proud to offer an Exploring Masculinity Group, beginning October 20, 2020 and happening every Tuesday and Thursday until the end of the quarter.
---
LGBTQIA+ Students
Check out this list of scholarships and resources
---
New Online Support Groups
Drop-in Social Support Groups now available for Fall 2020
We'll be running a series of drop in groups throughout the week. "Drop-in Social Support Group" For students who are looking for some social connection during a time of increased isolation.
Drop-in Social Support Group Mondays on Zoom 4-5pm: https://rb.gy/phawsn Meeting ID: 977 4583 6182 Passcode: 089562
Drop-in Social Support Group Thursdays on Zoom 10:30-11:30 am: https://rb.gy/telj8u Meeting ID: 976 5692 2672 Passcode: 965747
Drop-in Social Support Group Fridays on Zoom 10-11am : https://rb.gy/uvz39h Meeting ID: 969 7126 4724 Passcode: 593472
Exploring Masculinity Group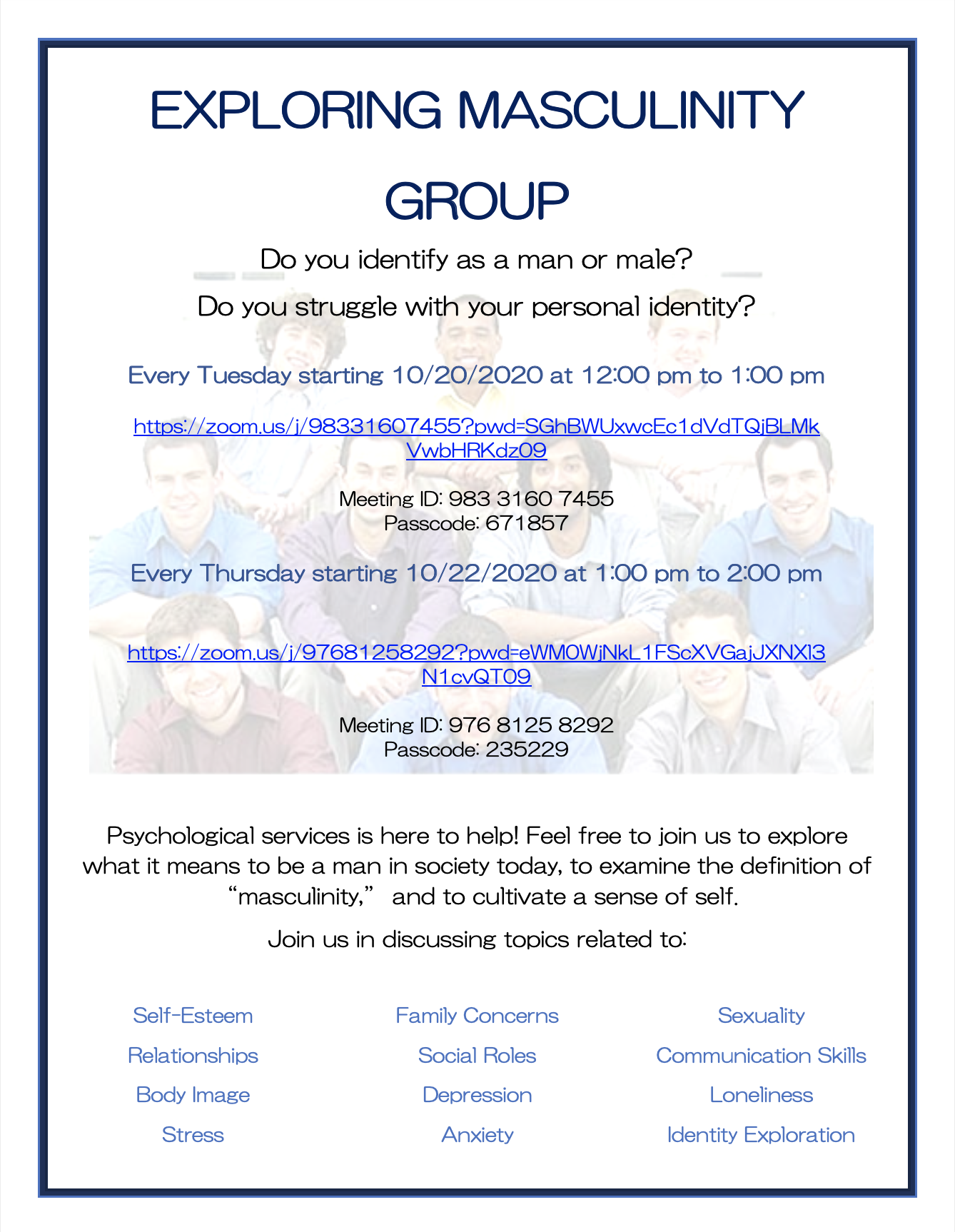 Every Tuesday from Noon - 1 p.m. Zoom Meeting ID: 983 3160 7455 Passcode: 671857
Every Thursday from 1 p.m - 2 p.m Meeting ID: 976 8125 8292 Passcode: 235229
Do you identify as a man or male? Do you struggle with your personal identity? Come to our group where we explore what it means to be a man in the world today, the definition of masculinity, and cultivate a sense of self. Join us in discussing topics related to:
Self-Esteem
Relationships
Body Image
Stress
Family Concerns
Social Roles
Depression
Anxiety
Sexuality
Communication Skills
Loneliness
Identity Exploration
---
Previous Events: Fall 2018 and Spring 2019
KNIT OR CROCHET FOR A CAUSE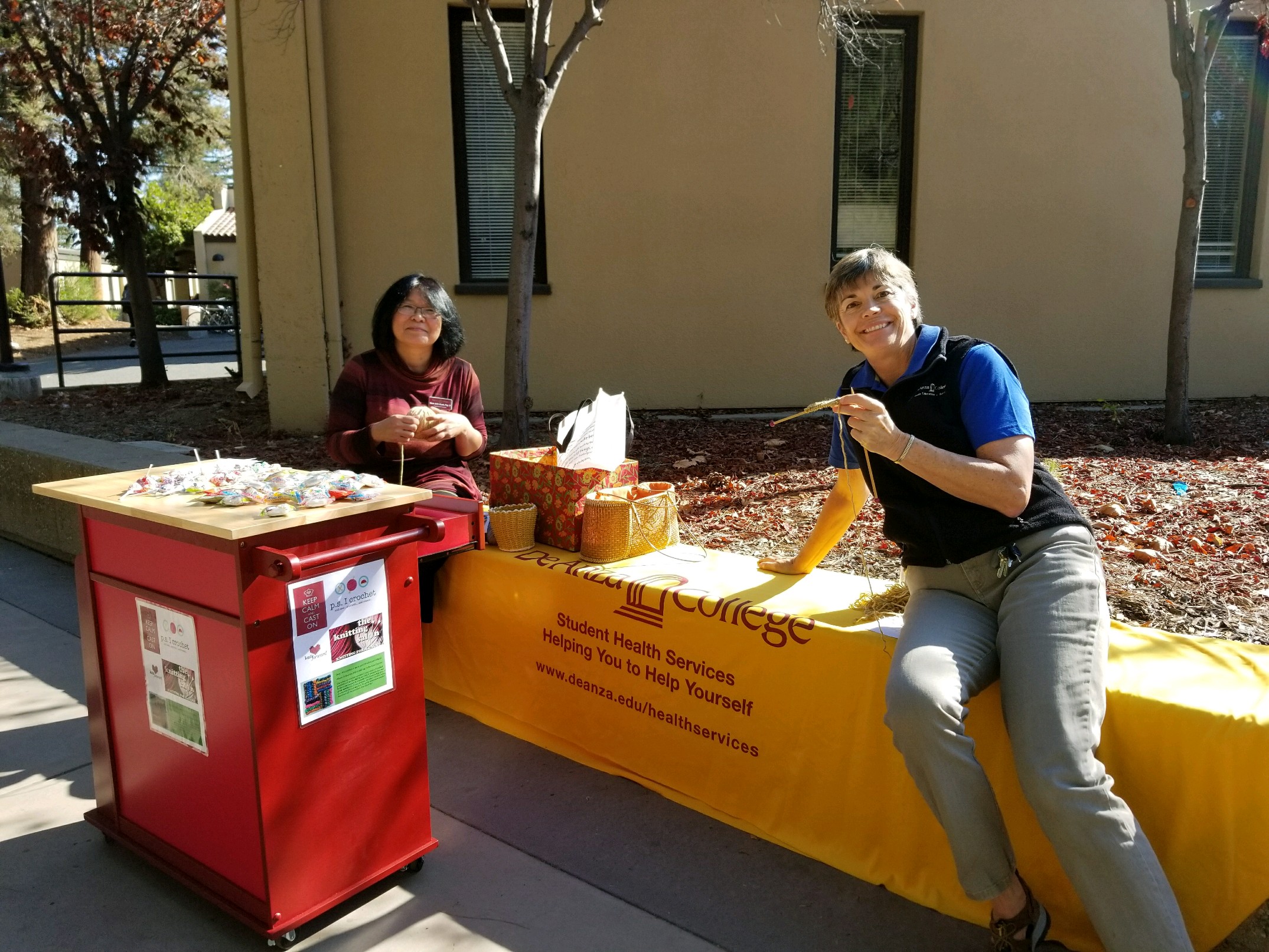 By accepting this skein of yarn, you will be challenged to create an artwork in consideration of the plight and well-being of an OTHER (such as a friend in need, a DREAMER student or a parent who is ill, etc.) with the goal of giving your artwork to this OTHER.
It is hoped that as you work on the artwork, you yourself will:
Slow down
Take time away from electronic stimulation
Spend time with others in conversation and interaction while you work
Develop the capacity to be alone should you choose to work on your own
Discover your ability to use your hands to create something beautiful
Be curious about the OTHER in the community
---
Are You Looking for Crisis Counseling or Help Services?
For information about Crisis Counseling or to make an appointment with a Psychological Services therapist, please contact the Psychological Services Department at (408) 864-8868.
You can also find information about Crisis Counseling and Support resources outside of De Anza by visiting our Counseling resources list.