Meet the 2021 Award Winners
Every year, hundreds of De Anza students earn well-deserved scholarships, commendations and acclamation – and we're proud of each one. Here are two of our major scholarship recipients for 2021.
---
Yajaira Orozco won the Karl S. Pister Scholarship for a De Anza student transferring to the University of California, Santa Cruz.
Enrique Samaguey, who won the A. Robert DeHart Scholarship for service to the De Anza community, is transferring to the University of California, Berkeley.
Meet Our Graduation Speakers and Grad Poet
Click these links to read profiles of

Enrique Samaguey: DeHart Scholarship Recipient
As a first-generation college student, Enrique Samaguey understands the challenges of navigating on unfamiliar ground. This year's winner of the A. Robert DeHart & Rena Frabony DeHart Memorial Scholarship plans to study education and psychology at the University of California, Berkeley, so he can eventually help other young people find their own way.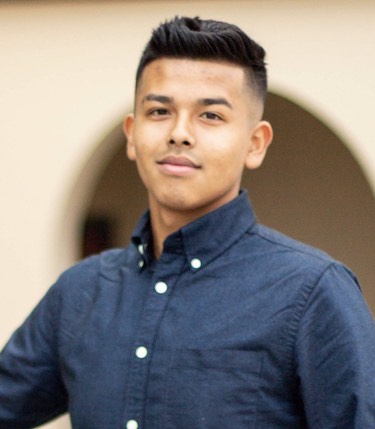 Enrique, a 20-year-old Sunnyvale resident, is graduating from De Anza with an associate degree in Liberal Arts and an associate degree for transfer in Psychology. The DeHart scholarship honors De Anza's founding president and is presented each year for service to the college community.
The older of two sons, Enrique often served as interpreter and guide for his parents, who are both immigrants, in dealings with school and other institutions. He said he's motivated by their determination to make a better life for their sons, and by the support he received from teachers and counselors in high school and college.
He found additional support at De Anza from his peers in the Puente Project learning community. After working with a Puente student mentor, Enrique has helped mentor other students in the program.
Enrique credits Puente instructor Lydia Hearn and Puente counselor Liliana Rivera with helping him transition from high school to college.
"They worked really closely with me, to make sure that I was on track," he said, adding that the program "kind of helped me discover who I am and who I want to be."
He was also a student staff member for HEFAS, which provides resources and support for undocumented students. Though he was born in the United States, Enrique said he identifies closely with the experience of family members who are undocumented. This spring, he also received a Student Leadership Award in recognition of his work.
Enrique also worked part-time off campus – most recently with a firm that provides COVID-19 testing for students at Stanford University. "It's been a really cool experience and gave me some insight into the medical field," he said.
As the pandemic forced De Anza to move almost all classes online, Enrique said the experience felt isolating at times. But he was determined to finish his studies and said De Anza has been a welcoming place.
"Coming here was the best decision I could have made," he said. "The support I've had from teachers and classmates has been incredible."
---

Yajaira Orozco: Karl S. Pister Award
When Yajaira Orozco first came to De Anza, she thought community college was just a place where "you get in and you get out." But her outlook changed when she began taking classes in Intercultural Studies and Political Science.
"I realized there is so much more I could be involved in," she said. "All these different things started connecting for me."
Yajaira, 21, is this year's winner of the Karl S. Pister Leadership Opportunity Award, which provides a $20,000 scholarship to a De Anza student who transfers to the University of California, Santa Cruz.
She is transferring this fall and will major in Community Studies and Environmental Studies, with a long-term goal of working on environmental policy affecting low-income and immigrant communities.
Yajaira's interest in the environment began in grade school, when she learned about climate change as a global problem. Later, her concerns moved closer to home, when residents in her working-class neighborhood were notified that a nearby business had released toxic chemicals in the area.
"We got a letter about it, but by law that was the only thing they needed to do," she recalled with frustration. "As a community, we couldn't do anything."
After graduating from Sequoia High School in Redwood City, Yajaira enrolled at the University of California, Merced. But it wasn't a good experience, and she decided to finish her lower-division requirements closer to home.
That brought her to De Anza, where Yajaira said she learned new things about her own identity, as a Latina and daughter of immigrants, through Chicano Studies courses. More doors opened when she took a Grassroots Democracy course taught by Cynthia Kaufman, faculty director of De Anza's Vasconcellos Institute for Democracy in Action.
Classmates encouraged Yajaira to join Students for Environmental Equity at De Anza (SEED). She found herself attending public meetings and advocating for public transit and other services for students and low-income communities.
Yajaira also held several jobs to help support herself and her family, after her mother was laid off from a janitorial job. She has worked in restaurants, as a personal aide for senior citizens, and as a tutor and mentor for younger children at the Boys and Girls Clubs in Redwood City.
Despite many demands on her time, she said she's grateful for her experiences at De Anza. "It helped me to mature," she said, "and to really discover what I want to do next."
---