2021 End-of-Year Events
Every year, the spring quarter calendar at De Anza is filled with special end-of-year events to honor and celebrate De Anza's graduating students. Most of the events this year are being held online, because of county health directives related to the coronavirus. Check this list or the website for each group or sponsoring organization for information on how to attend.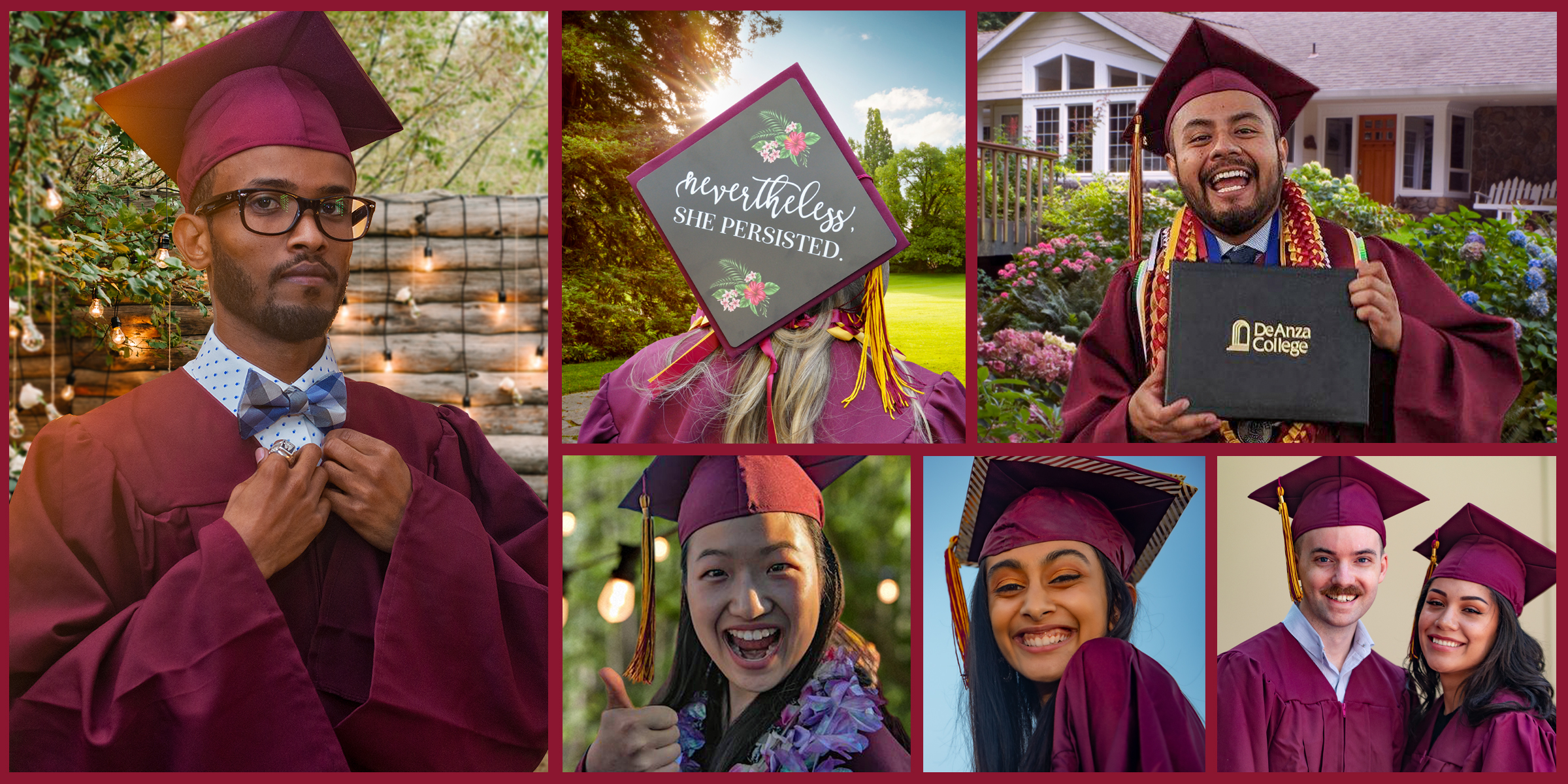 ---
Here's a list of scheduled 2021 celebrations and recognition ceremonies.
Check back soon for more events.
| | | | |
| --- | --- | --- | --- |
| Date | Time | Event | How to Attend |
| Friday, May 21 | 2-4 p.m. | Humanities Mellon Scholars Graduation and Symposium | Attend via Zoom |
| Wednesday, June 2 | 4-6 p.m. | 2021 Student Leadership Recognition Gala | Attend via Zoom |
| Thursday, June 3 | 6-7 p.m. | APASA Scholarship Awards Night | Attend via Zoom |
| Friday and Saturday, June 4 and 5 | 11:30 a.m.-1:30 p.m. | Annual HEFAS Summit | Register to attend |
| Friday, June 11 | 12:30-1:30 p.m. | Equity Champion Awards | Email EquityOffice@deanza.edu to RSVP |
| Friday, June 11 | 6-8 p.m. | Puente End-of-Year Celebration | Attend via Zoom |
| Wednesday, June 16 | 3-4:30 p.m. | Transfer Celebration | Register to attend |
| Wednesday, June 16 | 7-8:30 p.m. | Leadership and Social Change Celebration | Attend via Zoom |
| Thursday, June 17 | 5-7 p.m. | Lavender Graduation | Register to attend via Zoom |
| Thursday, June 17 | 6-7:30 p.m. | Men of Color Community Program Graduation | TBA |
| Friday, June 18 | 2-3 p.m. | IMPACT AAPI End of the Year Celebration | Attend via Zoom |
| Friday, June 18 | 4:30-6 p.m. | Honors Program End-of-Year Celebration | Attend via Zoom |
| Friday, June 18 | 5 p.m. | Black Graduation and Achievement Virtual Ceremony | Register to attend via Zoom |
| Friday, June 18 | 7:30 p.m. | 42nd Annual Student Film and Video Show | Watch on the Film/TV webpage |
| Wednesday, June 23 | 6 p.m. | De Anza College Promise Graduation | Attend via Zoom |
| Wednesday, June 23 | 6-8:30 p.m. | Red Wheelbarrow 2021 Launch and Awards Ceremony | Attend via Zoom |
| Wednesday, June 23 | 7-8:30 p.m. | First Year Experience (FYE) Celebration | Attend via Zoom |
| Thursday, June 24 | 4-5 p.m. | Math Performance Success (MPS) End of the Year Celebration | Attend via Zoom |
| Thursday, June 24 | 6-7 p.m. | Latinx Graduation Video Release | View online |
| Friday, June 25 | 7 p.m. | Online Graduation Celebration Video Premiere | Watch on YouTube |