Transferring to a University
While attending De Anza College, students can complete their first two years of General Education requirements and the foundation courses of almost any major field of study that is offered at a university. Students receive credits/units for college courses in order to transfer to a 4-year university to complete a bachelor degree program.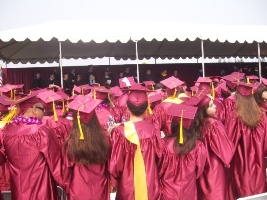 De Anza is consistently ranked a leader among community colleges, with the highest number of students transferring to both University of California (9 campuses, including Berkeley and UCLA) and California State University (23 campuses, including San Jose State and San Francisco State). Our international students have successfully transferred to many other prestigious private and public colleges and universities across the U.S. as well.
The ISP office hosts a range of transfer advising sessions, workshops, and events throughout the year. The international student counselors also provide individual transfer counseling by drop-in or appointment to assist students in planning and applying for transfer.
Transfer Admission Guarantee (TAG)
Visit the Articulation & Transfer Services page for details about the TAG program, which offers guaranteed transfer to participating UCs, CSUs, and private or out-of-state universities for eligible students and select majors.