Our Programs
Certificates and degrees offered in six major subject areas for evening students including apprentices and technicians


 
Certificates and degrees offered in three major subject areas for full-time students.

PROGRAM OVERVIEW GET YOUR SMOG LICENSE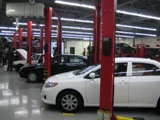 De Anza College is located in Cupertino, the heart of Silicon Valley. The Auto Tech building is 12,000 square feet in area, plus additional classrooms and outside areas.Lab areas include workstations with 15 lifts, powertrain laboratory, machine shop, stationary engine lab, alignment, dynamometer, and specialized classrooms.
Connect with Auto Tech on Facebook