Welcome to the SSC!
Join us On Campus or On Zoom Winter 2023
Winter 2023 Tutoring begins January 16 and ends March 24. We are open Monday-Friday, and closed for holidays on Monday, January 16; Friday, February 17; and Monday, February 20.
Access our peer tutoring services on Zoom or in person. We are open on campus on Tuesdays and Wednesdays. On-campus, visit us in the rooms listed below.
To access tutoring and workshops via Zoom, just click the yellow buttons to "Join Tutoring Session," and then follow the prompts on your screen to sign in and select from a list of available services.
Click the yellow "Info" button to check Zoom and on-campus open hours for the subject areas you're interested in. To access our peer tutoring services and workshops on Zoom, click the yellow "Join" button. Follow the prompts on your screen to sign in to the eSARS system and select from a list of available services – including drop-in sessions, weekly scheduled sessions and workshops. If you have trouble, use the "Click Here" to ask for help.
IMPORTANT: Be sure to bookmark this SSC homepage to access all services. Do not bookmark the separate eSARS links, as you will have cache issues. Please close all eSARS windows prior to logging in again, or you may have trouble signing into the correct site. You may need to clear your history cache if you are having trouble.
---
Skills Workshops
Zoom
---
General Subjects
ATC 309 and Zoom

---
Listening + Speaking
ATC 313 and Zoom

---
Math + Science
S-43 and Zoom
---
Writing + Reading
ATC 309 and Zoom
---
Canvas Resources
Join our SSC Community to get updates and see resources.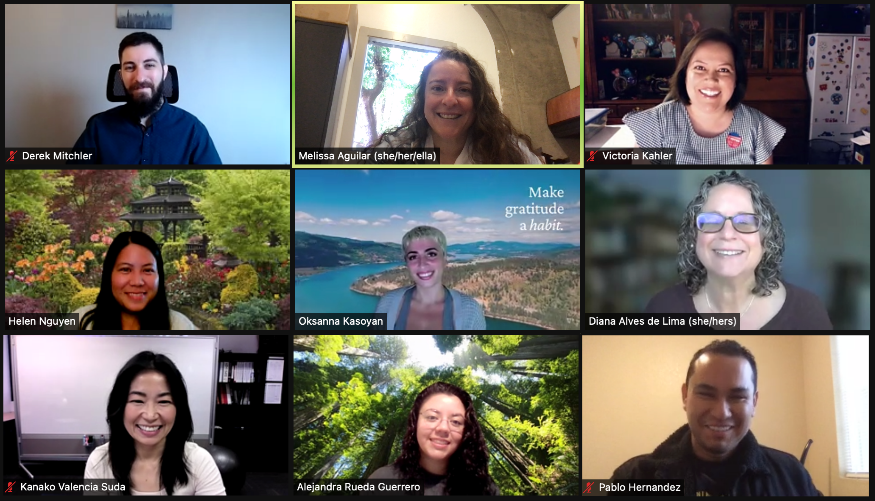 ---
How To Apply for a Weekly Tutor
First, please review the SSC Guidelines and Policies. Next, click the following links for the subjects in which you'd like to receive tutoring help.
---
Become a Tutor!
You can improve your own skills in communication and your favorite academic subjects by helping other students learn. We provide training – and it's fun!
---
Questions? Contact Us
Melissa Aguilar, Student Success Center Co-Director
408.864.5422, aguilarmelissa@deanza.edu
Diana Alves de Lima, Student Success Center Co-Director
408.864.8485, alvesdelimadiana@deanza.edu
We're in Building S43 and on the third floor of the Advanced Technology Center (AT) – see the campus map.
---
Our Mission
The Student Success Center supports classroom instruction by helping students at all levels to become better learners, and to gain the confidence and skills to achieve their greatest possible academic success.
We Provide
Individual, group, and online tutoring in a variety of subjects
Workshops on study skills, listening/speaking, reading/writing/grammar and other topics
Tutor training courses
Our Goal
After participating in Student Success Center programs for an appropriate amount of time, and within the context of each student's individual needs, students will express a more positive attitude toward the subject they are studying, use effective learning skills, and improve their academic performance.
Funding Sources
Your DASG fees at work: Funds from the De Anza Student Government help support peer tutoring in the SSC. Other funding sources include De Anza's General Fund and B-Budget, and the statewide Student Equity and Achievement (SEA) program.