Classes to Suit Your Schedule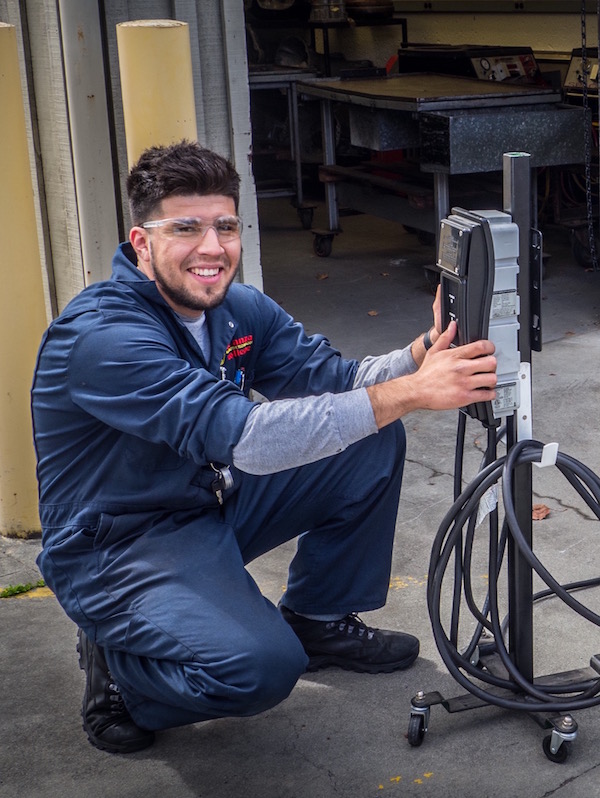 The evening program is designed for practicing apprentices and working technicians, as well as for auto enthusiasts and students preparing to enter the workforce.
By taking classes, you can increase your skills – and your potential value in the job market. We have classes that will help you prepare for several types of ASE certification. You can also earn college credit that can count toward a certificate or degree.
De Anza offers 16 different degrees and certificates through the evening program. You can learn more about all of them, and their requirements, on this page.
See below for a list of evening courses in
Automotive Air Conditioning (Evening)
AUTO 66

Automotive Air Conditioning
Chassis (Evening)
AUTO 61A

Automotive Brake Systems

AUTO 61B

Electronically Controlled Brake Systems

AUTO 62A

Automotive Steering, Suspension and Alignment

AUTO 62B

Advanced Wheel Alignment
Engine Performance (Evening)
AUTO 53A

Automotive Mechanisms

AUTO 60

Automotive Electrical Systems

AUTO 60A

Electrical Schematic Diagnosis

AUTO 60B

Automotive Electronics

AUTO 60C

Automotive Ignition, Fuel, and Emission Systems

AUTO 60D

Ignition Analysis and Oscilloscope Diagnosis

AUTO 60E

Automotive Fuel Injection

AUTO 60F

No-Start Diagnosis

AUTO 60G

Advanced Scan Tool Diagnosis

AUTO 60H

Advanced Drivability and Onboard Diagnosis

AUTO 60J

Advanced Lab Scope and Waveform Diagnosis
Engine Repair (Evening)
AUTO 64

Automotive Machining and Engine Repair

AUTO 64HP

High Performance Engine Preparation
Powertrain (Evening)
AUTO 63

Automotive Transmissions and Transaxles

AUTO 63A

Automotive Drive Train

AUTO 63D

Transmission Diagnostic and Repair Techniques
EV and Alternative Fuels (Evening)
AUTO 67A

Hybrid Electric Vehicles

AUTO 67B

Plug-In Electric Vehicle Technology

AUTO 67G

Gaseous Fuels

AUTO 67J

Introduction to Automotive and Light Duty Diesel Systems